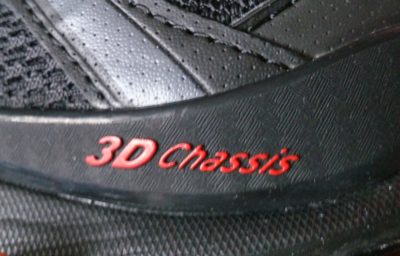 There's a huge fan base for the XA Pro 3D trainers and Salomon has revised them for 2014.
The words XA PRO are written down the side and there's '3D Chassis' in red lettering.
The word '3D' is in the name of the trainer because the 3D chassis is why you will feel so much support around your feet.
Compared to the previous model these have extra cushioning – but they still feel like a very hard trainer. I've been wearing Saucony Jazz 14 trainers for the past six months but it's only by wearing the XA Pro 3D's that I realise just how much more cushioning the Jazz 14's have. What you get from the XA Pro's instead is an overwhelming feeling of foot support.
One of the improvements is the extra protection over the toe area. I've seen so many people refusing to throw their XA Pro 3D's away even though the toe fabric had worn through. The lace is now also secured further out over the front of the foot so the trainer doesn't feel loose over the toes.
I really like that the tongue is connected to the inside so when you put these on you feel like you're putting your foot into a sock. It's made of a wetsuit material in places; everything is extremely well stitched together. These don't have a GORE-TEX lining (GTX) so I really felt the cold air come through the netted parts of the trainer on my bike ride. In the summer it means your feet won't overheat but on colder days just be aware you'll feel your toes nip a little.
Buy from
www.cotswoldoutdoor.com
VERDICT