LAND Rover is sponsoring the Extreme Sailing Series for the next three years. 
There are five more races to go (or acts as they're called) with the next one in Istanbul on 20-23 June. The series then comes to the UK in Cardiff from the 23rd to the 26th August.
Just like the cars, the Land Rover Extreme 40 catamaran's livery was created by the Land Rover design team – led by Gerry McGovern, Design Director & Chief Creative Officer.
Land Rover hopes to race it later this year with a professional race team as a Wildcard entry. In the meantime the Extreme 40 will be used to take out guests and customers.
Land Rover's support for sailing began in 1988 when the brand first sponsored the internationally renowned Cowes Week on the Isle of Wight, England. China has now become the single biggest market for Land Rover and Mark Cameron, Land Rover's Global Brand Experience Director (christening the Extreme 40 with champagne below) says he is looking forward to a new and exciting chapter in Land Rover's support of sailing.
"We have always considered the sport of sailing and the philosophy of Land Rover go hand in hand, with our shared values of inner strength and demonstrating capability with composure," he adds.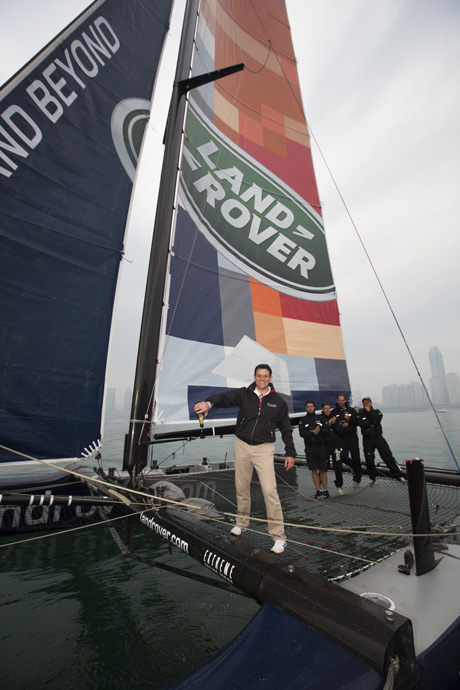 Mark Cameron was joined by Guo Chuan, the first Chinese person to sail non-stop, single-handed around the world at the unveiling of the Extreme 40 at Act 3 in China earlier this month.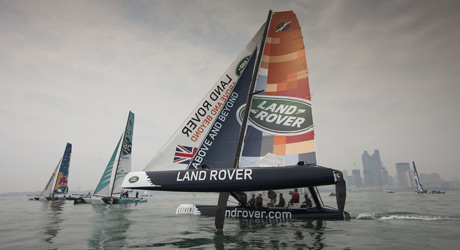 Each Act takes place over four days and can include match racing, fleet racing, straight line duels and speed trials. The Land Rover Extreme Sailing Series is endorsed by the International Sailing Federation and continues to gain in popularity.
Here's an interesting spec omparison between the All-New Range Rover Sport versus the Extreme 40 Catamaran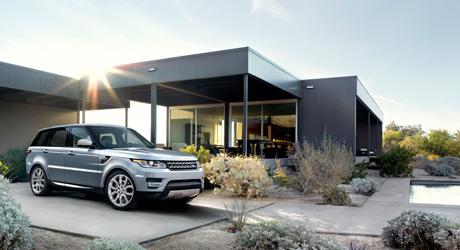 | | |
| --- | --- |
| All-New Range Rover Sport | Extreme 40 Catamaran |
| A drivers car | A racers boat |
| Lightweight aluminum architecture for agile handling, exceptional comfort, a unique mix of sporting luxury and a dynamic, connected driving experience and reduced emissions | Lightweight one-design carbon fibre for speed and acceleration |
| Unsurpassed all-terrain capability | Versatile enough to race in almost any stadium venue |
| Formidable Power from the 510PS Supercharged V8 engine | Main sail area of 75msq to harness the wind and increase speed |
| A truly rewarding, sporting, drive together with unmatched luxury, capability and versatility | A ride of a lifetime |
| Outstanding poise and stability with excellent ride isolation on all surfaces | Ability to manoeuvre around short and challenging stadium race courses |
| Agile, dynamic and responsive with exceptional comfort for driver and passenger | High-performance and responsive under the control of an expert skipper (comfort not guaranteed) |
| Top speed: 155 mph (250 kph) limited | Top speed: 46 mph (74 kph) |
| Acceleration: 0-60 mph, sub 5 seconds | Acceleration: 0-23 mph in 6 seconds |
| Effective headroom for driver: 99.7cm | Effective headroom for skipper: Infinite but beware of boom |
| Weight from: 2,330 kg | Weight from: 1,250kg |
| Turning circle: 12.3 metres | Turning circle: 15 metres |
| Number of seats: 5 + 2 | Number of seats: 5 + 1 guest sailor spot |
Further Extreme Sailing Acts 2013:
Act 4: Istanbul, Turkey 20-23 June
Act 5: Porto, Portugal 25-28 July
Act 6: Cardiff, Wales 23-26 August
Act 7: Nice, France 3-6 Oct
Act 8: Rio de Janeiro, Brazil 14-17 Nov