It comes as no surprise that the new 2014 Range Rover Sport is going to drive like a dream.
Twenty prototypes were lined up at Gaydon ready for a clutch of journalists to have cheeky drive months before the official launch. It was part of a technical seminar on the new Range Rover Sport which Land Rover had put together to shout about their efforts to completely re-make the Range Rover Sport for 2014.
I hopped in prototype number 15, a white 3.0-litre V6 HSE Dynamic. Four versions will go on sale in January 2014; SE, HSE, HSE Dynamic and Autobiography Dynamic.
"This is only an appetite whetter," says my instructor as we drive towards the oval shaped test track at Gaydon. "You'll get a chance to lap round the track and have a go on the low emissions route, just to give you a feel for how the car handles over all sorts of road surfaces."
"Press that to put it into drive and then we'll be on our way as soon as there's space ahead. As you can see there's plenty of exotica here," says referring to the Aston Martin in front of us.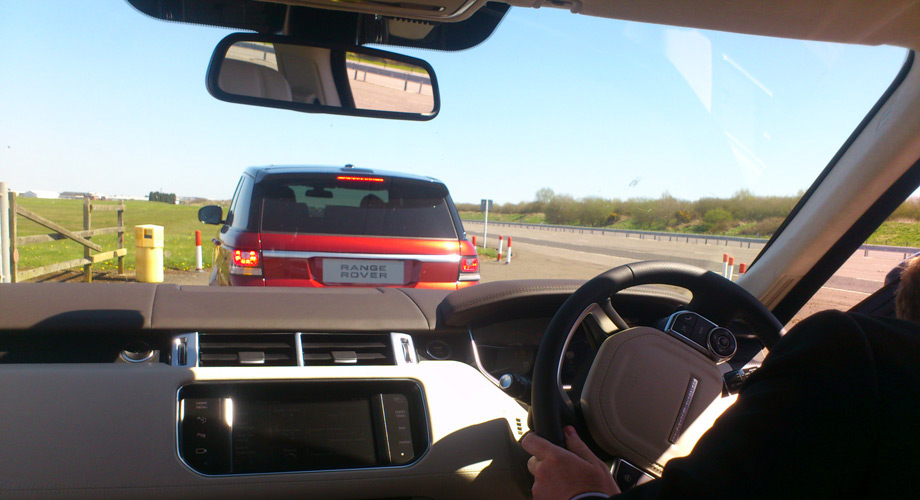 When it's in automatic mode, it won't select Dynamic mode for you. You have to physically select Dynamic mode yourself.
A supercharged version is in front, he's not moved off yet. "When he does he'll come past us like the wind, " says our instructor. "Right, swing out there. Are we clear? Yes we are. Go as fast as you can shake a stick at."
I'm encouraged to put my foot down. And I go from a standstill on to Gaydon's looping track right up to 140mph and then back down a few gears to 4th (using paddle shifts) for an 80mph corner staying in lane 3.
"Keep it going, keep it going," says the voice to my left. I turn the steering wheel for this left hander and am surprised at how stable and level the Range Rover Sport stays.
"There, can you feel the torque vectoring as you go round the corner?" asks my instructor. "Every car pulled off the production line gets three laps round here before it gets sent to the customer to bed the brakes in. Just start knocking it off a bit. You can see just how level and smooth it is through this 80mph corner.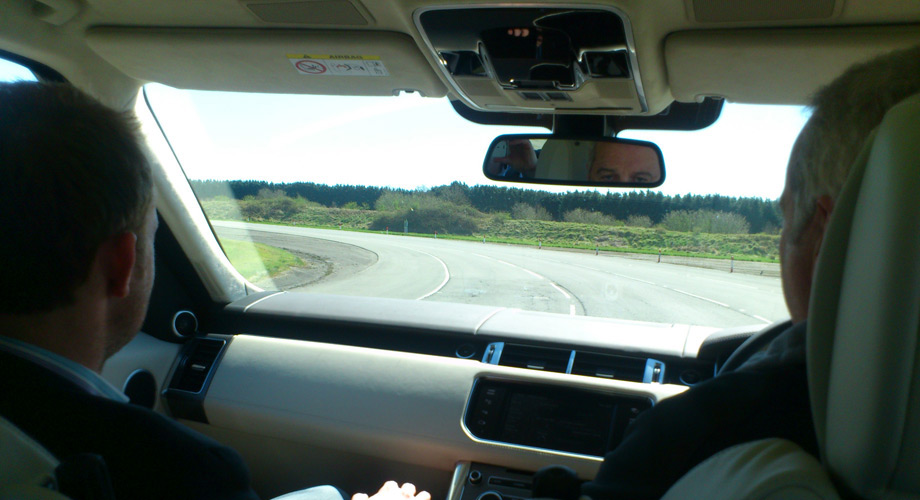 After two more laps – and an emergency stop which is mightily impressive – we head off to the low emissions course. This is a twisting road, made up of different types of tarmac, cobbles and paving slabs. The idea of this stretch of road is for engineers to record how the suspension delas with ruts, potholes and poor road surfaces. The Range Rover Sport glides over all of it like molten lava flowing over a rocky outcrop. This is because the engineers have put thousands of design hours into the suspension on this all-new model. One of the engineers who led the suspension development is a downhill mountain biker, so he's no stranger to riding wheels over rough ground. Those who owned the previous Range Rover Sport will certainly feel a huge difference in the ride and handling.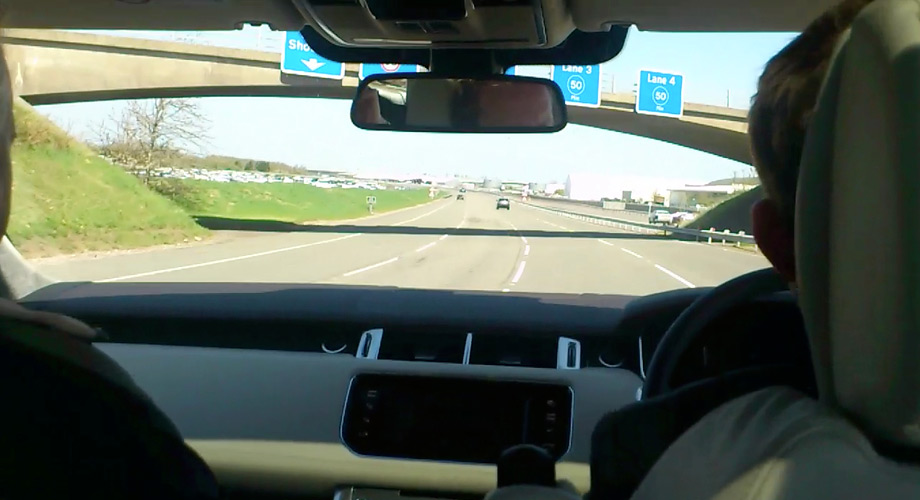 We drive back to the reception area. We've had what, half an hour, in the Range Rover Sport. Not enough to write a full review, but enough to see that it's going to be awesome.
The all-new Range Rover Sport made its first UK appearance at the Royal Windsor Horse Show in May. The factory near Solihull is currently in full scale production so they'll be available to test ride at the end of 2013.
www.landrover.co.uk