EAGLE CREEK sounds like the kind of place I want to visit. But it's the name of the newest outdoor brand to hit the UK.
They sent me their Afar rucsac – and I've certainly taken it on places a far.
For the past 10 years I've been using a North Face rucsac that I bought in Canada. It's like an 80s design, black and brown, really simple and I stuff everything all in together. I've been reluctant to get a new day bag because that North Face does the job but then along came the Afar, and it's changed my day to day life dramatically.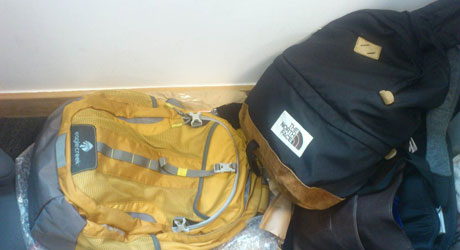 My old North Face bag on the right – and the newly arrived Afar.
First off it's got a padded pocket in the back of it which takes my macbook; there are very few outdoorsy backpacks which have this. And it's incredibly well padded and protected. Next it's got two netted side pockets which I throw my water bottle into. Sometimes I roll up a magazine or newspaper and fit in the other one, while I'm jumping between trains in London.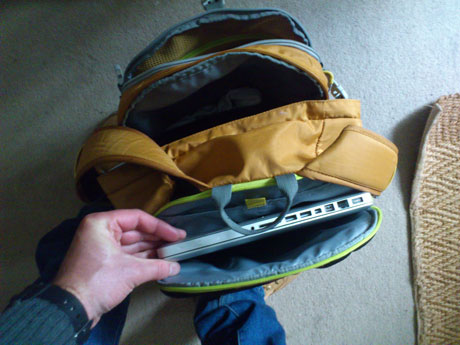 Then there's a large main interior sac where I keep my gym kit and my Saucony trainers. For the precious stuff or paperwork that I don't want mixing with my gym kit then I can keep all of that in the  front pocket which has it's own zip – and best of all the zip design is different to the ones on the main sac so you don't unzip the wrong bit.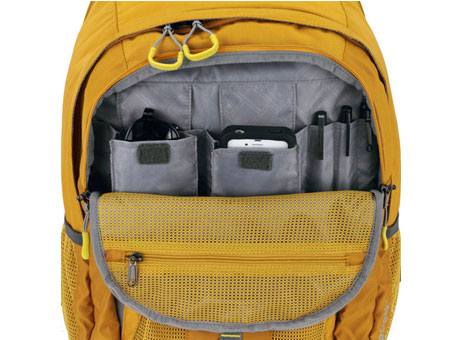 The yellow loops on the zip are like the control lines of a paraglider.
There's two Velcro pockets as well and they're a perfect size for a mobile, a torch, sunglasses, suncream or, in my case, I use them to keep my bank card readers safe.
What I really like are the handles on the ends of the zips on the main sac – they're like the handles you get on the end of paraglider control lines and with me being a paragliding fan, that's a cool addition. There's a waist strap too – which holds the pack firmly against my back when I'm ride the motorbike.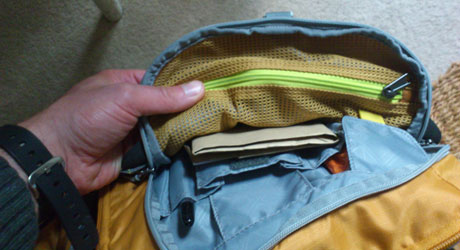 I keep my phone charger, iPod and keys in this zipped pocket which is made of mesh so you can see what's inside.
The only downsides are there is no ventilation in the back and the material isn't very waterproof, but hey, I can live with that.
The Afar backpack comes in a choice of three colours – ochre (tested here), black and slate blue.
You should also take a look at Eagle Creek's Conor and Mountain Valley backpacks.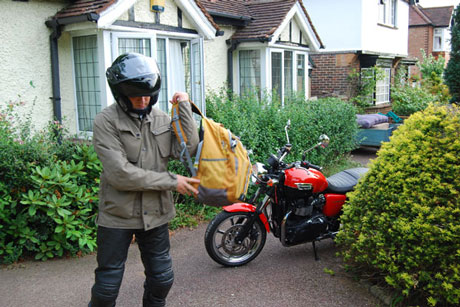 VERDICT
"The Eagle Creek Afar backpack is my choice for a pack that you can use day in and day out. The Afar has made it easier to organise my life (and my possessions) and it's surviving daily use admirably."
5 out of 5