THIS new Volvo XC Coupe is inspired by modern adventure gear, says one of Volvo's leading designers. 
The Volvo XC Coupé goes on show at the Detroit Motor Show for the first time from next Monday (13th) onwards.
We already have the XC 60 and XC 90 (which are 4x4s) so the XC Coupe adds to that family. Ahead of it's first showing, the Senior Vice President of Design at Volvo, Thomas Ingenlath says that Volvo is working with a Swedish manufacturer of sports gear (called POC) to swap design ideas about how a car can be safer and carry sports adventure equipment more easily. And you can see in the photo below that the concept lets you store skis and outdoor kit really easily in the boot.
"Both of our companies have a strong emphasis on safety and protection. POC can inspire us to make safety an emotional experience and to create even more desirable cars," he says. "Several orange details and exterior graphics combined with bold use of matte rubber mouldings, which cover the rear of the car, add to the highly functional expression of the design. Just like their high-tech sport gear, our cars blend sophisticated design with strength and intelligent capability."
The Volvo Concept XC Coupé will have a 'strong connection an active outdoor lifestyle' and Thomas (pictured below) says the the partnership with POC will be inspiring and fruitful.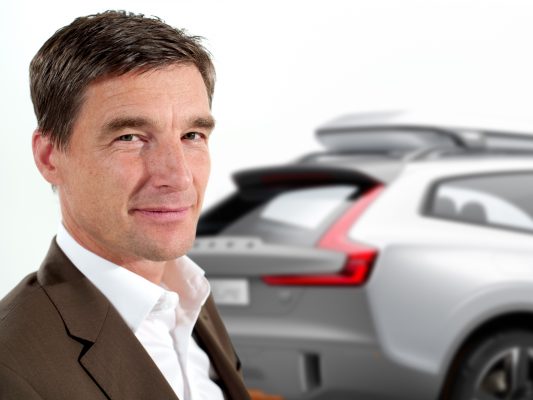 Thomas adds, "Having the right gear – which in our case is the car – builds peace of mind and confidence. This in turn enables you to fully enjoy your drive and your adventure."