SKI instructors have been filming their students for years – and for one simple reason; it's the best way of showing someone how to improve.
When it comes improving at a pro level filming is now essential. Two of the UK's top pros are Julian Ball and James Webb and they've just started filming themselves (and friends) with the new Sony Action Cam – and both say the footage they're getting is drastically improving their performance.We caught up with them for a brief chat while they were at Xscape in Milton Keynes, ahead of the Freeze Festival taking place on Clapham Common this coming weekend.
Dan: Talk me through what you've coming up this season James.
James: First I'll be at the Freeze Festival and once I've done that I'm shooting off to Breckenridge in Colarado for a month, just training and getting back into the big tricks and the big airs after my injury last year.
Dan: Which tricks will you be focusing on?
James: There's a lot of new stuff to learn. I've been riding half-pipe for a while now but I want to get into slopestyle, but there's a lot of new tricks to learn. Everyone is doing double corks now so this is something I'm going to have to learn to keep up with them!
Dan: You've been using the new Sony Action Cam a lot, what do you think to it?
James: "It's like having a coach in your pocket. You can film in a super slow-motion mode which is fantastic. I can then stream it straight to my phone and play it back on my phone in slow-motion. You can literally watch it and pick it apart bit by bit and see exactly where you're going wrong.
Dan: And what do you think to the 170 degree wide angle function?
James: It's especially useful when you're filming other people and at 170 degrees, it's so wide so you get everything in.
Dan: Finally, what are you most looking forward to this coming season?
James: I think just getting into slopestyle. The half-pipe got a bit stressful and I found it a bit of a chore and it wasn't fun anymore last year, so I guess I'm just looking forward to enjoying myself and having fun on the snow again.
Dan: Enjoy Breckenbridge.
James: Thanks (grins).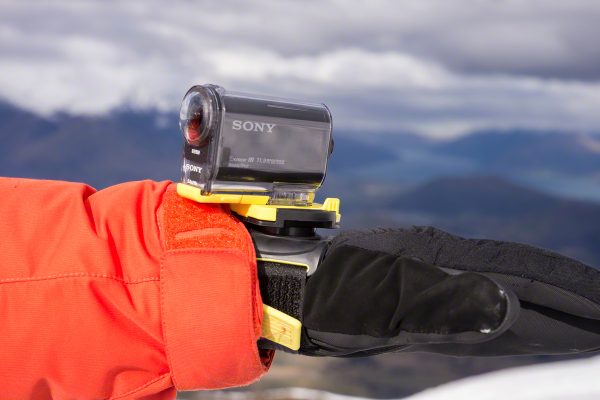 Dan: So Julian, James has said some pretty good things about the Sony Action Cam, what's your take on it?
Julian: Functionality wise it's the easiest camera I've used. Switching from function to function is really simple. It has slightly bigger buttons than other cameras, so you don't have to take your gloves off to use it. I guess the ease of use is just so simple. You won't need instructions, you can just pick it up and get to play with very quickly. One of the best tools is being able to connect the wi-fi to your smart phone. It's unbelievable how quick the footage downloads and you can either watch it on your phone straight away, store it on your phone, share it to social channels, You Tube it, or just use it see very precise video feedback. The slow mo is fantastic too, you don't have to pay around with pausing and rewinding anymore because it replays so slowly you can easily follow everything that's happening.
Dan: And what about the wide angle?
Julian: Honestly, I'm overwhelmed by how good it is. The wide angle lens is ridiculous. I can stand a metre away from someone but see their whole frame in the shot from head to toe and everything behind them and to the sides. It's in amazing quality too, no fuzziness. It's also got a four hour battery life and that's really strong compared to other makes which only last two hours, so the Sony is straight in at a four hour battery. It means I don't have to carry a spare around.
Dan: So you can easily make the battery last enough to get action throughout a day on the slopes?
Julian: Yes, easily. And if you chuck in a 32 GB memory stick, on the mega slow motion and you'd get 2 and a half hours of footage – that would take you 10 hours to watch! So you can do all of that in just one battery life.
Dan: What's your plan for the rest of the season?
Julian: Straight after Freeze I'm going to drive out to Val-d'Isère in France and from there I train, do photoshoots and shoot videos and things like that. I'll do a few big comps too, in particular the Frostgun Invitational. It was one of the coolest contests I've ever done but it had one of the scariest jumps I've ever hit. It was 25m to the knuckle and 30 m to the sweet spot.
Dan: And how big will that jump be this year?
Julian: Roughly the same size, they're changing the shape of it though. Last year they split the landing in two and had one huge kicker so you had to take it at an angle but this year they're building two kickers with one landing in the middle. I imagine it's going to be equally scary…I've never hit a jump so fast in my life….(laughs).
Dan: What's the transition like on that kicker?
Julian: It's a lot of pressure in your feet and it shoots you miles up into the air – at least a few stories high. The first time I hit it…(says this slowly) it was scary. Second time I hit it I was even more scared because I knew what was coming! So basically I'm going to be in Val-d'Isère which has incredible terrain and now I've been there six years, I can find the spots I want to go and I can do more off-piste skiing.
Dan: So you're breaking into new types of skiing then?
Julian: Yeah, well I'm trying to get more into the freeride scene. Park skiers are a lot younger, more nimble and can bounce back from big crashes much faster, I'm getting bit older and I don't bounce back like I used to!
Dan: What are you most looking forward to this coming season?
Julian: Tough question, last year was really good, so this year I'm just looking forward to being back in the mountains, skiing with my friends. It'd be great to remain competitive amongst all the youngsters and maybe keep retain some of my titles from last year.
Julian Ball and James Webb were speaking on behalf of Sony Action Cam – Official Action Camera Partner of this year's FREEZE festival. The new AS30V Action Cam offers an impressive 170° field of view, blur free, smooth full HD video, Wi-fi and two slo-mo modes to capture the best winter sports action.