FORD has given us a glimpse in to some of the testing that goes on to make its cars adventure proof.
Turns out the firm has put 80 C-MAXs (five-seats) and Grand C-MAX (seven-seats) on 730,000 km (456,000 miles) of mixed terrain to replicate unmade roads, gravel tracks and potholes.
The firm also puts its cars for 12 weeks at a time in a high-humidity chamber to test their corrosion resistance.
And to simulate extended exposure to the sun, sample parts of the cars are also are bombarded non-stop with ultraviolet light for 3,750 hours (156 days) – simulating 5 years in the brightest place on earth.
Here in the UK, Ford has an Environmental Test Lab in Dunton where the cars are put through temperatures ranging from –40°C to 55°C. They can even be placed at simulated altitudes of up to 5,200 metres. The idea is that Ford can simulate 10 years of extreme use in just six months.
The cars are also driven worldwide and last year Ford's engineers covered 8 million km (5 million miles) on some of the world's most demanding roads, including Death Valley in Arizona, USA and the Grossglockner High Alpine Road in Austria.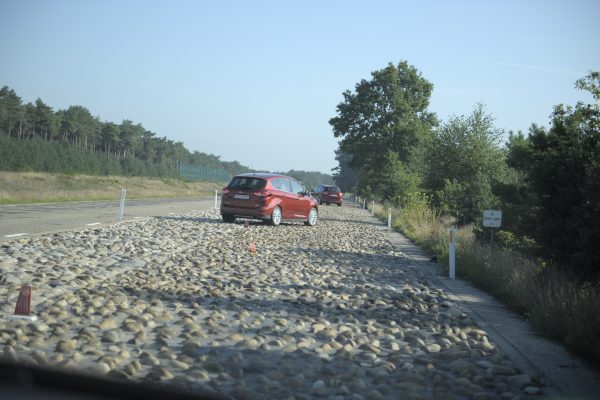 As modern families start to use their cars into mobile adventure wagons, Ford says its test team in Europe has been forced to come up with extensive and diabolical ways to adventure-proof cars.
Robert Luetzeler, Ford materials engineering manager, in Cologne, Germany says that testing has to continually evolve to reflect changing trends in customer use, as well as new technologies.
"Sometimes you have to be a bit like Sherlock Holmes," he adds. "Playing the detective to understand exactly how damage has occurred and how it can be avoided or reduced."
As such, new tests have been dreamt up by Ford engineers to meet the ever-increasing demands of school runs, family holidays and transporting family pets.
One of the new tests involves laying hair straighteners on interior materials.
Another involves soaking materials used in the car with fizzy drinks, coffee and mud. Ford's testing facility in Dunton now uses about one kg of coffee a year – 130 shots of espresso – to help test resistance to staining.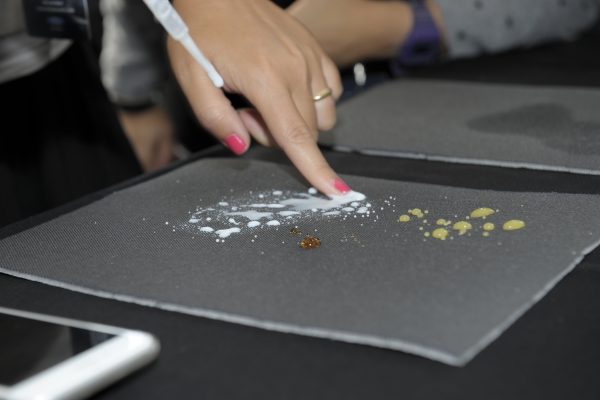 "Many of us in the Ford materials lab are parents, so we're fully aware that kids often deliver the toughest examination of our vehicle interiors," says Mark Montgomery, Ford senior materials engineer in Dunton. "Whether scuffing door trims with shoes, snagging seats with Velcro school bags or chucking muddy boots onto the carpet after a hike, it's our job to replicate everything kids throw at Ford interiors to ensure they can withstand it all.
The new C-MAX and Grand C-MAX also have some pretty cool driving aids for those of us venturing on less-travelled roads.
Active City Stop – this scans the road ahead and automatically applies the brakes to reduce the impact of collisions, or avoid them altogether
Cross Traffic Alert – this warns drivers who are reversing out of a parking space of vehicles that may be crossing behind them, using radar with a 40 metre (131 feet) range
The Ford C-MAX and Grand C-MAX also are equipped with features designed to keep children safer an accident.
The airbags take less than 20 milliseconds to deploy after on-board computers detect an accident.
Next generation i-Size child restraint mounting points are compatible with the latest generation-ISOFIX child seats, offering improved protection for the head and neck during side and front impacts.
SYNC with Emergency Assistance uses information from the vehicle's on-board GPS unit, map and mobile network to pinpoint accident location and call the pan European 112 emergency number via an occupant's Bluetooth-connected mobile phone.