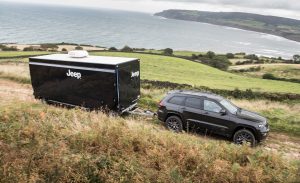 JEEP has created the world's first pop-up dealership, accessible only by 4×4, as part of its 75th anniversary this year.
The 'dealership' was only open for three days on the cliffs at Robin Hood's Bay, in North Yorkshire looking out over the North Sea.
While passing trade wasn't expected, the stunt certainly showed off the towing ability of Jeep's Grand Cherokee – it hauled a 3.5 tonne mobile showroom over rough ground to the cliff-top site (see above).
"Jeep has a long and illustrious off-road history," said Damien Dally, head of brand, Jeep UK. "In our 75th year, a landmark moment, it seems fitting that we've demonstrated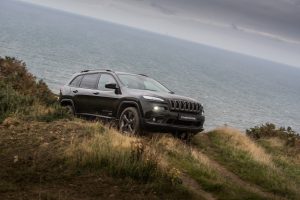 that our vehicles really do go anywhere and can do anything by creating the world's first pop-up dealership which you can only get to in a 4×4."
Jeep's 75th Anniversary range includes limited edition versions of the Grand Cherokee (125), Cherokee (125), Wrangler (85) and Renegade (400).