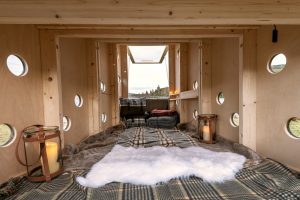 At this time of year my thoughts often turn to cosy cabins and I've got to hand it to Land Rover's engineers, they've come up the one I want to spend a night in.
The cleverly designed cabin has space for two adults to sleep snugly in temperatures as low as -20°C but best of all every part that made this came out of the back of a Discovery Sport.
Land Rover engineers have carefully used every part of the Discovery Sport's 1,698-litre rear load space to carry the wooden cabin's components.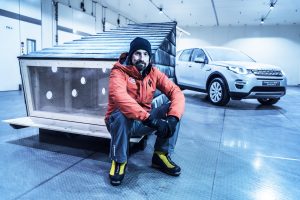 The 'Wilderness cabin' has even been tested in Land Rover's very own cold climate chamber (in which all Land Rovers are subjected to sub-freezing temperatures) by mountaineer and 12-times Everest climber Kenton Cool.
"There is a growing trend for off-grid living and 'wilderness cabins' and only Land Rover could create a 'go anywhere' cabin like this. The design is cleverly engineered and incredibly robust, making it perfect for remote locations across the world."
KENTON COOL
"We wanted to create a Christmas cabin for Santa, in a truly Land Rover way. The spacious and versatile Discovery Sport was perfect for this project. The seats can be folded flat at the push of a button from the load space, which is wide and square and there are plenty of hidden storage spaces like the area under the front cup-holders. Building a cabin that utilised all these features was a lot of fun. We could have built this in one of our bigger models, but we wanted to prove just how versatile the baby of the Discovery family truly is."
HELEN ALI
LAND ROVER VEHICLE PACKAGE TEAM LEADER
Land Rover engineers made a virtual model of the cabin to get the most from every millimetre of space. Then they worked with specialist Danish architects LUMO to build it from sustainable materials. Designed to have a minimal impact on the environment, it rests on 212mm wooden struts that exactly match the Discovery Sport's ride height.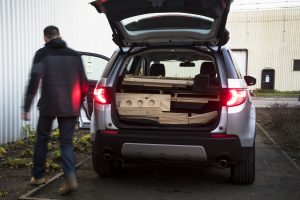 The cabin shares several features with Discovery models, including an optional tailgate seat on the deck. The wide horizontal door opening is inspired by the vehicle's full-length panoramic roof and provides epic landscape views. There's a solar charger on the roof, while lights and a kettle can be connected to the Discovery Sport's 12V power socket.
"Anything that wears the Land Rover badge has to be capable and versatile, with beautiful, simple design. Our cabin also had to be sustainable and easily transportable. We are used to working with VIP clients at Land Rover, but this was definitely one of the most unusual."
MUHAMMED MALIK
LAND ROVER PACKAGING ENGINEER