ASSOS, a cycling retailer well known in Switzerland has just opened its first flagship UK store in London today, marking the brand's 40th anniversary.
ASSOS launched the first ever carbon-fibre bike and introduced lycra shorts to the market.
The store, on Regent Street, has been designed by a world renowned architect called Ab Rogers. Staff in the boutque will go above and beyond to help cyclists find their perfect kit.
There's an elliptical shaped changing-room that has a sample of every garment in the collection and customers can then try the clothing on and ride a static Goomah racing bike, to make sure it's all comfortable and fitting right before they leave the store. Pictured here is Juliet Elliott, 36, a former Vogue model who became a professional cyclist and is an ASSOS Brand Ambassador, trying out the bike in store.
ASSOS CEO Phil Duff said: "London is the epicenter of fashion and the ever-growing buzz around cycling and we're thrilled to bring our passion to Regent Street. From professional and avid riders through to the weekend warrior, the ASSOS range is designed to allow cyclists to focus on the ride, whether that be at a competitive level or simply on the daily commute to work".
"We are committed to developing the most technically advanced product and through our new retail experience, customers can rest assured they have chosen the perfect fit before they take to the saddle".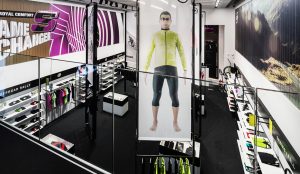 As mentioned, the store was designed by Ab Rogers, a keen cyclist himself and he said: "I'm drawn to the unwavering commitment to performance and the attention to detail ASSOS invest in every garment. I wanted to design a space that echoed this ethos, but importantly, also offered an innovative retail solution to guarantee customers an un-matched experience both on and off the bike."
He adds that the ASSOS boutique was inspired by his studio's work with museums and the film 2001: A Space Odyssey.
"The film 2001 is an endless inspiration for us, which itself was inspired by the Superstudio design aesthetic of the 1960s and 70s. It is celebration of whiteness to show off the colours of the brand."
"ASSOS clothing is about creating something fit for purpose – a kind of pure engineered aesthetic and we have adapted that approach to the boutique."
"I particularly like the changing room which to me allows customers to marinate in the brand – it's like going into the company's stock room."
"We are really happy with it. To me, it is like we have created a wine cellar for ASSOS's garments."
ASSOS has come up with a very relevant marketing angle, that of 'suffering in comfort'. Cyclists relish the pain. It's one of life's great contradictions, where something that hurts so bad, that in actual fact it can make you feel good.
ASSOS says: "Through all the suffering, those who are subjecting themselves to hours on the road, or those killer climbs, need to be as comfortable as they possibly can. So although the burn in our legs and lungs is unavoidable, we can still look after our hands, feet and and butt. Saddle sores, foot cramps, and numbness can be avoided, if you use the right kit."
Here's a look at some of ASSOS' hero pieces that can help diminish unnecessary pain.
Bib shorts
Tailored to fit on the bike in the cycling position, ASSOS bib shorts contour to your body like a second skin.  Lightweight, fewer seams, less friction, more stable fit.
Price £115 – £290
The Socks
ASSOS combines three important characteristics into its sock range:
1) lightweight, but heavy protection
2) compact construction for support
3) low compression for comfort whilst also aiding blood circulation
Price £14 – £22
Caps
The cycling cap is an essential piece of kit. It serves both form and function. It keeps the sweat or rain out of your eyes, it shields you from the low sun in the Spring and Autumn, it keeps your head warm, and last but not least, it's part of the look. ASSOS has introduced mesh to their latest style to increase ventilation, whilst also redesigning the peak, making it slightly smaller, to increase comfort and reduce sweat accumulation while riding.
Price: £14 – £32
Chamois cream
ASSOS Chamois Crème makes long rides more enjoyable and comfortable, by reducing friction, keeping your skin cooler and preventing bacteria. Used by many professionals regardless of the brand of their shorts. ASSOS Chamois Crème – simply a must.
Price: £13
18 Regent Street |St James Market, London
London, SW1Y 4PH
Tel. +44 (0)203 876 40 40
London.boutique@assos.com
Opening Hours:
Monday – Friday 10.00 / 19.00
Saturday 09.00 / 18.00
Sunday 12.00 / 18.00