We all know the tried-and-tested system of layering clothes when we're heading out in to the hills.
At its most basic level you wear a base layer, a mid layer and a shell. Getting too cold? Add a down jacket. Getting too hot? Take off your mid-layer. And so on.
With this in mind, here's a new layering system from The North Face that takes that layering principle and rockets it up a few levels.
It's a new line of clothing and equipment called Advanced Mountain Kit or AMK for short and it's going to be a big deal. I expect we'll see The North Face deliver some incredible videos featuring the Advanced Mountain Kit in the coming months, but for now here's a little taster of what it is.
The North Face has been working on AMK for the past four years and there are 21 items in the collection, and there's everything from mid and shell layers to down jackets, a tent, sleeping bag, gloves and boots.
All of it will be on sale in May and available from what The North Face describes as "elite dealers", "select stores" and The North Face website.
The Advanced Mountain Kit is aimed at those of us who want to do more 'high alpine' mountaineering and The North Face sees a big enough market to make this kind of clothing available to all, not just to professional mountaineers, particularly as many more of are eyeing up 5000m to 8000m peaks. In essence, it's kit that's built for you to survive in the highest mountains around the globe.
What we're seeing with this new line of clothing is a very clever blending of today's most modern fabrics and materials. We already know how much The North Face has invested into developing its FUTURELIGHT fabric and it feels like that particular step forward in fabric technology has really boosted other areas of research and made designers start asking questions to themselves about how they can blend some of these fabrics and technologies together.
In the photo below, you can see the principle of the AMK's layering system; it starts with a base layer, then midlayers, a shell and finally a down summit suit, with items named as L1 (Layer 1) right through to L6 (Layer 6).
There will be ten garments available, as listed below and pictured left to right (Note: you might see that there's no L4 category in this list, but don't worry there is an L4 and it has been allocated to some of the new gloves/mittens).
Summit AMK L1 Crew and Pant
Summit AMK L2 Pullover and Pant
Summit AMK L3 Pullover Hoodie and Pant
Summit AMK L5 FUTURELIGHT™ Jacket and Pant
Summit AMK L6 Parka and Pant
Summit AMK L1 Crew and Pant
Summit AMK L2 Pullover and Pant
Summit AMK L3 Pullover Hoodie and Pant
Summit AMK L5 FUTURELIGHT Jacket and Pant
Summit AMK L6 Parka and Pant
Also in the AMK range are four glove and mitten options to choose from and some of these make use of the new FUTURELIGHT fabric:
Summit L4 FUTURELIGHT™ Down Mitt
Summit L3 FUTURELIGHT™ Climb Glove
L2 Insulated Climb Glove
L1 Climb Glove
There are also some impressive items of equipment on the way such as the AMK ASSAULT Tent (which is made from FUTURELIGHT and rumoured to weight less than 3 lbs) the AMK Superlight 10 sleeping bag, the AMK Spectre 38L pack, the AMK Spectre 55L pack and an AMK Base Camp Duffel XXL. To make these items even more rugged and durable, The North Face has partnered up with SPECTRA™, to use their polyethylene fibres which are one of the world's strongest and lightest. We can't wait to see the photos of this kit, especially the tent and sleeping bag.
And if that wasn't enough, there's also some footwear options with the Summit L2 Super Approach Boot, the Summit FUTURELIGHT™ Down Bootie and Summit L3 Insulated Climb Gaitor. Again, still no photos of these yet.
What you'll see in the AMK range, alongside FUTURELIGHT, are four other new 'technologies' called Cloud Down, 50/50 Down, FutureFleece and Dot Fleece.
Now, full details of what each of these actually are quite tricky to understand, but for Cloud Down it's a way of making the garment so there is maximum space for the down to loft (just like fluffy clouds we guess) while keeping the lining close to skin.
The 50/50 Down is a series of baffles that are paired to a highly air-permeable face fabric, which creates a breathable down layer with less bulk. You can see what these baffles look like in the hood section of the jacket below.
The FutureFleece has an octagonal-shaped yarn (for higher thermal performance) and the Dot Fleece is very clever; it has hydrophobic yarns next to the skin which helps push moisture out to the surface and then the surface material pulls moisture out through engineered holes (dots) in the fabric helping the wearer to stay dry.
Reassuringly the AMK range has been made with collaboration from professional alpinists such as Andres Marin, David Göttler and Herve Barmasse. Scott Mellin, who is the Global General Manager of Mountain Sports for The North Face says: "Inspired by the truth of 'Athlete Tested, Expedition Proven', we focused the power of the entire global brand to develop this kit in an effort to deliver a unique system that puts the athletes' needs first. The Advanced Mountain Kit is giving athletes the tools to help them climb faster and more efficiently in the world's harshest climates."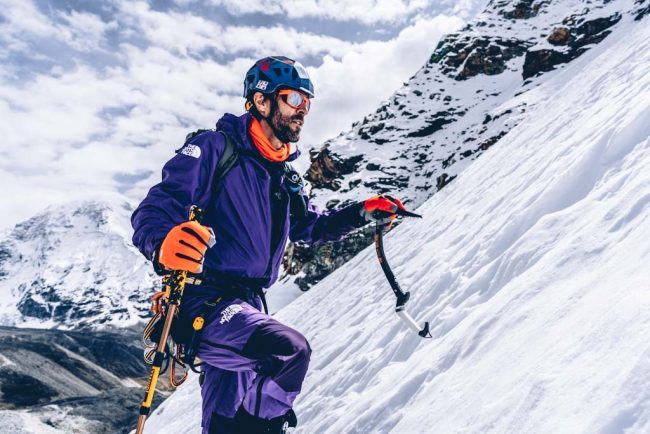 Andres Marin adds: "The AMK range is revolutionising how professional climbers attempt big objectives and move at high altitude. Through the use of premium material, new technology, and revolutionary construction, this incredibly lightweight system is the most functional gear I've ever used, from base camp to summit."
That's quite some statement…
Of course, prices for AMK are likely to be high. However, The North Face says that some of the technology will filter down into other products, stating that we may see things like Cloud Down, 50/50 down, FutureFleece and Dot Fleece in the brand's Summit Series range in the autumn.