Serves 2
Ingredients:
Cooked meat from thighs and one breast of chicken
(Slow cook in the oven and when cold pull the meat apart with forks or your hands)
1 cup walnuts, smashed to fine chunks/powder
1 cup coriander leaf
1 cup parsley leaf
4 cloves garlic
1/2 onion
1 glass white wine
1 cup sour cream
2-3 cups water (depending on how thick you like your soup)
1 chicken stock cube, crumbled
1 tsp ground black pepper
1 tsp hot paprika
1 tsp dried tarragon
50 g butter (wrapped)
Sea salt
Equipment:
Camping stove and pot
Bamboo chopping board
Knife
Airtight container
Insulated bottle
Insulated coffee mug with airtight lid
Wooden spoons
Insulated bowl/mug – to serve
Method:
Put the pulled chicken into an airtight container, and chill in the fridge overnight.
Use this to transport to camp.
Mix the wine and sour cream together and transport in a leakproof coffee mug
Fill your bottle with water.
Place the spices, stock cube and walnuts in a small reusable container.
Place the herbs, onion and garlic and butter in another reusable container.
Hike to your chosen lunch spot, or overnight camp.
In camp, finely chop the herbs, garlic and onion.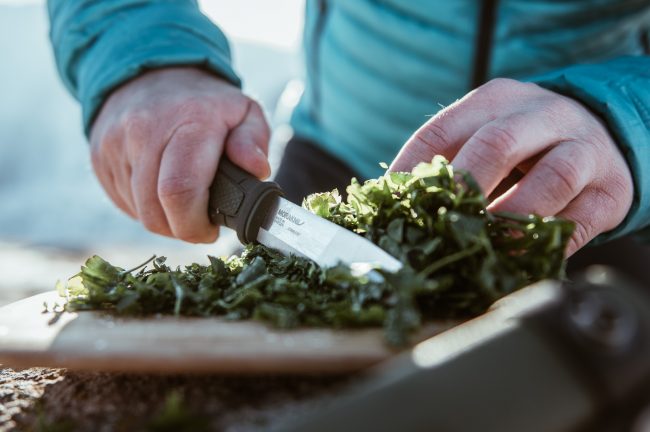 Heat the pot, add butter and foam gently.
Add the onion, garlic, herbs and spice/walnut mix; cook for 2 minutes.
Add the wine, sour cream and water, bring to a simmer.
Add the shredded chicken and cook for 15 minutes minimum.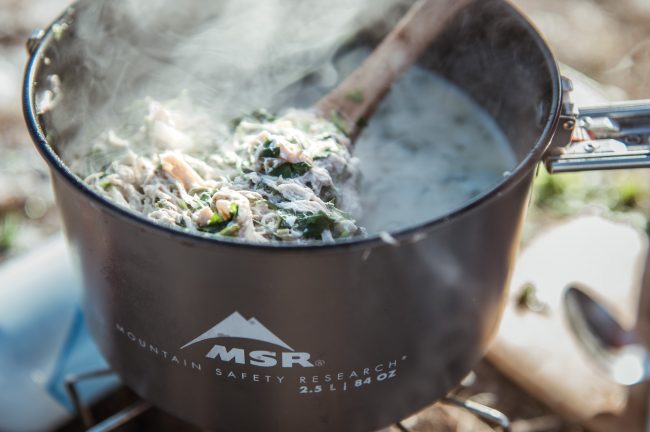 (If you have the time and fuel, cook for longer as the flavours will intensify)
Taste and season if needed.
Serve in the insulated bowls/mugs.
Dig in!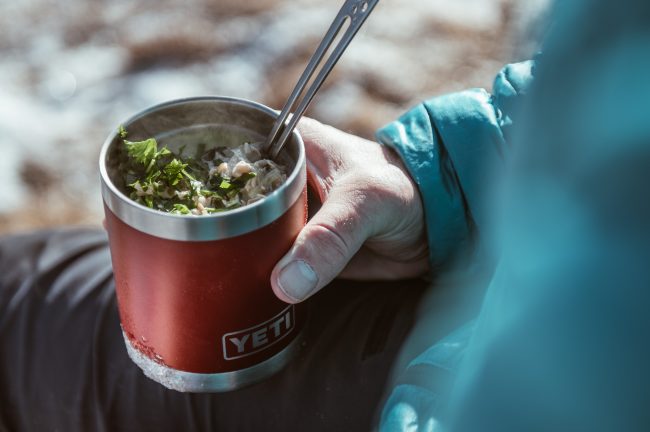 Recipe by @kierancreevy and photos by @lisapaarviophotography