Serves 2
Ingredients:
To make the Lobio:
2 cups dried red kidney beans, soaked in water overnight
1 white onion, finely sliced
1 green pepper, roughly diced
1 cup flat leaf parsley, roughly chopped
1 vegetable stock cube, crumbled
1 tsp white pepper
1/2 tsp dried fennel powder
1/2 tsp black cumin powder
1/2 tsp coriander powder
Water
Salt – to taste
1 tbsp butter or ghee
To make the Mchadi:
Cornflour, finely ground
2 eggs
2 tsp sea salt
1 tsp chili flakes
1 cup hard white cheese, cut into fine cubes
2 tbsp rapeseed or olive oil
Water
Extra cornflour for dusting
Equipment:
Camping stove, pump and fuel bottle
ceramic pot and skillet
Wooden spoon and spatula
Silicone dry bag – to knead and store the dough
Storage:
Mix the beans, parsley and stock cube together and store in a lightweight leakproof container.
Store the onion, pepper and spices in a separate container.
Method:
First make the cornbread.
Mix together the cornflour, spices, salt, eggs and oil.
Then add in the cheese and a little water at a time.
Knead until you have a smooth dough.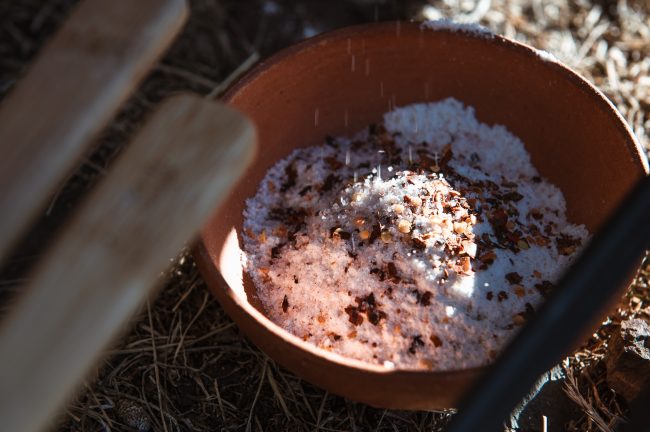 Store in a silicone drybag or reusable container.
Light the stove and when burning correctly reduce the heat to a simmer.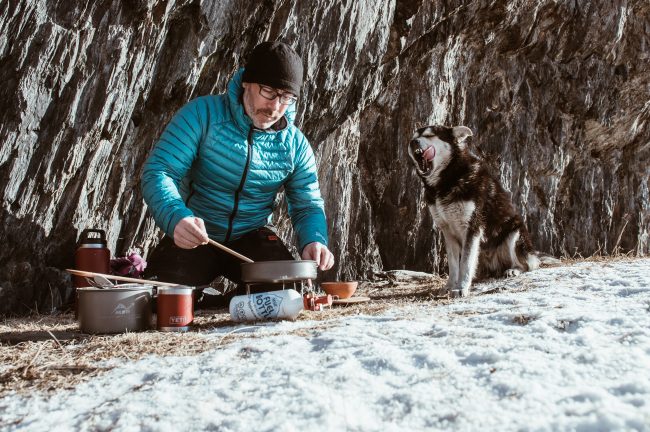 Add the butter/ghee and when gently sizzling add the onion, pepper and spices.
Cook for 2-3 minutes.
Add the bean mix, stir well and enough water to cover completely.
Increase the heat to full, cover with the pot lid and bring to a boil.
Reduce heat slightly, cook for 20 minutes or until the beans are soft, adding more water if necessary.
Taste and season with salt if needed.
Remove from the heat and keep warm.
Place the skillet on the stove, reduce the heat to medium/high.
Break off a golf ball size lump of dough, roll in between your hands until smooth and flatten.
Dust with a little cornflour and place in the skillet.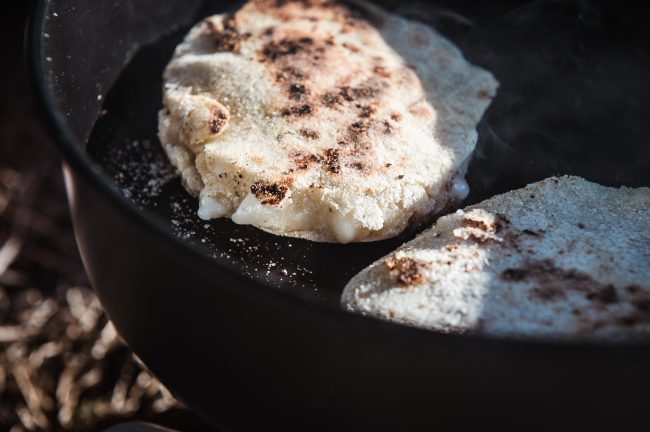 There is space in the skillet for 2-4 breads, depending on size.
Dry fry for a few minutes on both sides until cooked through and the cheese starts to ooze out.
Serve the bean stew in an insulated container with some bread.
Recipe by @kierancreevy and photos by @lisapaarviophotography