WHILE we know that cooking from fresh is best, sometimes we're resigned to reach for the freezer to see what's lurking there…
While existing ready meals don't really have the protein levels that adventurers/fitness fanatics need, here's nine new meals that do.
They have been created with help from experts at Men's Health magazine and will be on sale in supermarkets from April priced at £3.
Each one has least one of our five a day and they are loaded with protein but low in fat, sugar, salt, and oil.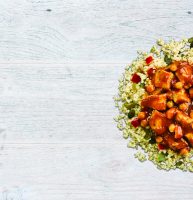 Men's Health editor Toby Wiseman comments: "Whether you're in the gym five times a week, or simply trying to eat healthily, the Men's Health Kitchen range is the perfect, wholesome way to get your daily protein fix, help keep your weight in check and maintain energy levels."
The recipes have been created using no free running sugar, with only honey or dried fruit incorporated for natural sweetness. Use of free running salt has also been avoided using umami and soy flavours.
The Men's Health Kitchen range consists of nine main meals (each 425g) with an RRSP of £3:
Beef and Kale Hotpot with Sweet Potato
Beef Brisket and Beetroot with Brown Rice
Chilli Beef and Okra with Wild Rice
Chicken Tagine and Chickpeas with Bulgur Wheat
Thai Salmon and Edamame with Whole Wheat Noodles
Thai Red Chicken Curry with Spinach and Wild Rice
Chicken Tikka Breast with Aubergine and Lentil Dahl
Chickpea and Spinach Dahl with Brown Rice
King Prawn and Pomegranate with Persian Rice
Buy from ASDA or online from http://www.menshealth.co.uk/mh-kitchen/