HOW does crossing 100 miles of Norway's most spectacular landscape on skis, fat bikes and foot sound? And then how about camping each night in a cosy traditional Norwegian lavvu tent?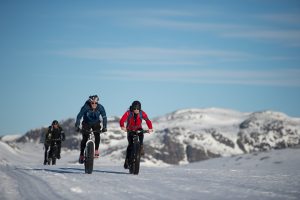 Well this is exactly what 17 competitors have just done in the first ever N60 Norwegian Challenge that took place between March 12th and 20th.
There were mixed teams of two and individuals with professional adventurer George Bullard following as the 'backmarker' to check everyone was ok.
The challenge was organised by IGO Adventures – thought up by Bobby Melville and inspired after his 48-day voyage rowing across the Atlantic Ocean to win the Talisker Whiskey Atlantic Challenge.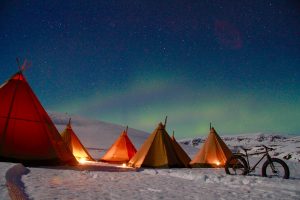 Bobby consulted with over 100 of the world's leading adventurers and athletes (including cycling consultant Jaco Van Gass of Paras, Walking with the Wounded North Pole, and winner of a double gold at Invictus Games) for the creation of IGO and their experiences were distilled to form the unique IGO DNA which inspires every event – challenge, wilderness, diversity, camaraderie and philanthropy.
Participants ranged from professional sportsmen, former special forces personnel to business men and women looking for the ultimate challenge. Each had to carry their own water and food supplies each day. However, IGO is keen to point out that their events are not exclusive to the super-fit: attitude will stand you in better stead than aptitude.
From the moment of sign up, competitors are supported by a team of experts. Beginning with a full physical assessment, each racer receives expert guidance to ensure they are fully prepared to compete or simply complete.
There were four separate stages, each a marathon-length, from Hemsedal to Geilo. But the beauty of the challenge is that it consisted of such a mix of disciplines; touring and downhill skiing on day one, fat biking on day two, cross-country skiing on day three and finally, a marathon run to a finish line at the Vestlia Resort.
The route itself was designed by race director Sam Browne and head guide Rune Abrahamsen.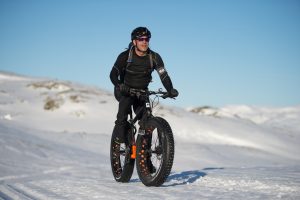 Reflecting on the event Bobby Melville said: "IGO Adventures has now completed its first event – The N60 Challenge. I started this company with a dream to change people's lives, as mine was when crossing the Atlantic in 2013. The emotion I felt when seeing our courageous competitors crossing the finish line will be something that will never leave me. The competitors have been on a journey they will never forget and the memories and friendships made will last a lifetime."
Partner and professional adventurer George Bullard commented: "My role in N60 was to ensure that everyone completed the event. I was humbled by the grit, determination and perseverance shown by everyone involved, without exception. The N60 challenge was a true reflection of an achievable expedition that never loses the sense of adventure."
IGO Adventures' next N60 Challenge will take place from 11th to 19th March 2017. With a strictly limited number of places available, the expedition starts from £4,750 per competitor. Visit www.igoadventures.com for more information.
The 2016 N60 Challenge was supported by Salomon, Ski Norway, Surrey Sports Park, Tribe, Justerini & Brooks, Vollebak, Hemsedal Fjellsport, Yellow Brick, Vestey Foods, AirBounce Sport, Bladesman Productions, Johnny Fenn Photography Ltd, Geilo Huskies and Hemsedal Huskies.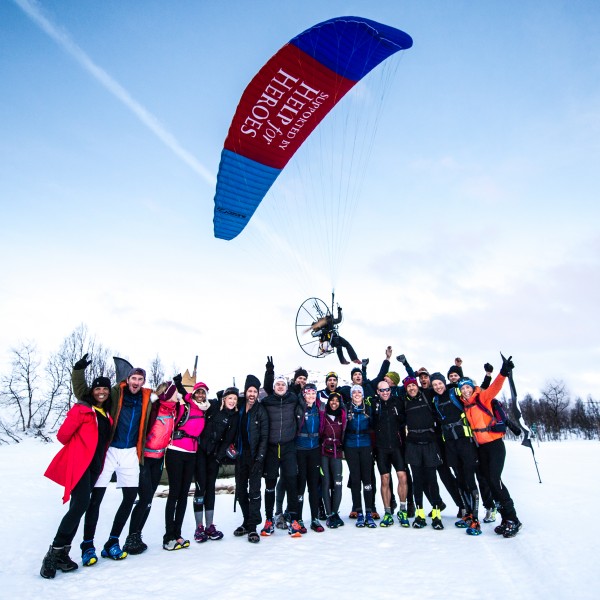 Following the race, the N60 Trophy – a vintage wooden Nordic cross-country ski – was engraved and officially awarded to the winners.
JOINT WINNERS:
+Denotes stage win
*Denotes adjusted time for getting lost

Phil Lowe
Touring Ski: 2:20.00*
Fat Bike: 3:29.25
Cross Country Ski: 3:01.58+
Run: 3:36.30
TOTAL: 12.27.13
Jack Woodhouse
Touring Ski: 2:23:45
Fat Bike: 3:21:39+
Cross Country Ski: 3:45:49*
Run: 2:56:00+
TOTAL: 12:26.13
THIRD:
Stewart Licudi
Touring Ski: 2:23:30+
Fat Bike: 3:37.00
Cross Country Ski: 3:30.06
Run: 4:11:02
TOTAL: 13.41.38
FOURTH:
Dom Evans
Touring Ski: 2:38.07
Fat Bike: 4:23.15
Cross Country Ski: 3:03.30
Run: 4:44:36
TOTAL: 14.49.28

FIFTH:
Rich Barber
Touring Ski: 2:21.30*
Fat Bike: 4:56.58
Cross Country Ski: 3:49.45
Run: 4:10:58
TOTAL: 15.19.11
SIXTH:
Abi Butcher
Touring Ski: 2:42.07
Fat Bike: 5:23:27
Cross Country Ski: 3:36:05
Run: 4:49:43
TOTAL: 16.31.22
SEVENTH:
Bobby Melville
Touring Ski: 2:46:45
Fat Bike: 6:16:55
Cross Country Ski: 3:03:31
Run: 4:37:57
TOTAL: 16:45:08
EIGHTH:
Will Hadman
Touring Ski: 3:22.49
Fat Bike: 4:23.15
Cross Country  Ski: 4:44:30
Run: 4:44:36
TOTAL: 17:15:10
NINTH:
Fatima Islam
Touring Ski: 2:47:48
Fat Bike: 7:19:11
Cross Country Ski: 3:59:27
Run: 4:05:52
TOTAL: 18.12.18
JOINT TENTH:
Georgie Breitmeyer
Touring Ski: 3.24:02
Fat Bike: 6.52:18
Cross Country Ski: 5.58:18
Run: 5:20:03
TOTAL: 21.34.41
Nicola Bannister
Touring Ski: 3:24.02
Fat Bike: 6.52.18
Cross Country Ski: 5.58.18
Run: 5:20:03
TOTAL: 21:34:41
TWELTH:
Neil Counihan
Touring Ski: 3:28:29
Fat Bike: 5:48:12
Cross Country Ski: 5:29:57
Run: 6:53:34
TOTAL: 21: 40. 12
THIRTEENTH:
Rosabee Hine
Touring Ski: 4:32:58
Fat Bike: 6:33:12
Cross Country Ski: 6:40:33
Run: 5:31:05
TOTAL: 23:17:48

FOURTEENTH:
Hannah Lawton
Touring Ski: 4:20:00
Fat Bike: 6:33:14
Cross Country Ski: 6:17:47
Run: 6:15:42
TOTAL: 23: 26:43
FIFTEENTH:
Dhivya Venkat
Touring Ski: 4:32:59
Fat Bike: 7:17:32
Cross Country Ski: 6:40:33
Run: 7:02:35
TOTAL: 25:33:39
SIXTEENTH:
George Bullard
Touring Ski: 4:32.59
Fat Bike: 7:20:33
Cross Country Ski: 6:40:33
Run: 10:54:12
TOTAL: 29:28:17

DNF:
Hugh Anderson
Touring Ski: 2:47:46
Fat Bike: 3:47:55
Cross Country Ski: 4:44:30
Run: NA
TOTAL: 11.20.11