Overnight Guy Martin has taken the Triumph Infor Rocket Streamliner to 274.2 mph on the Bonneville Salt Flats, breaking a 46-year-old record.
The previous official Triumph record stood at 245.667 mph as well as an unofficial Triumph Record of 264mph, both set by Bob Leppan, in the Gyronaut X-1.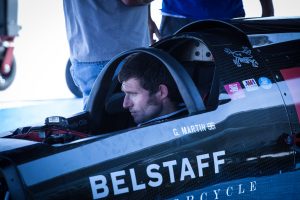 Just after 8:30am Guy Martin set off on the first run of the day and after a steady start he then pushed the streamliner to 274.2 mph.
The Triumph Infor Rocket streamliner has a carbon Kevlar monocoque construction and two of Triumph's turbocharged Triumph Rocket III engines producing a combined 1,000 bhp at 9,000 rpm.
The motorcycle is 25.5 feet long, 2 feet wide and 3 feet tall.
Powered by methanol fuel, the bike is competing in the Division C (streamlined motorcycle) category.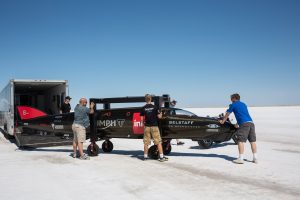 The overall speed record has been held by Rocky Robinson since 2010 riding the Top Oil-Ack Attack streamliner, and sits at 376.363 mph (605.697 km/h).
Guy has a further 102mph or so to add on to grab that record – and will attempt this next week.
Triumph's road-going Bonneville bike was named to celebrate Triumph's 1956 land speed record on the Bonneville Salt Flats in Utah, USA.
At the time, Johnny Allen reached 193.72 mph and the very first T120 Bonneville model was then unveiled three years later at the Earls Court Bike Show and went on sale in 1959.