We had never heard of Nordisk until today, but turns out that it's a famous Scandinavian camping brand that has a unique style and lots of high-quality kit on offer.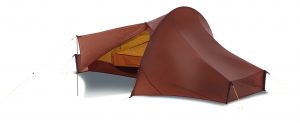 One of the first products to catch our eye is the Telemark 1 ULW tent. It weighs an incredibly light 770g (that weight includes the inner tent, fly sheet, poles and corner poles) and is the exactly the kind of 1 person tent I have been looking for to carry with me in the Rab Mountain Marathon this September. You can choose between either aluminium or carbon poles. There's a 2-person version too. Inside is an inner pocket, a mesh window, a neat magnetic closing flap and the corner poles can also be used to turn the door into a tarp.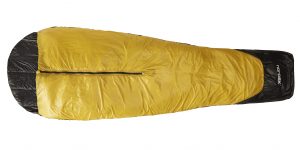 With the tent sorted, you now need a sleeping bag, so the Oscar +10 should do the job nicely. Weighing in at 350g it will keep you warm from -2 to +14 and is the world's lightest synthetic sleeping bag in its category. It's made out of ultra fine 7-denier rip stop nylon and the filling is ECO friendly – made from 100% recycled PET bottles.
Finally you need a sleeping mat and the Grip 2.5 is ultra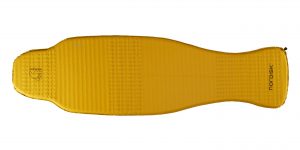 lightweight, packable and best of all, self-inflating. It's shaped to contour around your body (see right) and has the more insulation in the areas where the body needs it most. It weighs just 385g and is made from 20D ripstop that's surprisingly easy to clean too.
Put all three in your backpack and you're looking at a combined weight of just 1.5kg! At that weight it's easy to see why Nordisk kit is becoming a hit with backpackers and ultra runners…

www.nordisk.eu