THE Icarus Trophy is now underway.
Live tracking is up and running on The Adventurists' website meaning that we can now follow the pilots as they take part in the world's first long distance paramotor race.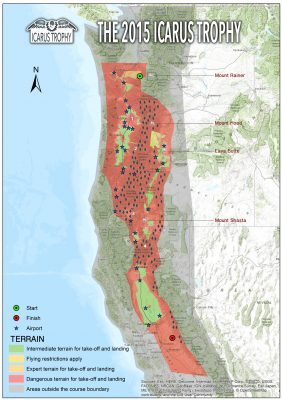 Competitors have a 1,300km flight ahead of them as they make their way south from Eatonville in Washington to finish at BlackHawk Paramotor in Valley Springs, California.
The pilots will actually end up flying over three states – Washington, Oregon and California.
The winning pilot is expected to arrive in seven to ten days' time.
It is the first time a long distance air race has ever been attempted using paramotors so it really is breaking new ground.
Many of the 25 pilots taking part have been trained by SkySchool Flight Centre, Europe's leading paramotor school. And last month we featured two women that are taking part. So who better to ask about the Icarus Trophy than SkySchool founder and senior instructor, Alex Ledger. 
He says: "The Icarus Trophy is the ultimate adventure race, a combination of endurance, skill and risk management. The training systems we have developed are designed to allow students to learn the sport as safely as possible and are of the highest standards. However, as with any form of adventure sport, there is always an element of risk whenever a pilot takes to the sky. 
"The Icarus Trophy pilots are racing unsupported day to day and will have to have their wits about them as they will face varying unfamiliar terrain, potentially unfavourable weather conditions, navigation issues for planning best routes including take off and landing spots and even possibly wild animals.  The training for these pilots has been intense, and all have passed their permit to fly and take part in what will be a seriously tough air race."
See live tracking at http://www.theadventurists.com/follow-the-race/