In November 2016, for five weeks, pilots will fly in a never-done-before vintage air rally across Africa.
The Crete2Cape Vintage Air Rally starts from Crete and ends in Cape Town, but here's the deal, it's only for aircraft built before the 31st December 1949.
The rally is being organised by the very capable Sam Rutherford from prepare2go, the same chap that Adventure 52 flew with on the firm's Libyan Air Safari back in 2010.
Sam says: "A rally such as this has never been done before, ever. Following in the footsteps of the pioneering flights in the 1920s, we'll connect some of the most beautiful and evocative points in Africa."
The rally involves flying low over the Nile from Cairo to Khartoum and then past the highlands of Ethiopia before heading to the plains of Kenya and the home of African aviation in Nairobi. It will then take pilots past Mount Kilimanjaro into the Serengeti and on to the spice island of Zanzibar.
After a short pause to enjoy the Indian ocean, it will continue by crossing Zambia to Victoria Falls and then from there to Bulawayo in Zimbabwe. The final days lead into Botswana (at the specific request of the President!) and then across South Africa to the Cape and the journey's end.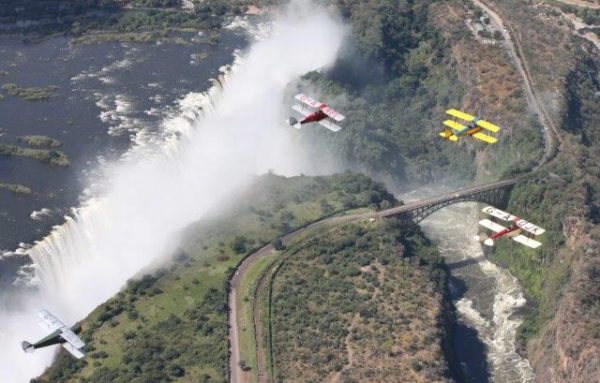 Sam says they'll be staying in a wide variety of locations, from 5* hotels to tented camps in the Serengeti (and everything in between). "Obligatory equipment will include a sleeping bag, full black tie and a beginners guide to Swahili (all three items will be needed at some stage or another, perhaps simultaneously," he jokes.
"There will be trials and tribulations, mechanical and human stress – all in stunning visual settings. The support aircraft, both aeroplanes and helicopters), will be busy keeping the show in the air and perhaps helping the vintage aeroplanes that have made precautionary landings here, there and everywhere."

Sam says he is looking for:
Adventurous pilots with aircraft built well over half a century ago (maximum 10 aircraft).
Adventurous pilots with more recent fixed wing aircraft, looking to help the endeavour.
Adventurous pilots with helicopters, looking to help the endeavour.
Crete2Cape has made a formal application to the Fédération Aéronautique Internationale for event recognition and hopes for acceptance soon.
Sam is also looking for a main sponsor for the rally. He says: "We are looking for US$2M from the main sponsor for this event – the equivalent of just 15 minutes of primetime television advertising. It is a lot of money, it also represents extremely cost effective exposure."
He is also looking for a TV production company that's interested in recording the event and all the action.
Contact Sam through the website or fire him a tweet @crete2cape