VANGO has named these three new trekking tents after winds, more than appropriate as they all have extra ventilation and breathability for those of us planning to camp in hot climates. 
The Mistral, Sirocco and Ostro fall in to the Solis range. Each has a highly breathable inner made from micro-mesh and there are strategically placed fabric additions to reduce draughts or to direct condensation or sunlight away from the user.
All three come in this brilliant terracotta colour scheme. Look closely at the photos and you'll see they all have roll-up front doors and some interesting ventilation solutions, particularly on the corners of the Mistral's flysheet below.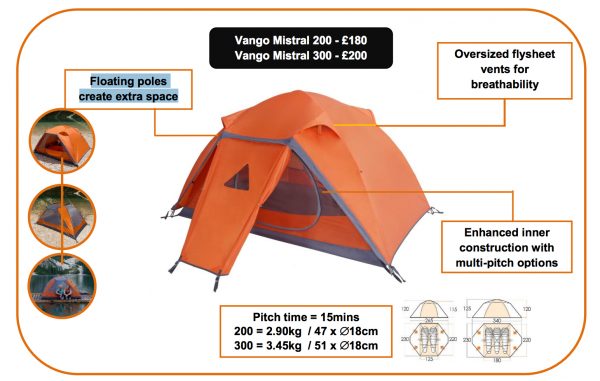 The Sirocco can be pitched without putting the flysheet on (squint at the pictures in the small circles below) yet sun protection/shade is retained from a patch of orange-coloured fabric on the 'ceiling'.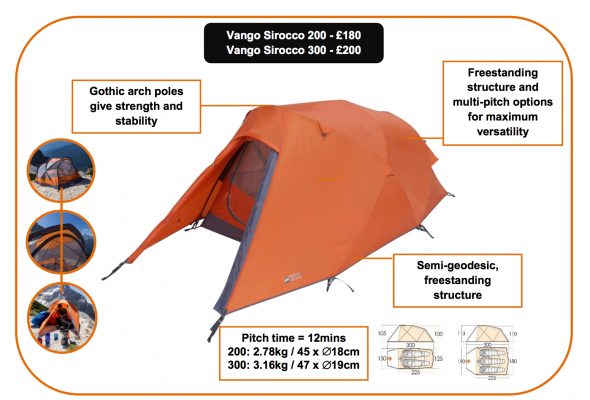 The Ostro (below) is the most expensive of the three and that's because it's a fully geodesic design and has a Protex 70D Polyester flysheet. The best thing on the Ostro is that the entire front can be rolled up to expose the inner tent entrance to the elements – making it great for stargazing out of.