GRACE, a 19-year-old woman from southern Malawi's Mwanza District in Africa has had three miscarriages. When she becomes pregnant for the fourth time, just seven months later, she goes into premature labour. But there is no ambulance to take her to the hopital and instead Grace walks two-hours to reach her nearest health centre. Once there she gives birth to a beautiful baby girl which she names Chimwemwe (meaning 'happiness').
Her daughter is tiny, weighing an alarming 3lbs. Chimwemwe has trouble feeding and keeping warm so Grace decides to take her back to hospital. This involves another half-day walk for the new mother. With no facilities for premature babies at the health centre, Grace is given a bed in the postnatal ward to keep her vulnerable baby warm – a near impossible task without heaters or bedding and an outside temperature of just 10°C.
Struggling to maintain any body heat, Grace has no warmth to pass onto her daughter. Three days later Chimwemwe passes away. Grace has lost her daughter. Many of the fragile babies born early in Mwanza die – particularly if they're being transferred to the main regional hospital so VSO (Volunteer Service Oversea) Dr Marike Maijers has introduced ways of caring for the babies. She's trained staff to provide 'kangaroo care', where mothers of premature babies keep them warm through skin contact.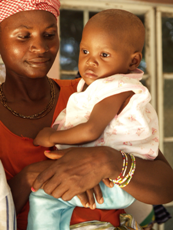 In a dedicated, clean and heated room mothers press their tiny babies against their naked chests and wrap a traditional sarong around them both. This way, the mothers act as natural incubators. Dr Marike has also fundraised to buy three much needed incubators for the unit. More local babies are now surviving.
Fundraising continues and this May 15th a day of charity walks will simultaneously take part all over the UK. If Grace had a long walk to make while going into labour, then surely we can do one too. As such, the event is called 'In Her Shoes' and those taking part are being encouraged to go glitzy and decorate the walking shoes they'll be wearing on the day.
Join one of the walks scheduled to take place in Belfast, Cambridge, Cardiff, Cornwall, Kendal, London, Warwick and Worcester.  They're designed for all abilities and each walk will range from 5 to 10km. VSO is aiming to raise around £40,000 in total from all its UK walks for its vital work in healthcare and the charity's fundraising development manager, Jane Quayle said,
"The impact of our health volunteers' work is significant but we urgently need more funds to maintain and strengthen the flow of volunteers to where they're needed most. Even today in Malawi one woman in 18 still dies in childbirth; in Sierra Leone it's one in eight. Every woman, regardless of where she lives in the world, should have access to good maternal health care. Your involvement in our walk could prevent future heartache for women like Grace."
Women taking part includes Lorraine Kelly, highly accomplished BBC 'Newsnight' presenter Emily Maitlis and famous comedy writer and actress Miranda Hart (known for her award-winning BBC 2 sitcom 'Miranda'). Also turning their hands to designing shoes for the cause are Beverley Knight and Joanna Lumley.
The top fundraisers from across the country could win a number of fantastic prizes, including Lorraine's autographed shoes and those personalised by Emily and Miranda.
For more information or to sign up for the walk visit www.inhershoes.org.uk. Registration for adults is £10 per person (this is non-refundable) and each walker needs to raise a minimum of £100.