"FOR many of our members, walking has not only meant getting outdoors, getting healthy and keeping active – relationships and friendships have blossomed and communities of shared interest and companionship have been formed," says Simon Barnett, the Head of Walking Programmes and Promotions at the Ramblers.
A romantic walk is one of the best ways to create a memorable day at at any point of the year, not just on Valentines Day (our favourites are coastal, cliff top walks). This year the Ramblers are actively promoting many of their amazing walks for us to go out on. And we needn't be with a loved one to enjoy them as singles are being asked to join in groups walks taking place.
Here's a few Ramblers who have found either friendship, love or wedding bells – all through walking.
Sarah Wise & Sean Doel, Metropolitan Walkers London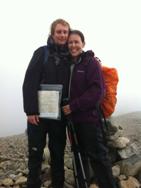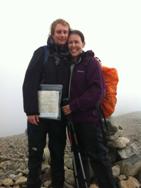 SARAH: "I've been a member of Metropolitan Walkers for nearly three years now and Sean has been a member for a little bit longer. I met Sean on my second walk and we gradually got to know each other over the next few months, walking with the group as often as possible in the hope of bumping into each other. We got engaged at Christmas 2010 and married in October 2011. We walk regularly with the group as we have made so many friends there and had around 50 Met Walkers at our wedding. We also had hen and stag walks where the girls went off in one direction and the boys in the other, meeting up at the end. I can't recommend Met Walkers enough as a way to meet people – both friends and partners. Some of my closest friends are people I've met through the group and I've lost track of the number of couples there are now. We are going to two Met Walker weddings this year alone. Walking is a great way to meet people. You can get to know people in a non confrontational way over the course of a lovely long day in the sun, interspersed with pints of cider. It's a great opportunity to meet people outside of the normal conventional circles like work, friends of friends etc and Met Walkers themselves hold a wide variety of interesting jobs; pub conversations are never dull. As well as having lots of our fellow walkers at our wedding we tried hard to have an outdoorsy theme, which reflected how we met, and the way we spend our time. We married on a farm, well served by public footpaths. Our tables were all named after peaks we had climbed in England, with us sitting at Scafell Pike. Our favours were Grasmere gingerbread, which we love from our trips to the Lake District, and of course our cake had a walking boot made of icing as the top tier."
Lesley and Will French, Ealing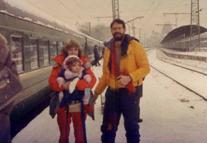 LESLEY: "I'd like to say I met my husband through walking, but it wouldn't be true. In fact, back then, walking was something you did when you missed the night bus home and no-one sensible did it for fun. Both of us had always wanted to travel and after a few years of diligent saving, we set off to travel round the world. It took us three years, and by the end of it we both loved walking. Our first real walking experience was in Nepal:  the sight of the snowy Himalayan peaks beaming down at us convinced us to give it a go.  I still have my 1977 Trekking Permit from His Majesty's Government of Nepal. We walked the Helambu trek from Kathmandu to the Tarke Gyang monastery at 9000 feet. My diary mentions 2000ft  ascents in one day, beautiful views, scary suspension bridges and washing in icy rivers. We stayed every night in tea houses, where we ate dhal and rice, and slept on the floor. It was lovely, if exhausting. In South America we did the Inca trail to Macchu Pichu in just two days, just the two of us, no guides or porters. It was a totally magical 26 miles, climbing up Inca staircases to misty mountain passes at 13,000 feet, and then down to valleys full of  brightly coloured flowers and humming birds.  Will's feet developed blisters, so he ended up doing the last bit in my flip flops. Who says you need expensive equipment to go walking? These days we go on more sedate walks – most weekends we go out for a 10 mile ramble, usually stopping at one of the many delightful Chilterns pubs. We also do long distance walks in our holidays and have recently completed the 630 mile South West Coast path from Poole to Minehead, a totally magical experience.  Walking takes you to places you can't reach any other way: we intend to keep on forever."
Jean & Mike Murphy, Redbridge Ramblers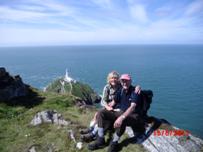 JEAN: "Mike and I have been walking with the Ramblers for at least 20 years but not always together. As a divorced mother of two I found walking to be a wonderful way to relax and meet new friends and Mike, as a widower, experienced the same. So, it happened that about 15 years ago we would "bump into each other" on walks, each of us belonging to different groups which occasionally did a joint venture by coach or holiday. Over a period of time we found that we shared a variety of interests and of course, most of all, loved our walking. In the year 2000 we started to share more of our life together, culminating in our marriage in 2001. There was no romantic proposal on a windy hill in Devon … more a kind of "knowing" that this was what we both wanted and that it was the most natural thing in the world. But our honeymoon was a different matter – we spent it in the Lake District walking with a dozen or so other friends and it included the scaling of Striding Edge. Since these heady days we have enjoyed many long-distance paths, walking holidays and local walks. One of the earliest long-distance paths we walked was the North Norfolk Coastal Path and this remains one of our strongest memories – for its peace and tranquillity and amazing skies. I often joke now with Mike that when we got married I not only had to take his name but also his walking group – since of course it made sense to be joint members of one group rather than belonging to two separate groups. The sacrifice has been well worth it, especially since I have stipulated that part of the "marriage contract" includes the cleaning of my boots."
Barbara and Harry
BARBARA: "Is walking romantic?  Yes, so many have found – proof of this was when I met my husband Harry. Looking back to the 1940's after the war, "Keep fit and healthy clubs" were popular and I had joined my local Ramblers club in North West London after moving from Cardiff. I met Harry in 1955 – I was aged 33 then and he was 40 and hailed from Bradford. We came together through a monthly musical appreciation event, organised by another Rambler called Joe. I liked the look of Harry but wasn't sure if he felt the same, but after one of these events he asked to escort me back to Queens Park station and asked me out to the theatre to see "Under Milk Wood". We never looked back after that and although we kept our courtship secret everybody in the club knew. We married in 1957 and in the same year so did another 5 couples from the same Rambling club. We had a son called Chris in 1963 and now he works for The Ramblers. We did so many walks together, every weekend with friends in our Club – mainly in The Chilterns but also lots of other areas, especially the Lake District and the Dales where Harry still had his family. I am now 88 and still taking a short daily walk planned where I know I can sit occasionally and the staff in the home where I live think this is wonderful or daft depending on the weather. The easiest way to settle in a new area is to join a rambling club.  All over the country there are friendly clubs – you are anonymous on joining and instantly you will have "a friend". Whilst walking and chatting you can easily find someone with similar interests –  music, books, films or travel. I am still in touch with some old friends from my Club and I am thankful that over the years I have explored the UK and have so many happy memories and photos. The beauty of the countryside makes for romance. Life is there to enjoy."
James and Liz's story, Metropolitan Walkers London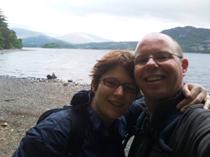 JAMES: "I'd been walking with the Metropolitan Walkers for about four months when I was introduced to Liz at the start of a walk by a mutual friend, Sarah. Liz had been going for a while longer but far more sporadically, though we both readily now admit that one of the main reasons we both started walking in a group was the possibility of meeting someone. I guess I was just trying a bit harder. If you'd told me when we first met at Horsley station that I would end up marrying the frumpy-looking girl in the oversized ski jacket and sunglasses then I would probably have laughed. Luckily her personality shone through and the awful jacket soon came off (note – do not judge someone too quickly in their walking clothes). Around seven hours of walking and chatting later I was pretty smitten, but it still took a phone call from Sarah to encourage Liz to come out the following week to see if the feeling was mutual. After another seven hours chatting on a Watton-at-Stone circular walk, I'm glad to say it was. And therein lies the beauty of group walking – when you meet someone and start to connect, the hours just fly by. Plus I found that chatting side by side rather than face to face helps get around any worrying about eye contact and body language. That was nearly three years ago and we're getting married in June. We always try to incorporate walking into any holiday we go on and that will include the honeymoon too hopefully.  Since we met we've continued to walk with the group and the few walks we do alone are recces for leading walks ourselves to give something back to the group. Our favourite walks are those which end in a great pub with great company and our group provides plenty of those."
Kim Burke from Glasgow Young Walkers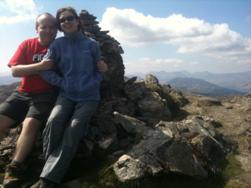 KIM: "I decided to start hillwalking almost four years ago and found the Glasgow Young Walkers online and joined them and the Ramblers Association.  After a few walks and getting to know people, I met Colm whilst walking a section of the West Highland Way. It was one of our groups most popular walks and there were loads of people but we couldn't stop talking to each other. On a pretty memorable walk that included great scenery and even a glimpse of Sir Jimmy Saville, I hadn't forgotten my good chats with Colm and on our group's following social, he asked me out. We've been together since then and we are now engaged to be married this coming September, our walking groups first wedding! Needless to say we are inviting people from our group including our chairwoman and matchmaker, Seonaid. We're even looking into ramblers cake toppers as well. I have joined my walking group's committee to help give back after everything walking with the group has given me as well as a great way for me to get fit and explore Scotland."
Taking a few quotes from all of those stories and we can see what walking can do for us:
"Some of my closest friends are people I've met through the group and I've lost track of the number of couples there are now."
"Walking takes you to places you can't reach any other way: we intend to keep on forever."
"Therein lies the beauty of group walking – when you meet someone and start to connect, the hours just fly by."

And finally, our favourite, "The beauty of the countryside makes for romance. Life is there to enjoy."
The Ramblers is Britain's walking charity. It has a grass roots network of over 17,000 volunteers who work tirelessly for a walking Britain. For over 75 years it has helped build and protect Britain's 130,000 mile long path network, it runs over 38,000 walks a year, and campaigns for better walking routes and more walking opportunities. Visit www.ramblers.org.uk to find a Valentines Day walk near you.