TEVA continues to add great new footwear to its range each season.
And it's no surprise that for 2012 they have some interesting designs – in particular a clever fabric which sheds water.
First up is the Gnarkosi, a shoe especially designed for wakeskating. Although wakeskaters love it, the trainer is becoming super-popular even for those who are just playing around near the lakes and rivers. It has Drain Frame™ perforations in the toe and heel so that water can filter out easily and Spider Original rubber on the completely flat outsole.
The most exciting release from Teva this year has to be this sneaker below called the Teva Fuse-Ion. Now it might have great classic looks but it has a super-modern coating called ion-mask™ which repels water. Dip our toe in the water and it'll come right back out bone-dry. On the sole it has combination of JStep (adaptive grip pods) and supergrippy Spider Rubber. It also has a collapsible heel, perfect for just kicking on and off when we please. Ideal for everyday-wearing this summer.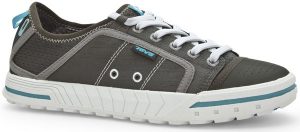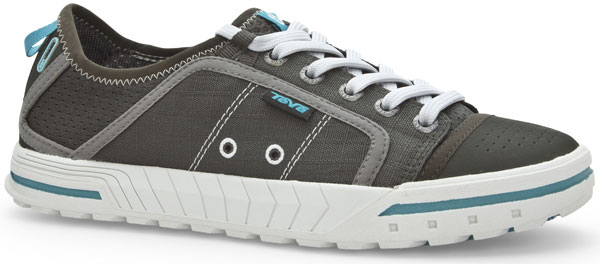 Those of us planning to kayak or raft this spring may want to check out the new Cherry Bomb 2. It features Spider Rubber and JStep on the sole and a 3mm-thick neoprene upper to keep our feet warm and dry. There's also a pull cord adjustment and a forefoot strap so the boot fits really well and can be adjusted easily while we're out on the water. Those of us prone to bruising our feet might well appreciate the rubber cage on the heel and a rubber bumper on the toe, because everyone stubs their toe ona river rock at some point…
See more at www.teva.co.uk