IT'D be nice to think we could leave our mobile phone in the ski chalet on holiday.
But even if we're not using the huge number of ski apps or taking photos, it's actually quite sensible to carry one with us on the slopes should an accident happen.
Trying to operate a touch screen while wearing a glove is frustrating though unless we buy a special touchscreen compatible glove (and yes believe it or not you can buy them).
Which is why this latest gadget or invention has caught our attention. iPrints are adhesive strips that attach directly to the finger on a glove, enabling the wearer to press on touch-screens more easily.
Phil Mundy is the clever inventor and said it was down to his own frustration in having to keep taking off his gloves that led him to come up with design.
"I searched around for an answer to use a touchscreen without taking my gloves off, but only found expensive, touchscreen-friendly gloves," he explained. "The options are even more limited when it comes to ski-gloves, with prices that reflect the lack of choice  so I wanted a cost-effective alternative that allowed me to use my smartphone while still wearing whichever gloves I wanted."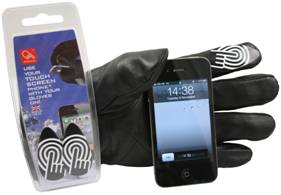 iPrints can be fitted to any pair of existing gloves, from every-day cotton or wool ones to ski and even motorbike gloves.
£5 a pack (2 in each pack) and available from www.iprints.org.uk and in Blacks stores.