"READING is one of the few major towns in the UK without a big climbing wall," says John Dunne, a lifelong climbing who will be throwing a huge party to celebrate the opening of the brand new Reading Climbing Centre this coming Thursday night.
It's FREE entry and everyone is welcome at Unit 33 on the Robert Cort Industrial Estate in Britten Road, Reading RG2 0AU from 5pm onwards. And it looks absolutely HUGE from the outside.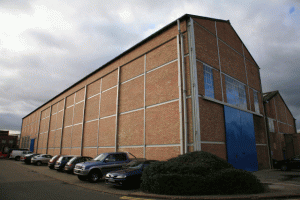 The centre is the most recent development by John, who is also the man behind Manchester and Harrogate Climbing Centres. "I'm really excited to be going into a new area and bringing a great new centre to the south of England," John adds. "This is set to be one of the biggest centres in the country and we hope to continue the great route-setting, instructing and atmosphere that we have in our existing centres."
This is a centre for every level, from complete beginners to the more experienced climber. There are fully trained instructors available for those who've not climbed before, as well as routes of all grades for the regular climber with a staggering 90 roped lines and a huge bouldering area.
BEFORE                                                           AFTER
At the party you'll get to see the huge walls first hand and have a go as there'll be free taster sessions and free masterclasses from British team members. Those feeling confident can also have a go at Dave Barrans 'killer problem' and enter the speed climbing and bouldering competitions.
It's not just for climbers so bring your friends along for food, drinks and a few beers. There is also a branch of Reading's favourite café, called Picnic on site and climbing shop, called Urban Rock.
Best of all though, the centre will be opened by Stephen Venables the famous mountaineer, writer, broadcaster and public speaker, who was the first Briton to climb Everest without supplementary oxygen. Here's your chance to meet him in person.
LAUNCH PARTY CLICK HERE