Anthony Millet and Patrick Colquhoun have just driven a 1986 Porsche 944 10,000 miles to Turkmenistan and built the country's first ever golf course.
The pair are taking part in the annual Mongol Rally charity drive and have amusingly called themselves Team Mongolf. The rally started on 18th July and will end in the Russian city of Ulan Ude on the 24th August. Along the way, Anthony and Patrick committed to playing a round of golf, per day, per country, but playing a round in Turkmenistan has proved a little more tricky because the country doesn't have a course. Instead Patrick and Anthony have built one, right next to the famous 'Gates of Hell' landmark.
Anthony said: "We figured, seeing as we are attempting to drive to Mongolia anyway, why not play golf along the way – in fact, why not play golf in every country we travel through. The idea has resulted in a list of 18 golf courses, ranging from the elite to the only one in the country. In Turkmenistan, we are building our own course using equipment we have brought with us."The course they have built has nine holes with a mixture of par 3,4 and 5's and after Team Mongolf's inaugural round, the course will remain open to the public to use.The progress of Team Mongolf is being tracked and monitored throughout using golf app, Hole19, one of the key sponsors of the expedition, who is also mapping the course for others to use in the future. The course has been funded through donations and equipment has been provided by sponsors.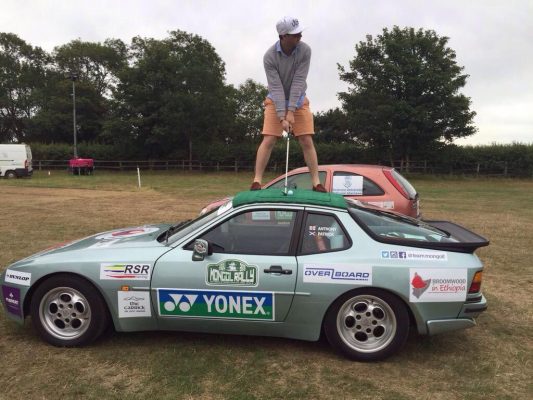 Anthony Douglas, CEO and founder of 
Hole19
said the decision to involve golf in the trip is bold when set in the context of such tight time-scales adding that: "The sense of fun, adventure and freedom from playing is certainly mirrored in the values of the Mongol Rally. But, by helping build a course in Turkmenistan, there's a credible message in here about helping the game grow globally, which is why we decided to get involved."
So far Team Mongolf has raised £25,000 to for its chosen charity, St George's Ethiopia. Patirck says: "The work that the charity carries out is having a huge impact on the children at St George's, and we felt that the more difficult our challenge, the more people will realise that this is not just about Team Mongolf having fun, but determination, grit, problem-solving, and achieving, ultimately, something even those taking part are not sure can be done."
To donate to Team Mongolf please visit the JustGiving page here.
Twitter @teammongolf