THE assistant manager of the Liverpool Central Travelodge has walked 200 miles with next to no kit.
Brian Ward, aged 31, and a former marine, made his way from Dumfries (Scotland) to Liverpool without any money, shelter, directions, phone, food or water.
His survival challenge has now raised £2,000 for Macmillan Cancer Support.
He completed the challenge in 120 hours (five days) and relied upon sourcing food and water as when he could. He was given a hero's welcome when he arrived at Liverpool Central Travelodge on Saturday afternoon (26th July 2014) two days earlier than he expected.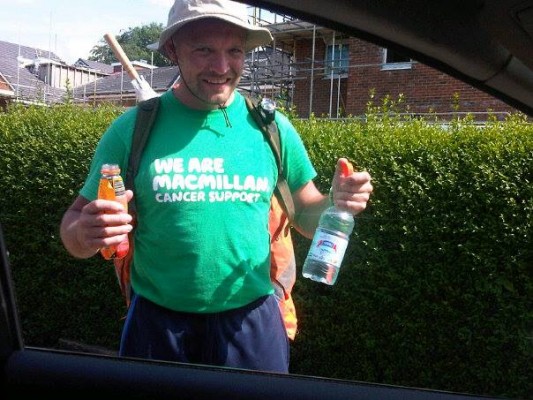 Over the five days, Brain endured blisters, extreme fatigue, hunger and thirst after travelling over three quarters of the journey by foot, the rest completed by hitching a lift for less than ten miles and a 30 minute train ride.
This challenge was Brian's idea and was designed to put an end to some sibling rivalry. Brian's brother, Sean Ward, completed a challenge ('I'm a Hotel Manager, Get Me Out Of Here') in 2013 which involved him being isolated in Formby Woods for seven days and undertaking a series of gruelling daily tasks. Sean raised £1,500 for Macmillan Cancer Support as a result of this challenge but Brian succeeded in smashing his brother's fundraising challenge by raising £2,000.
Both brothers raised money for Macmillan Cancer Support in memory of their father and grandparents who lost their lives to cancer.
Here are the milestone moments from Brian himself:
Dumped & Dazed
"At Galloway Forest Park, I was taken out of the car, blindfold and told to count to 100 before removing my blindfold. When I removed it, I was so disorientated. I was looking at this beautiful forest around me and I was totally clueless to where I was and how I was going to find my way out. Everywhere looked the same. I was scared at this point that I would never get out of the forest. However I went straight and walked for five miles and stumbled across a lovely elderly couple who helped me gauge my bearings. That's when it really hit home how terrifying this challenge was going to be."
No pain, no gain
"Although the whole challenge was demanding from start to end, one of my weak points was when I reached Penrith, 53 miles from Dumfries. My legs turned to jelly and just stopped working. I had not had a drink of water for five hours, I had been walking in the sweltering heat for eight hours, I was limping due to blisters and I felt so low at this point. The second time I hit a low point and I really thought that I was not going to make it back was when I reached Preston (120 miles from Dumfries). I was completely exhausted, I was losing the will so I sat down at a bus stop. A very kind woman gave me the encouragement that I needed to get up and go and finish the last leg of my journey. It took me four hours to walk the last three miles – that says something."
Missing home
"I spent my second evening with a family from Penrith. This was a very surreal moment and one memory that I will treasure for ever.   The head of the family, Tony Peirce heard about my challenge on the radio and was really touched by it. So he searched 25 miles to locate me, just so that he could offer his support. When he found me, he insisted that I stay at his house that night to rest up. The comfortable bed and evening meal of Cumberland sausages and waffles will be a special moment that will stay with me for ever. Tony's generosity really pulled on my heart strings and this is the one night when I really missed my family."
Raising the bar
"I was completely overwhelmed by the support that total strangers gave me during my five day challenge. From welcoming me into their homes, to sharing their knowledge of the area, to giving me food & drink, and the most important thing – sponsorship. The generosity of people I met was heart warming. I can't believe that I have so far managed to raise £2,000. That's £500 more than my target and more importantly, £500 more than my brother."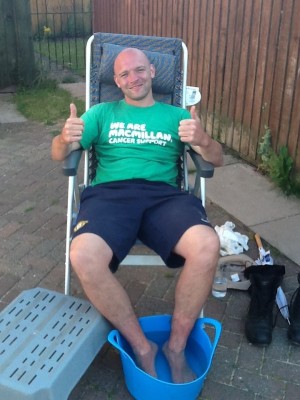 Donations can still be made at: www.justgiving.com/Brian-Ward1