CANYON has completely revamped its Roadlite range and the resulting bikes are great all-rounders for adventuring on. 
The firm has taken the best bits from its performance-focused road bikes and added some comfort features, to create a bike that's light (hence the name Roadlite), responsive and an all-rounder for the growing number of riders who incorporate cycling into their fitness regime or go on adventures.
The Roadlite AL range has three model specs, 5.0, 6.0 & 7.0, and come in male and female versions in a selection of frame sizes (the women's versions are called Roadlite AL WMN).
All of the model specs carry Shimano drivetrains, high-quality wheels, Continental tyres and hydraulic disc brakes, so they're quite high end.
They also come with performance saddles designed for comfort and VP pedals, so the bike is ready to ride straight out the box.
The entry level Roadlite 5.0 weighs 10kg and is a practical day-to-day ride or weekend explorer with exceptional performance.
The top-of-the range Roadlite 7.0 weighs just 8.5kg and has many features normally only found on road bikes at a much greater price, such as a Shimano Ultegra groupset and a VCLS 2.0 split seatpost (shown in the main photo). The seat post allows a little extra flex to give a "buttery smooth ride".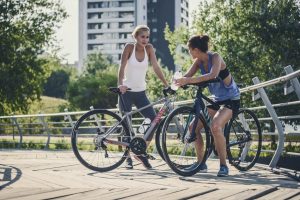 Nick Allen, Canyon Bicycles UK Market Manager says: "Whether you cycle as part of your fitness regime or just enjoy a weekend ride in your local park, it's important that the bike you use gives a superb ride with comfort and control. Our new Roadlite range combines our industry leading technology knowledge with our renowned design credentials to produce the very best all rounder bikes at a great price."