I've worn a G-SHOCK 'Classic' watch for the past 10 years and was keen to try out one of G-SHOCK's most up-to-date watches to see how it compares.
My current G-SHOCK has seen some serious action over those years; I have worn it for pretty much all of my adventures. One of its biggest tests of its durability was a Tough Mudder where it got absolutely caked in mud (see right).
With this in mind, I opted to try out the 'Mudmaster', considered the King in the G-SHOCK Land series. This particular model (GWG-1000GB-1AER) has an altimeter, a barometer, temperature gauge and a compass making it ideal for adventurous types. The words 'MUD RESIST' on the strap might sound like a gimmick, but it's true as because the entire watch is sealed by gaskets and greases/gels to stop dust, mud and water from making its way in. It's also shock and vibration resistant – and as you can see from the main picture above, completely waterproof too.
First impressions were just how much bigger and heavier the Mudmaster is than my old classic G-SHOCK. It's taking me slightly longer to get used to the weight and size of this on my wrist.
I like the double clasp on the strap and a neat gold-metal sleeve (instead of a plastic one) for the excess strap to slide in to. I don't like that the watch strap doesn't lay flat when you take it off, so you have to leave this on its side curled up.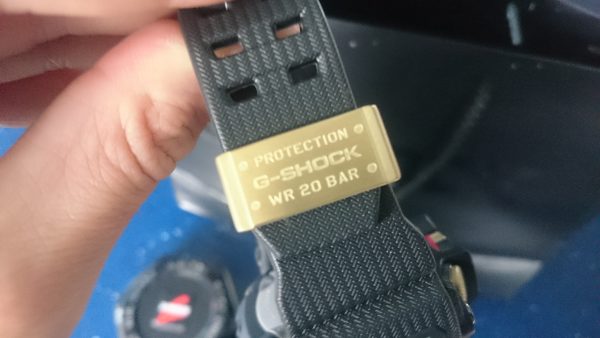 The main 'mode' button is on the bottom left and rotates a golden arrow in the screen to show which function you have activated. The bottom right button is marked as ALTI (short for altimeter) and the top right button says COMP (short for compass). I particularly like that the compass and altitude functions have their own dedicated buttons. Press the circular gold-coloured button below the number 6 and an LED lights up; the hands and numbers glow in the dark too.
The digital display at the bottom shows the date and day of the week by default and then you use the hands to tell the time. What I have found though, is that it's much easier to glance at my old Classic and read the time instantly whereas on the Mudmaster it's not as easy to see. It might sound like a small criticism but when you're out running, cycling or swimming, it makes a difference when you rotate your wrist to quickly read the time.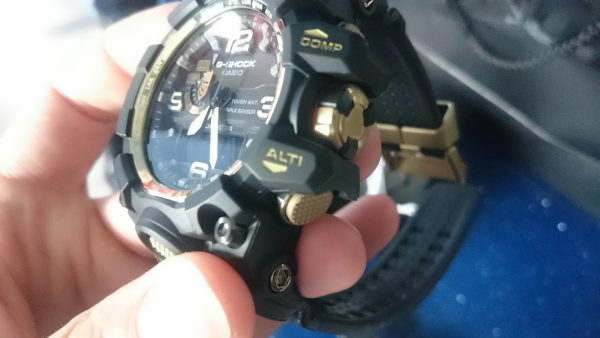 The Mudmaster has many settings and data recall functions and so far I've not made the most of what's on offer. To get a feel for just how much this can do check out the manual here. I've certainly enjoyed using the altimeter and seeing what the pressure and temperature is. The compass is fun too, but it's recommended you use a real compass for navigating. The only real issue I have with this watch is that digital display is small, so it's not super easy to see the altitude or pressure at a glance – and the minute hand covers the view when it's at half-past. I'd also prefer to see dark LCD lettering on a lighter background.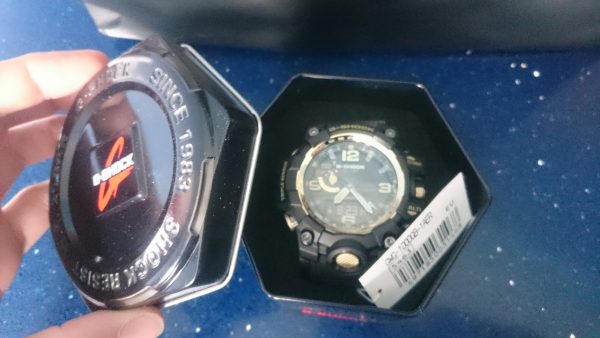 The World Time function is nice and the golden dial has abbreviations of major cities around the world indicated so you can easily switch time zones with the click of a button. There's no question that the time is accurate as it uses Casio's radio towers to update (and uses a GPS signal to get the local time when radio signal isn't available). It also charges itself up using solar power.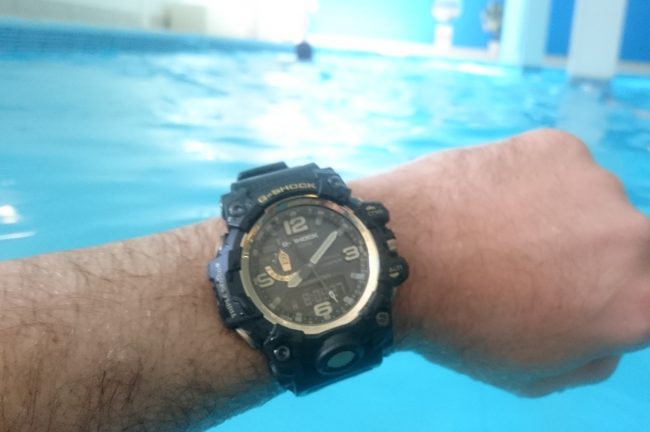 VERDICT
"Is it worth the high price of £700? I'd say so. Based on just how long my Classic G-SHOCK has lasted, you're looking at a long-term investment with the Mudmaster. It's pretty much bulletproof, charges itself so you'll never have battery issues and having the altimeter, barometer and compass are nice additions. I think if you're a hiker/fell runner then you'll probably use this watch mainly for the altimeter and for it's ability to cope with mud/dirt/rain, but be mindful that there are other watches on the market that have clearer displays for showing the altitude at a lower price. But if, like me, you're a G-SHOCK fan and want something that will take some serious knocks, can cope with getting muddy and dusty and wet, then you won't go wrong with this."