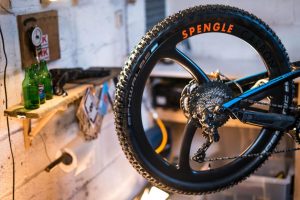 You can't deny the appeal of carbon fibre, no matter what kind of vehicle you ride/thrash/fly/ride.
So if you're looking to cut the weight of your 'heavy' mountain bike wheels, you might want to take a look at SPENGLE's carbon monocoque beauties.
Monocoque means these are made of just one piece and the stresses, forces are distributed throughout the entire structure, much like some aircraft fuselages.
Martin Cox, head of marketing for Spengle, says: "With the wheels available to order now, SPENGLE has achieved its goal of creating an unrivalled product – perfecting a tri-blade wheel – and guaranteeing its unrivalled stability, robustness and fail safe profile. These measures will five riders across the world the confidence to ride harder, faster and longer, whatever the terrain."
For more information and to order please visit: www.spengle.com