Every year I say I'm going to visit the Isle of Skye – yet I never seem to get there.
My parents took my siblings to Skye when I was at university and after seeing their photos, it planted the seed for wanting to visit. Now in 2017 I had a moment you have when you're in the shower that it must be some 20 years since they took that Skye trip – and I decided that I couldn't keep putting things off.
This is a lesson in booking out time in your diary to do the things you've been dreaming of. I had very little time to pull off this trip and very little spare cash too, but I'd made up my mind, I was just going to go.
After a chat with Land Rover and a close friend Tracey, we would drive up in the new Land Rover Discovery from Warwickshire to Glenbrittle in Skye, hike up to the famous Culling Ridge, camp the night, then head to Torridon for some R&R at the Torridon Hotel before driving back.
You know, you don't always have to do loads of research before you go on a trip. Often there's the temptation to read as much as you can so that you don't miss out anything important. I chose simplicity for this trip; I'd discovered Glenbrittle Campsite through an internet search and then used Ralph Storer's 50 Best Routes on Skye book to see if there was a walking route out of the campsite – and thankfully there was. We would only have one full day in Skye so we chose the walk from the campsite leading up into Coire Lagan and then up the steep banked sides to the Cuillin Ridge.
We'd drive up during the day on the Tuesday then camp the night. On the Wednesday morning we'd hike up to Sgurr Dearg and then on the Thursday morning drive the two hours or so across to Torridon, do some stand up paddleboarding on the loch there and then spend a luxury night in the The Torridon hotel to recharge.
We'd then make the long drive back south on the Friday, getting back home to Oxfordshire on Friday night in time to move house the next morning (is life like this for any of you too?).
If you're going to drive to the Isle of Skye in a day then you want to do it in a car that's comfortable. When I entered the post code for the Glenbrittle Campsite in the Discovery's sat nav system, it told me it was 523 miles away and it would take me 10 hours and 20 minutes to get there.
I tried to travel as light as possible, packing a tent, table, chairs, inflatable mattress, sleeping bag and a bag for food and cooking kit. The biggest items I carried were two inflatable stand-up paddleboards (from Red Paddle Co). One thing that's brilliant about the new Discovery is that you can press a button and the rear seats automatically fold down flat. If you're a regular adventure goer and want to load and unload kit in and out of the car then this feature saves an incredible amount of time and faffing.
By the time I got to Glasgow I had a couple of options route-wise. I chose to go up past Loch Lomond and then on through Glencoe and to Invergarry. The Discovery's easy-to-use cruise control took a lot of the pain out of the motorway driving. You can drive along and simply blip the button back and forth to change your speed. Having the HUD shows your speed and the speed limit nicely in your field of view meaning I could relax, see my speed and then have lots more attention to keep an eye on traffic around me and where I was going. The benefit of this was particularly noticeable the more tired I got.
Seeing amazing scenery certainly takes away some of the pain of a long drive. The closer we got to Kyle of Lochalsh, the town just before the Skye Bridge, we got more and more excited. In fact seeing the tops of the Cuillin Hills was a real moment for us, something we won't forget.
Crossing over the Skye bridge felt like it marked our arrival in Skye, however even from here we still had about an hour's drive over the island and its snaking roads to get to Glenbrittle Campsite. This was all part of the adventure though; staring out and spotting so many new places as we drive along, but with no time to stop and properly investigate, instead just enough time to enjoy the moment.
The road down to Glenbrittle was single track, so you weave your way down pulling in to the marked passing places. It was 5pm by this time and families and visitors at the famous Fairy Pools were making their way back to their cars, meaning I had to swing the Discovery in to every single passing place. The sight of the Cuillins towering up in to the blue sky was breathtaking. I've seen all of the hills in the UK, but Skye was something else. In many ways I was more in awe of them than the Himalayas on an Everest Base Camp trek back in 2002.
ARRIVAL AT GLENBRITTLE CAMPSITE
Rolling in to the campsite we could see the beach to the right and the rising Cuillin Hills to the left; the most picturesque campsite I'd every seen. The reception closed at 6pm, so I parked up and went in to pay for a pitch for the next two nights.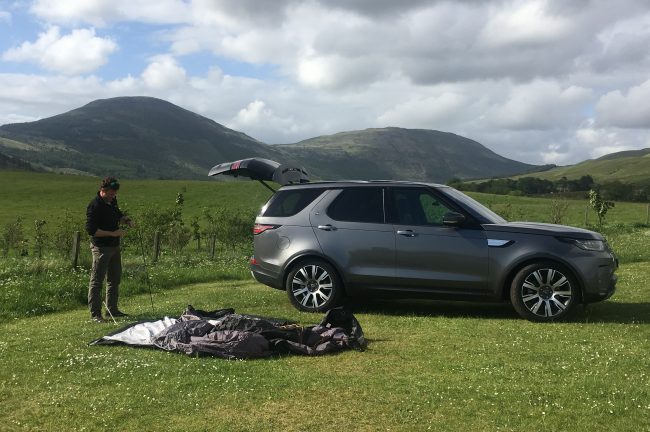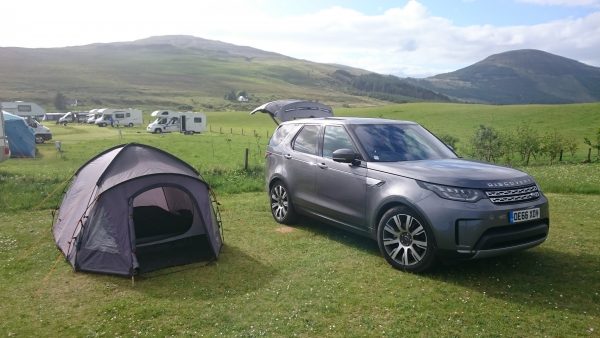 Pitching a tent up takes no time at all. I know that a lot of people worry about arriving somewhere late in the day and think they have a marathon ahead of them to set up camp, but within half an hour we were sat in our chairs with a mug of tea and my maps spread out on the table, planning where we were going to walk the next day.
For dinner I couldn't do the usual trick of a Google Search because there was no mobile reception. We jumped in the car and headed for the small hamlet of Carbost. There were signposts for the Oyster Shed, but this was closed in the evenings, so we were left with The Old Inn, which didn't disappoint. We opened up the door to a warm, cosy hubbub of conversation and the smell of beer and fish and chips.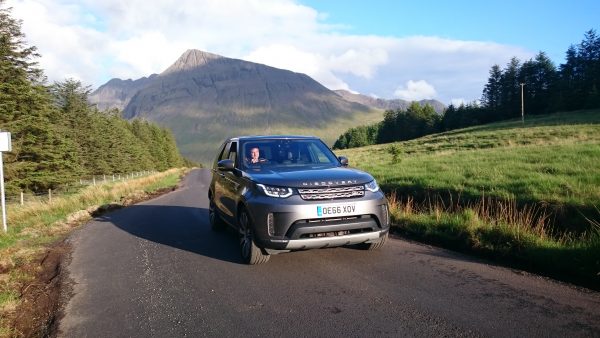 The drive back from Carbost was memorable, mainly because of the setting sun. By chance we drove past the Talisker whisky distillery overlooking the loch. When we got back to the campsite we couldn't wait to get cosy. It had been a long day, up at 4am and now getting to sleep at 11pm.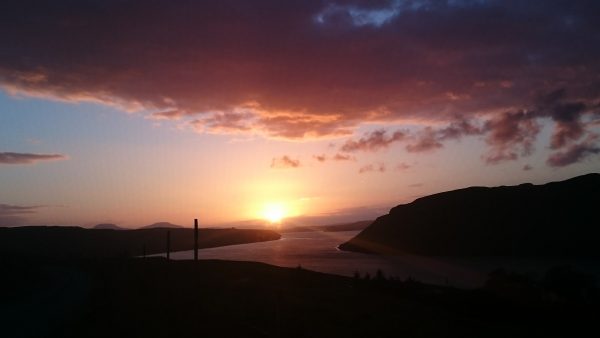 UP TO THE CULLIN RIDGE
Both of us woke up bleary eyed the next morning. First things first, I looked out of the tent and see what the weather was doing. It wasn't as clear as the day before and I could see the summits of the Cuillins swathed in cloud. It'll burn off, I said to myself. I lit the stove to make hot water for tea and oats.
We treated ourselves to a hot shower, and got ready for the day ahead to hike up to ridge. As we set out the clouds were burning off and the sun felt strong. Every 10 minutes or so we would stop and turn around to see how quickly we were gaining height. Up ahead I could see the cloud base lifting and some of the rocky spikes of the Cullins were now ripping their way through the clouds.
I heard jets; must be RAF Typhoons dogfighting. Ten minutes later there is an almighty jet scream and I spot him, low in the valley below. He pulls back in to a steep climb with afterburner on.
Nearing the bowl of Coire Lagan, I felt it was time for a tea, so we took a seat, and I got my ancient EpiGas boil while we took in the view down to Loch Brittle and the beach.
Heading further up, the climbing eventually levelled out to a beautiful tarn and super-smooth rocks, like the lava had been flowing and suddenly cooled. The morning cloud had burnt off and we both stood mesmerised by the scale of the hills surrounding us.
I eyed up our options to get up to the Cuillin Ridge and Sgurr Dearg. There seemed to be two options; either a diagonal route following the natural rockline or attack it straight onu, p a huge scree slope. We opted for the first option and came down the scree slope to get back.
Scrambling our way up made it feel like a proper adventure without the comfort of a path to follow. It was hard work though and the scale of the place makes it hard to judge distances. When we finally got on the ridge, I had a sudden feeling of being very exposed. The view was incredible. You may have read about it in guidebooks, but until you get yourself up here and stand on the top, you won't ever be able to imagine it until you see it with your own eyes.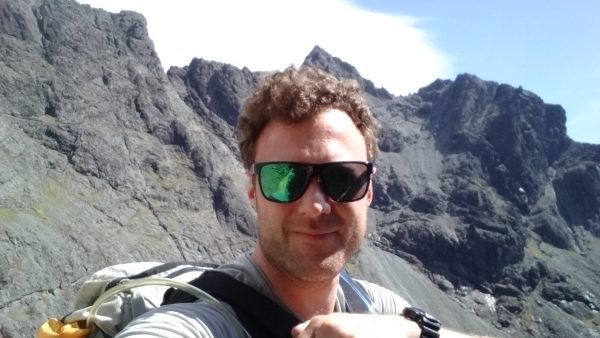 Some mountain guides with their clients passed us as we sat sharing a packet of Kettle Crisps. Seeing them geared up with helmet, harnesses, and ropes and us without explained why we were getting funny looks and not the normal friendly welcome you get when meeting others on the hills. We had planned to go on to see Sgùrr Dearg, but it was late in the day and it did look pretty hardcore to attempt without safety gear. We decided to start working our way back down.
We started making my way down the huge scree slope down the side of Coire Lagan. I was pleased I had my tough Meindl boots on for this. It was bloody steep and I went down under Tracey to make sure I could catch her if she slipped.
We passed where we'd sat earlier in the day for tea, and by now it started to feel like a long way to get back to the campsite. When Glenbrittle finally loomed into view at 5:30pm, we were both ready for a hot shower and a big dinner.
SLIGACHAN FOR DINNER
We jumped in the Discovery and set off for Sligachan to get dinner in the hotel there. The hotel restaurant was full, but the nice girl on reception tells us to walk along to the hotel's Seumas' Bar. We find a table next to the woodburner and after seeing Haggis, Neeps and Tatties on the menu, I head up to the bar to place our order and admire the hundreds of whiskies on display; the entire length of the wall up to the ceiling.
Driving back to Glenbrittle we were once again mesmerised by the clouds swirling their way around the Cuillin Hills. When the light changes up here, the mountains change with it and as we pass the Fairey Pools for what seems like the tenth time I feel my first twinge of sadness as I'll be leaving Skye in the morning and driving on to Torridon.
TO THE TORRIDON HOTEL
It didn't take us long to pack up. As I'm taking down the Vango Odyssey 300 tent (given to me as a 30th birthday present) I start to see it's showing its age. After eight years of use it might be time for me to invest in something new! It's drizzling and I feel chuffed that we managed to get our walk in on one of the clearest and warmest days Skye has had in a weeks.
If I was facing a two hour drive in any other car to Torridon, then I think I'd be dreading it, but the new Discovery was so comfortable, quiet and capable. After putting in close to 700 miles I was really starting to get a instinctive feel for its handling. On the quiet winding roads from Skye to Torridon I was able to switch it in to Sport mode and really have some fun driving it. Some of the roads I drove on were actually part of the North Coast 500 route and the Torridon Hotel I was heading to is a named hotel on the NC500's list of places to stay at. I'd first heard about this hotel at the start of the year when I wrote about its 'Adventure Packages' under Adventure 52's Rustic Retreat category.
What appeared to be a two hour drive turned into three. A stop at a mountain bike centre made me realise just how tired I was and that the drive home the next day was really going to be hard going. But just like most adventures to beautiful places, it's the scenery and seeing new things that keeps you engaged and upbeat. Coming in to Torridon was a real treat, lovely winding roads lined with rocks, heather and pine trees, leading us there. I felt relief to see the posh signpost for the Torridon Hotel and turned in making my way up a beautiful driveway to see the spired turret of the main hotel building.
I parked up outside. We were both feeling (and looking) worse for wear to be checking in to a luxury hotel in our hiking kit, but this is the kind of place that has seen it all (and worse) before. We're given a really warm welcome by Laura the receptionist. The room isn't ready, but we're told to go in to the drawing room for the Afternoon Tea that all guests get on arrival.
I fell in to the deep couch opposite a wide window with views of the loch and the mountains and shovelled a scone with jam and cream, washing it down with a blend of tea specially made for the hotel.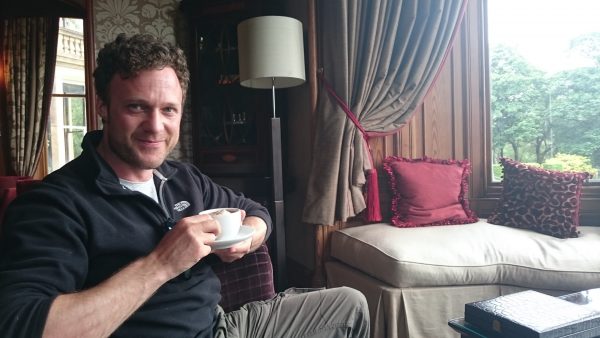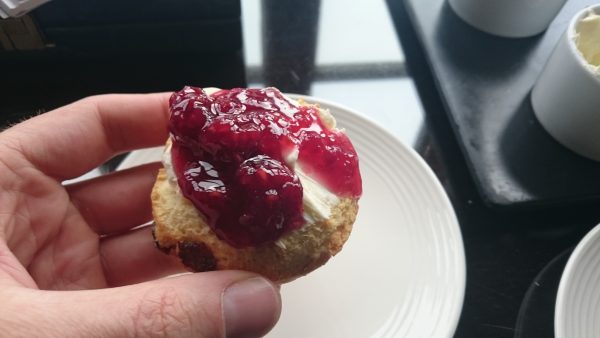 The sugar hit perked us both up and we decided to get the stand-up paddleboard out and go out on Loch Torridon. I wheeled my SUP the half mile or so down the track to find somewhere to launch from.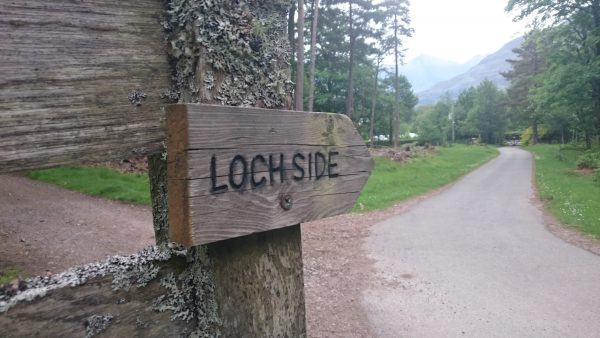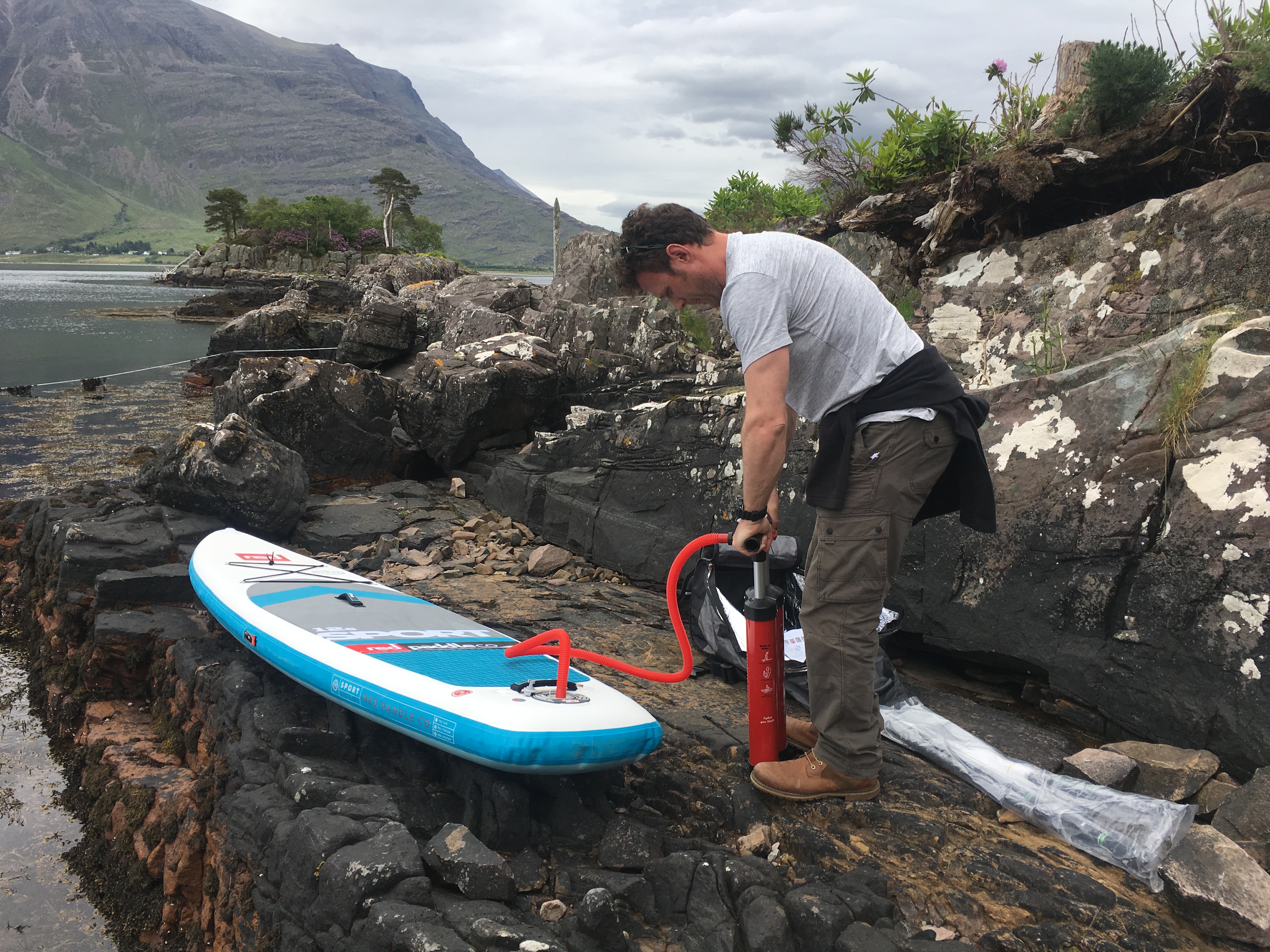 It was my first time using an inflatable SUP. I'd had a go on the 'hard' versions in Geneva last year when I had seen a girl just turn up and pump up her own inflatable one. Now was my chance to see how practical they are. I had the most serene experience paddling out on the water to a tiny island.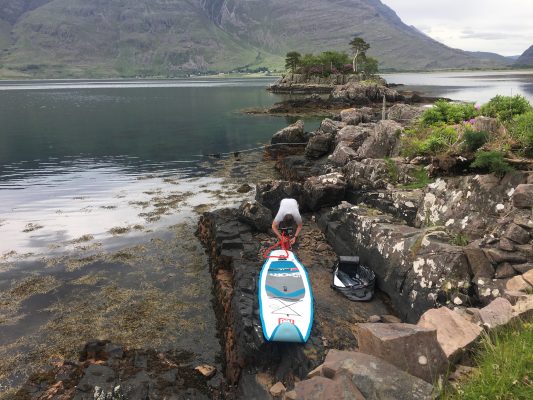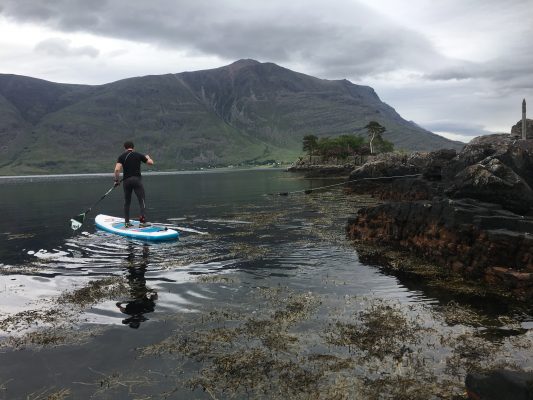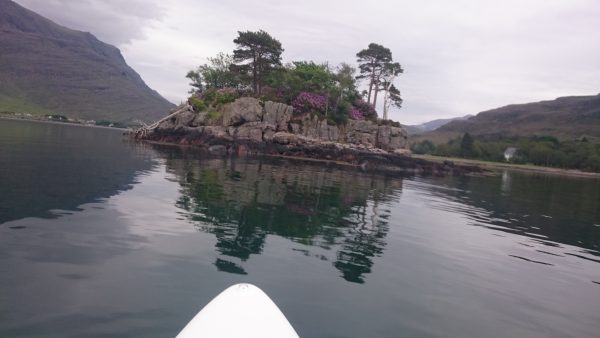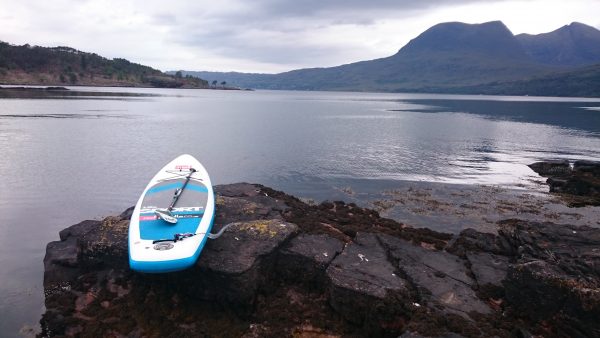 A LUXURY NIGHT
We relaxed on the huge bed and stared up at the tall ceiling and the purple tartan decor. Before we knew it we'd drifted off into one of those naps that you wake up from and wonder where you are. We take a wander around the grounds, ending up exploring the hotel's Kitchen Garden where they grow a lot of the herbs and vegetables that they serve in the restaurant. I hadn't booked dinner in the hotel, instead I'd booked up the pub next door, called the Torridon Inn, which is also owned by the hotel. This nicely decorated bar is a nice place to end a day's hike in with a group. Walking back to the hotel I couldn't have been more grateful or satisfied. Before bed, there was one thing left to do and that was to try one of the 365 whiskies in the hotel's incredible whisky room and raise a toast to our adventure.
THE DRIVE HOME
At breakfast I pondered the 620 mile drive home that I was about to embark on. The Torridon certainly knows how to make a cooked breakfast and eating this while looking out at the views of the mountains was one of those life moments that has stayed with me.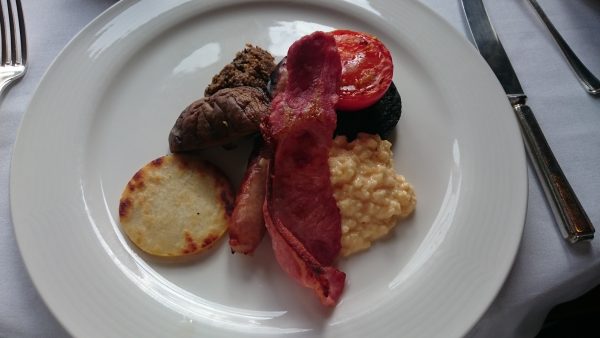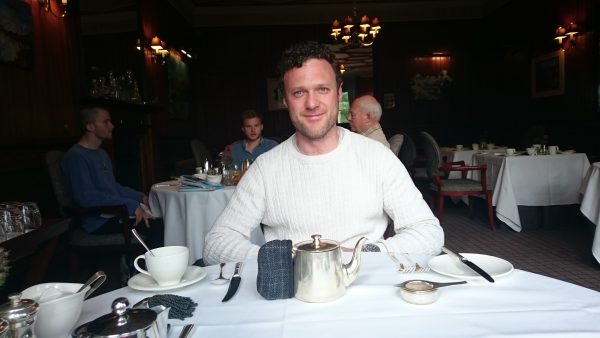 I felt a twinge of sadness pulling out of the driveway of The Torridon, but we'd achieved a lot in a short amount of time we'd been up here.
We decide to go via Loch Ness and the Cairngorms to get home so we can see a bit more of Scotland and on faster roads. Despite leaving at 9:30am, it was about 3:00pm in the afternoon before we got past Glasgow. It really did feel like a slog. Thank goodness for the Disco. I really do think that in any other car I would have been feeling even more haggered and strung out. We made it back to Northamptonshire around 8:30pm.
Time is always marching on. We all get busy in our day-to-day lives. If you want to go somewhere and do something then you just have to block out the time in your diary and go do it. When you go somewhere you've dreamt of and share an adventure with someone special, there's no better feeling. This one will always be treasured.
Thanks to Land Rover, The Torridon, Red Paddle Co and Tracey.