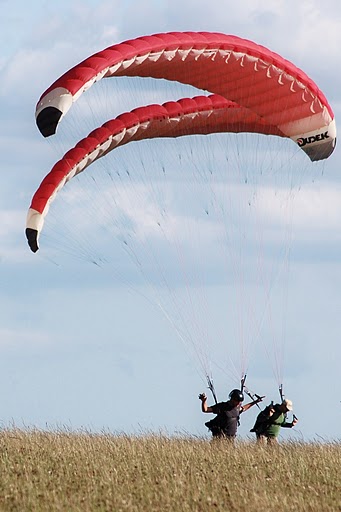 THERE is a whoopmh in the warm summer air as my bright orange wing, 12 metres across, swoops up behind me.
With a control line in each of my hands, called the brakes, I try to keep the wing straight.
"Right brake, right brake," shouts Alex Ledger, the 27-year-old Director of Skyschool, but I don't react fast enough and I watch as the wing collapses helplessly to the ground like a party streamer. It's not the first time that this has happened to me today…
I lay the wing out again on the grass and try again. Frustrations aside, I'm enjoying every minute of it so far. Paramotoring takes time to master but the rewards are great. This could be why a large majority of the people attending paramotor courses at Alex Ledger's SkySchool are airline pilot seeking out the pure flying thrill of a paramotor – there are no autopilots on these things. Cost is another big draw. These 'aircraft' run off unleaded fuel and a 20-litre tank can give four hours of flying time. You don't need a formal licence either, but training is advised and Alex's offerings of Beginner, Intermediate and Advanced courses set people up nicely for this new hobby.
Alex teaches courses on a farm near to the town of Mere in Wiltshire, but he also teaches at Aerodrome Ordis in Spain, just north of Girona. I'd already completed my Beginners course there six months ago and flown my first solo flight. I was now back with SkySchool for an Intermediate course. The aim for me by the end of the week was to fly my first cross-country flight.
TUESDAY
The first lessons in paramotoring are all about controlling the wing. Forget wearing the engine on your back for now – that comes later on. Those who have paraglided will find this part of the learning process easy but for newcomers this 'ground handling' is the bedrock of your future paramotoring.
Alex spends the morning demonstrating how to launch the wing, collapse it, to stop it from overshooting and how to keep it directly overhead on the take-off run. There's little to no wind which we need to practice so Alex makes the call to go for lunch.
"OK guys, the wind isn't looking like it's going to play ball," says Alex. "Let's go eat, I know a great pub down the road."
At the Spread Eagle pub, set within the gorgeous Stourhead Estate, we talk through our past flying experiences. In the early stages of learning to paramotor, would-be pilots experience their first taste of airborne time when they're pulled along on a tow rope which gives the wing just enough flying speed to lift them a few feet off the ground. Without the engine, this kind of flying is called paragliding. That first taste of flight starts the addiction. As one guy recalled:
"I could have stayed up there all day. I wasn't even that high off the ground, but boy it felt good."
Later that afternoon the wind picks up to about 4 or 5 mph, just about enough to get running along with the wing. Like aircraft, you take off a paramotor into wind and it's essential to build instinctive reactions to keep the wing straight. But this only comes through practice. The wing itself inflates into almost a solid form and those of us who are fixed wing pilots will notice the aerofoil profile. You then use the left and right brake lines to keep the wing where you want it.
"Not like that Dan," shouts Alex on one of my failed launches. "Run straight towards me next time and I'll talk you through the brakes." The skill is in reacting to the wing's urge to drift left or right – it's very easy to loose it and watch it fall down to one side.
WEDNESDAY
Today the wind's blowing hard. We all feel the wing's lifting power for the first time when it starts pulling us up off the ground in the 15mph gusts without us even trying.
"Woohoo," shouts Lee, a soldier who has booked on the course in his final week of leave before he ships back out for another tour of Afghanistan. "That thing's bloody powerful," he yelps.
We spend the remainder of the morning learning how to reverse launch. This is the most common way to start a take-off with a paramotor. It involves facing the wing with the lines crossed over and your back to the wind.  Once the wing is up and stable, you spin around, start the engine, then run hard. This method is favoured because it lets you see that the wing is in the right position before you launch. It sounds easy, but the controls are reversed so pulling left brake moves the wing to the right and pulling right brake moves the wing left. The trick is to react with correct input.
That afternoon we finally get to wear the paramotor on our backs. The throttle is a hand-held unit like a Scalextric trigger. It has a start/stop switch and the trigger controls the amount of power to the propeller. Firing the engine up and feeling the power of the propeller push against us makes us all grin with excitement.
THURSDAY
"So this morning we're going to talk about parabollocks and then do a bit of parawaiting," announces Alex. "We're going to have to be patient with this wind today."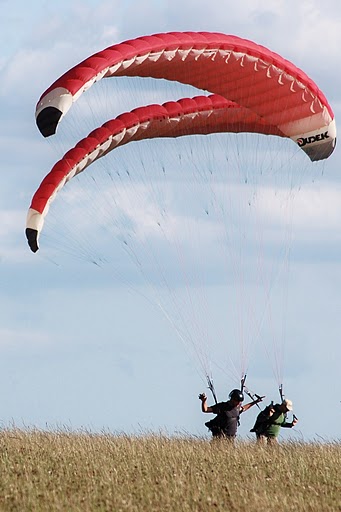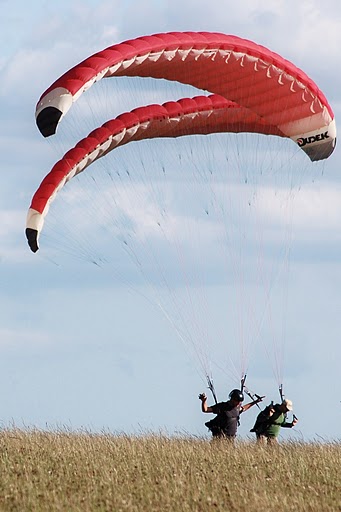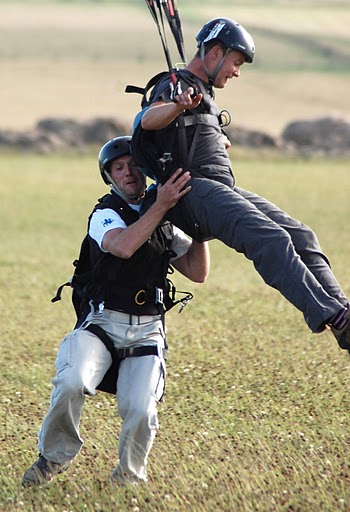 While we wait for the weather, we have a lesson on flying a circuit, in the hope that when the wind comes right we'll all be briefed ready to go for it. We take it in turns to wear the engine on our backs and run along with our hands up in the air imagining that we're doing a launch for real. We all start to feel it's coming together. Blue sky returns late afternoon and Alex drives us up the green lanes to raised ground where we can practice ground handling and do some more tows into the air. For me, the practice is paying off and three solid hours of launching, running and keeping the wing in the same position in the strong wind does wonders for my confidence. It's not long before I get to use it in anger.
FRIDAY
The weather is no good again but Alex arranges for us to take a tour of the Parajet paramotor factory in Mere owned by Gilo Cardozo. Gilo along with Bear Grylls flew in the Himalayas on their Mission Everest using paramotors built especially to fly up higher than 29,029ft – the height of Mount Everest. These had super chargers fitted and to cope with the lack of oxygen at altitude. Today, Parajet is one of the leading manufacturers of paramotors and the team has just launched a wankel rotary engine model called the Cyclone which is quieter and more powerful than the two-stroke models we've been flying with.
Later that evening, about 7.30pm, I'm tucking into a bowl of soup when I get a call from Alex. "It's looking good for some ridge soaring."
We drive up to the hillside again. The light is fading and we can see the farmers out in their combines harvesting the corn, their headlights burning bright. Feeling the adrenalin set in, I lay out my wing ready for a short top-to-bottom paraglide flight.

I run off the side of the hill. It feels like I'm about to fall forwards but in the same instant I'm airborne. I let out a yelp. I'm paragliding. Moments later I land in amongst the freshly cut corn stems, gather up the wing and let out a whoop of elation. I celebrate our first paraglide that night in The George. All I need to do now is the same but with an engine on my back.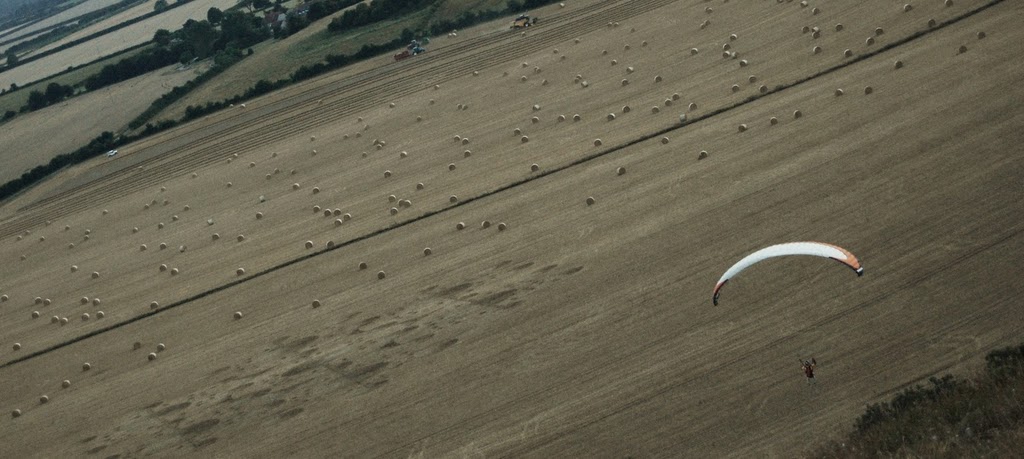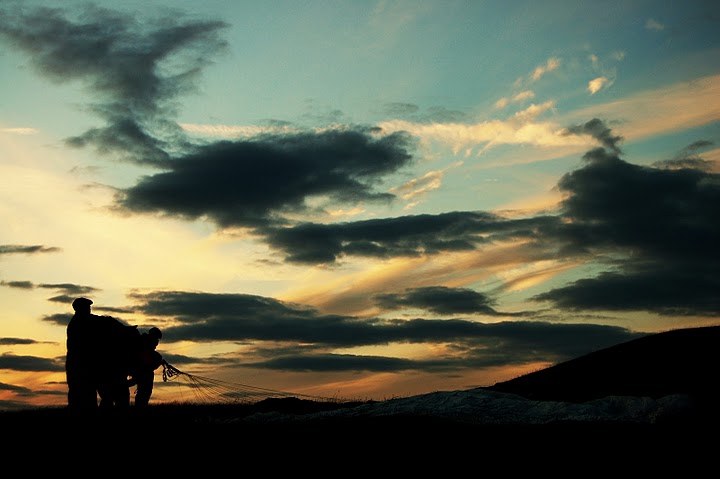 SATURDAY
When I arrive at the farm in the morning I can see someone is flying. Turns out it's Lee and he's flown his first solo. I'm up next and with just ten minutes for a bit of ground handling I have the paramotor on my back, my arms outstretched like an eagle with my thumb placed ready over the engine start switch and ready to run straight into wind. Like my first solo, this will just be a couple of circuits over the landing area to get me back into the swing of things. I mess up my first launch by stalling the wing. I try again, my heart pounding in my chest and sweat dripping down my face. I wait for the wind to pick up. I glance at the windsock – it's time. I ease the wing up, pull a bit of left brake then a bit of right brake and then I squeeze the power on.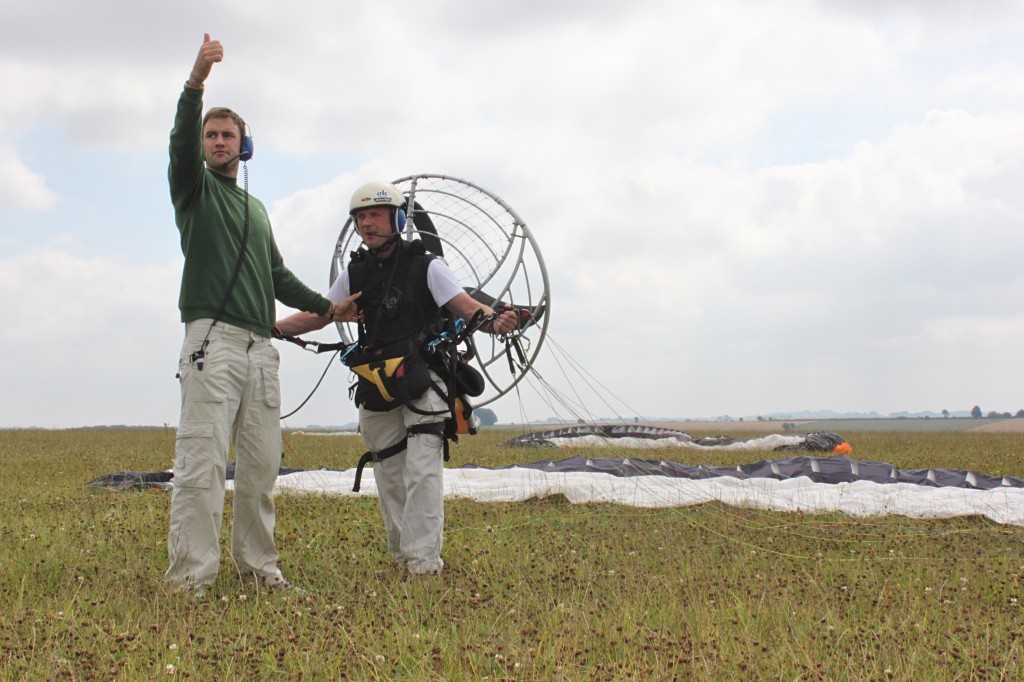 "Run, run, Run!" says Alex on the radio. Running feels awkward as your arms are raised in the air while the 25kg weight of the paramotor pulls down on your back. Just as I start to tire out I feel the weight lift off and I'm airborne, but only just.
"Ooh you lucky blighter," says Alex over the radio. "You swung your legs up a bit early!"
The joy of flying again in this way overwhelms me. I take in the views of Wiltshire for 10 minutes or so then start my descent for landing. I stumble onto my knees on landing, splitting my trousers and grazing my knee. At least I've not broken the propeller.
That evening I get a chance for another flight but from a different location because the wind direction has changed. This new hill is steeper and Alex gives me a more powerful paramotor to take off with. My heart pumps even harder this time as the take-off run is so short and the steepness of the hill makes me feel like I'm just going to fall down it. There's an eerie silence as everyone switches their gaze between me and the windsock on the top of Alex's Land Rover. A good steady breeze blows and I give it all I've got.
"Turn now, turn now Dan," I hear Alex say over the radio.
I fire up the engine, squeeze the trigger and the force of the propeller boosts me forward down the steep, grassy-knolled hillside. There's that familiar kick of power right in the back. For a split second I think it's going to put me on my face. But then it all goes smooth and I'm airborne. What a relief.
"Good one Dan, good one, " I hear Alex call on the radio as I keep on full power and climb up higher. Alex tells me to head for Arthur's Tower, a large monument on the horizon and to overfly the Stourhead Estate where we had lunch on the first day. This is my first ever cross-country flight by paramotor.
My mouth is dry, really dry and I'm desperate for a swig of water. I then remember that adrenaline dries out your mouth – there's a bucket load of that pulsing through my body right now. My hands feel cold in the open air even though it's summer, but the discomfort passes as I take in the views and travel onwards. I see a road snaking ahead and minutes later as I pass over it, I watch as a group of bikers on an evening blast tip into one of the corners. Usually that's me on a summer's night but for now I'm up here by myself watching the world pass underneath. In a light aircraft, the canopy limits the extent of your views but this form of flying gives you a perspective like no other.
I look up at the wing and the lines, marvelling at how this is even keeping me airborne. I ease off the throttle, I don't want to go up too high, the engine note changes and I start to listen out for any signs that it's not happy. If the engine does quit, I make sure I have a field (which is into wind) in mind, which I can land in. Stourhead Estate comes into view and I ease off the trigger to descend (power controls height). I can make out people drinking outside the Spread Eagle, couples walking through the gardens and children playing football. They can hear the buzz of my engine and they stop what they're doing to look up at me. I think about waving but instead I fly a few turns overhead thinking it best I keep both hands on the brakes. I spend five minutes doing this. You fly about 20 to 30 mph with a paramotor which isn't massively fast. I'll be flying into wind to get back home which will slow me down, so reluctantly I turn around and spot the ridgeline of the landing site.
This time my landing is perfect and I'm buzzing after my first ever flight by paramotor where I've actually gone somewhere. This is what the sport is all about; going places. With a four to five hour range and the option of landing in a field near a petrol station, whole days can be spent travelling like this. For me, and for may others who already fly light aircraft, being at the controls of a paramotor gives another unique way to see the world go by. I can't wait to get up there again.
Photos courtesy of Sophie and Olivia Bolesworth