IF there's anyone who embraces the ethos of Adventure 52 then it's Annie Ross.
She created the concept of 'eXerK' – a play on the words 'exercise' and 'work' – to show that doing both is achievable.
At the start of 2015 Annie set out to achieve 52 challenges in 52 weeks and now as we move in to December, she's just a few weeks away from completing all 52.
She hopes to show that no matter how busy we are, there is always a way to add more adventure in to our lives and that adventure doesn't have to be a big, bold and daring expedition.
We caught up with her to hear a little more about 52in52 and the meaning behind her fun tagline of 'eXerK yourself'…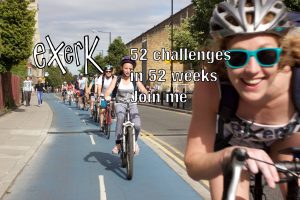 Great to talk to you Annie. Tell us a bit about how you came up with the idea for 52in52?
"I have worked in banking for five years, which takes long hours, but there's more to life. When life gets too busy, fitness is the first thing to go. So I had a look at what I could realistically do to be more adventurous and keep exercise as part of my life. I look at all these full-time adventurers, these amazing people, but doing what they do isn't realistic for all of us. So with 52in52 I wanted to show that having a busy full time job and doing exciting, adventurous things can be achieved. It's dealing with that frustration of being so busy and how to squeeze things in.
"There are two ways to get things done; you are either super motivated to do things by yourself or you need the pressure of other people. Writing down what I intend to do on my website was one way of making myself accountable, so I HAVE to go and make it happen."
Sounds like a very busy schedule! How have you made it work?
"In the first few months of doing this I didn't really prioritise sleep. I have overdone things on occasions too, like running 100km of the course of a week. I still often get up early, but I work from 8am to 7pm most weekdays so I have to fit everything around that. In the evenings I do my admin which I nicknamed 'eXerMin' and it's doing that which makes all this work. I love being a little bit hectic. I tend to do my exercise in the mornings as I like to see friends in the evenings. Come the weekend, I really go for it!"
How do you come up with the ideas for your challenges?
"Often I'll have an idea but it takes a few weeks of thinking before it comes together. They can be simple too, such as seeing how far you can swim in 52 minutes. That's an easy one that any one of us can do at any time."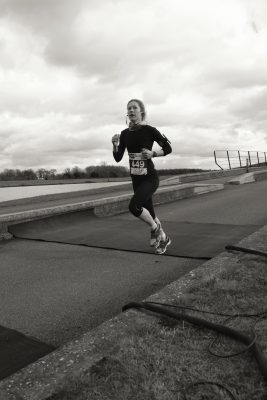 Which challenges have been your top five?
"Challenge number 1 was a New Year's Day swim in Hampstead Ladies Pond. At the time it was what it was – an icy cold swim limited by the health implications of 4 degree water when you haven't done it before. Looking back at it now, it was super special. The beginning of a journey that will never end. The 52in52 will end, but the places it's taking me are endless."
"8 lidos in 8 days was a turning point in terms of people understanding what my 52in52 eXerK project was about. The tour of London's outdoor pools demonstrated the challenges' accessibility and flexibility around busy lives. Showing people they can make time for movement in their day is my mission.
"The Alpe d'Huez triathlon was a monumental swim, cycle and run in the mountains. Getting to the bottom of Alpe d'Huez on my bike, knowing what was up ahead – up, and more up – made my face grimace. The gears were lowered and the determination set in, then I relaxed, reminding myself this climb was exactly what I had gone there to complete. I had such a merry mind and rhythmic rotation that I could have climbed all day (kind of)."
"The Circle Line Relay (version 1) was a super fun day exploring London by tracing the Circle Line showing what can be created out of nothing with a bit of community spirit and curiosity. It was such a success, I put on another larger a month later."
"And finally there was the Reverse Sprint Triathlon – a homespun bit of fun. Flipping a triathlon by running first, cycling second and swimming last. With an added twist of running backwards and swimming backstroke. Cycling backwards along the Canal and through London from the Hackney Marshes Parkrun to the Serpentine seemed a bit far fetched, so frustratingly, I had to cycle that forwards."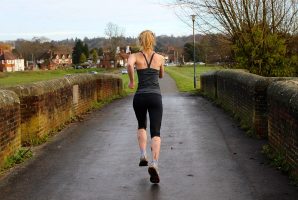 With a busy job and one of these challenges very week, how do you keep going?
"I've got a lot of energy! But I'm not superhuman. Everyone can make time for the things they care about."
What next?
"I am excited about what I have achieved this year and the doors that have been opened. I can't say exactly what I've got planned just yet – mostly as I don't know myself, but I'll be super proud when I've finished the 52in52 and I can move on to the next challenge."
Annie Ross is giving a talk about 52in52 on 15th December: £10 on the door in Notting Hill https://www.facebook.com/events/1054071861294250/