Michael Brans has faced cancer three times in his 35 years – in 1999, 1999 and 2001.
When you go through something like that, you don't get through unscathed and sadly he had a full amputation of his right leg.
After a 20 year long battle with the disease, Michael has now been given the all clear. What's more, he now lives completely independently and isn't allowing cancer to hold him back.
In June this year, he walked up Ben Nevis with the aid of crutches to raise awareness for Cancer research and to highlight the independency he now has after rehabilitation.
Recently he's become an 'elite athlete' for EtchRock, a new online community listing different challenges to take part in.
Here Olivia Hubbard finds out more about Michael and his recent Ben Nevis climb.
Q: Tell me about your decision to do the Ben Nevis climb?
A: "I'm an ambassador for a Dutch organisation which focuses on getting people on track after rehabilitation, to help get them into normal life again. When people are at home after surgery, it's incredibly difficult to get on again. A lot of the problems are experienced after radiation therapy. I wanted to raise awareness for people, after having battled with cancer three times myself. I also wanted to do something for myself."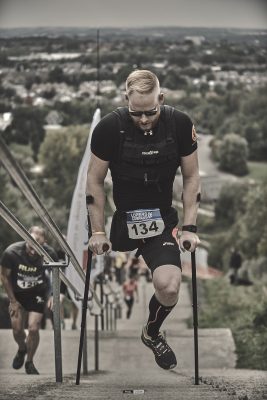 Q: What has been the reaction to the climb?
A: "The first time I spoke about the Ben Nevis expedition, nobody knew about it. Then, I did the world record for the fastest 5K time for someone racing on crutches. It was certainly cool for me to do the world record, but it was always important for me to get the awareness and it was fantastic to have the Dutch television, radio stations and newspapers all getting involved. Suddenly, everybody was talking about it. The world record was certainly a jump to get the Ben Nevis recognition."
Q: What were your expectations for completing Ben Nevis?
A: "The first time I spoke to people in the obstacle race world about doing the climb, they told me it would take me 17 hours – because of crutches and my leg in order to go up and down. Of course, we forgot that ever step I take is like two steps for a normal person! I climbed unbelievably fast. The challenge was not for me to get up; it was a challenge for my group to keep up with me. I went up in six hours. What I found incredibly difficult was my father, who was climbing with me didn't make it. He was so tired and at around 700 metres, he had to go down – it was so upsetting that he didn't make the summit."
Q: Tell me about your preparation for the climb?
A: "There were a lot things involved in the preparation; it was a project which was one and a half years in total. The world record was part of it; the Ben Nevis was part of it. In that one and a half year, I did a lot of PR for the project to raise awareness and to raise money. I was hoping to get more than 10,000 euros to go towards the awareness project, but at the end, it was just more than 3,000 euros."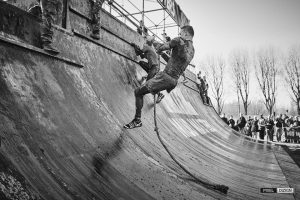 Q: Did you have a set schedule? What did training comprise of for Ben Nevis?
A: "Run, train, run. In my normal life; I'm an obstacle course runner. I do obstacle course events on crutches, so that was part of my training. I trained and ran every day. I didn't have a set schedule, one week it would be nothing, and then the next two weeks it would be running. I'm not a healthy person, I have a lot of problems with my body, I had to adjust my training schedule to how my body was reacting to the things I do. Every week was different."
Q: How long did it take you to recover  from the climb?
A: "I recovered incredibly fast, for one week I had a lot of muscle pain. However, I definitely expected more pain. I did the Ben Nevis and then, that was it. When I did the world record, I had a lot more problems with my body. The world record event was very intense for a short period of time."
Q: How did the climb make you feel?
A: "Ben Nevis was an incredibly personal thing. It wasn't that I wanted to go to Ben Nevis because I wanted to show off. Ben Nevis was to close a chapter of my life, to accept the fact that I have one leg and to gain a lot of awareness, which is my life goal. Every time I do a challenge, I love to get awareness for cancer research and for rehabilitation."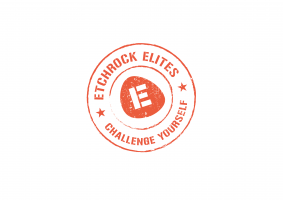 Q: Tell me about 'Team No Limits'?
A: "Team No Limits are a group of people of 10 people, who have different kinds of handicaps, arm amputees, leg amputees, or in a wheelchair. We help gain awareness for the foundation for rehabilitation. We are joining a lot of venues, a lot of events across Europe and across the world. Some of the group are competing at the World Championships Obstacle race running, some people are doing marathons, and some people are doing 41km obstacle race running in a wheel chair. Why? Because it's their sport and it's what they do. It's a very cool group, which is growing. It's getting out of hand actually. We are a Dutch local group, but there is an organisation in America, called 'I'm Adaptive' and I'm Adaptive are large organisation and currently, we are talking to the organisation to try and be part of the group and join forces. Team No Limits are just 10 individuals who just love what we do. http://iamadaptive.com/our-mission-goals/
"I do contact athletes in America who also do the Spartan race on Crutches. In London, there's a guy, Ollie Watson and he did his first Spartan a couple of weeks ago and I helped him prepare his crutches for the obstacle course. I also needed help at the Spartan race – there's an obstacle where I have to carry buckets lot of sand and a lot of logs, I don't know how to do it, so I can talk to the guys in America. Now I'm spreading out the word and the awareness, a lot of people are getting to know me and yeah, it's really cool."
Q: What's coming up? What other events have you got planned for the future?
A: "I've been asked to join the cast for the Dutch Ninja Warrior show; the television show will start in January. Also, In December of this year, I will go to Florida to run the Spartan Sprint Super- that's it for now. I'm planning on running the marathon of The Great Wall, I will try and do it in 2018 – but I have a lot of stuff going on."