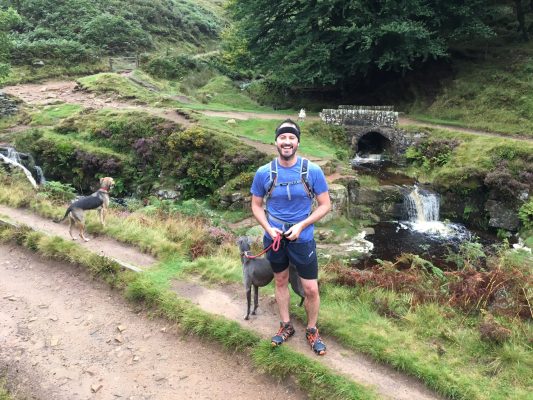 Michael Ford was born in the North of England in 1980 and now fell runs in his local area, using it as a release from work, but to also spend time with his dogs.
He studied Classics and English at Worcester College, Oxford and then started writing children's fiction under a variety of pseudonyms. He now works as an editor of adult and children's fiction and when he is not writing and reading, he likes to spend time with his family exploring the Peak District.
We caught up with him as his new book 'Hold My Hand' goes on sale.
Q: How did you first get into fell running?
Michael: "I always enjoyed hill-walking as a kid. I walked the Coast to Coast (Lake District to North York Moors), the Pennine Way (Derbyshire to Scotland) in my teens, camping the whole way, as well as other Long Distance paths in the UK and Europe; and I was always quite a good cross-country runner. Then life got in the way for many years, and I put on quite a bit of weight. I started running again in my mid-thirties – it was a way to get some proper exercise. When we got dogs, I needed to let them run around off-road, so started running in the hills where I live. I used to hate running uphill, but now it's a bit of an addiction. The dogs probably run twice as far was I do though – they must wonder why I'm so slow."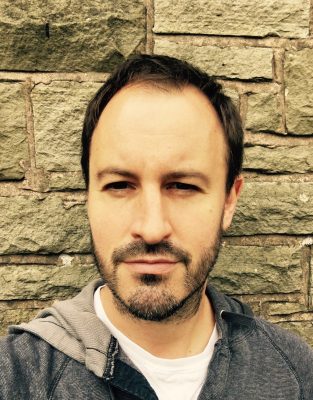 Q: Have you always been into outdoor sports or was this just something you started to enjoy doing?
Michael: "I was fantastically un-sporty when I was younger. Terrible at team sports, uncoordinated – a typical academic kid. I always liked the outdoors though, camping and trekking. For my lifestyle now, running makes sense. It's flexible, it clears the mind, and it's cheap (unless you're a hopeless kit addict like me). There's something really peaceful about getting out on your own in the relative wilderness, even when it's bone-chilling cold and your feet are soaked after a hundred metres. I find flat road running incredibly boring and I'm never going to be a sprinter."
Q: Have you run any big races? Have you got anything lined up for 2018?
Michael: "I've done several local fell races in the Peak District, and this year I've got a few more lined up – anything from 5-milers, to 20+. I'd like to do a few 'ultras' (over 26 mile), but at the moment I don't have time or capacity to put in the necessary training with two young children. I much more enjoy simply parking up the car somewhere new and exploring on foot. What I love about actual fell races is the informality of it. At my level, it's as much a battle against yourself and the elements as the other competitors. I'm under no illusions about my level. There are plenty of twenty-year-olds and sixty-year-olds crossing the line ahead of me."
Q: What other adventure activities do you take part in?
Michael: "I'm not sure that I'm hugely adventurous. Going into peat bogs up to my chest, wading through rivers and getting lost in the fells is exhausting enough. I quite enjoy mountain biking, but I'm terrible at it – probably because it's mostly an upper leg exercise as opposed to the calves.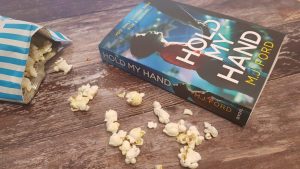 Q: Tell me about your work as an author – has any of your running inspired your storylines?
Michael: "I write thrillers mostly, so there's always a lot of running and chasing! My main character in Hold My Hand, Detective Jo Maters, is a recreational runner, and it gets her out of trouble at one point. I've also written a short story about an encounter in the fells with a ghostly runner. Running isn't really all that interesting a subject for fiction though – it's solitary, reflective, and repetitive. Great fiction is all about tension and surprise and conflict. I'd say running helps me with my writing because it's an opportunity to think, away from distraction. I've had many a plotting breakthrough while plodding along with the dogs."
Hold My Hand is out now in paperback published by Harper Collins for £7.99.