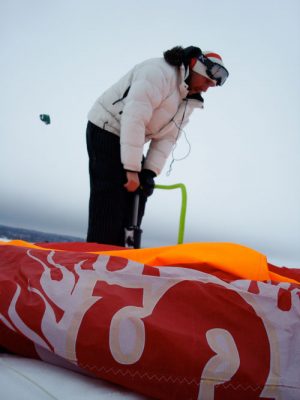 THE appeal of snowkiting is clear – let the wind and kite do the hard work.
There's no lift ticket required, no waiting for a chairlift and with the kite you can ride for hours. Those who've discovered the sport are now pushing themselves on long distance journeys across flat terrain making for some interesting new adventures.
"I'd definitely say the appeal is that you can go so far," says snowkiting instructor JP who now offers lessons at the resort of Lahti in Finland. "I teach on a huge frozen lake where you can shoot across for miles and miles. There's fishing holes in the ice, so you have to steer around the sticks that mark their location as you go. We had one brilliant day where we travelled 70 miles. We carried firewood, sausages and some beers then had a BBQ before travelling back home. You can really explore places."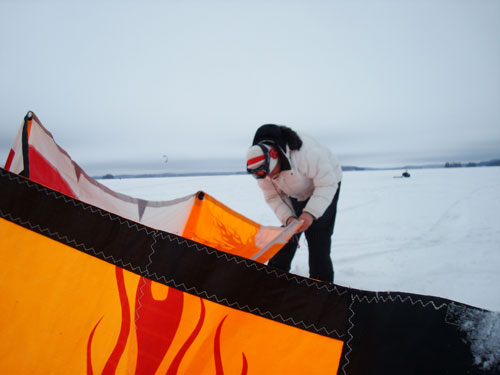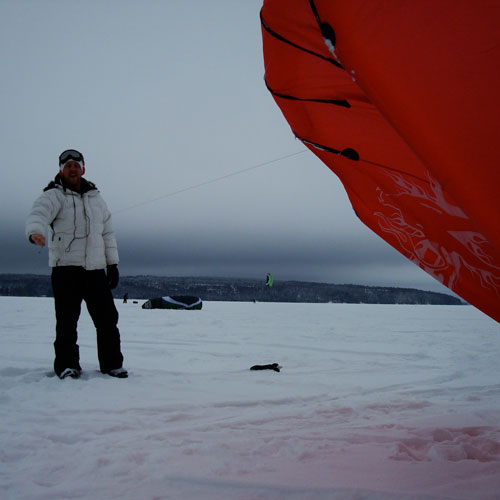 Although using the wind is free energy, that's not to say snowkiting is easy. Controlling the kite demands a real technique and this only comes by having someone in the know to show us how to do it.
"I start first-timers on a two-line kite without any skis or snowboards on and let them just get used to flying it. It's a basic ram-airfoil which launches off the ground easily and won't power up if you let it go."
When we're happy with controlling this, JP then moves us onto a kite where we're hooked in with a harness. This is the way the kite's able to pull us along without pulling our arms out.
"When you're hooked into the harness, psychologically it's very different," he says. "When things go out of control the instinct is to pull the control bar in towards the body but that powers up the kite making the situation worse. As soon as people get in to their heads to let go of the bar when things are going wrong, that helps them stay out of the panic zone," he says with a wry grin.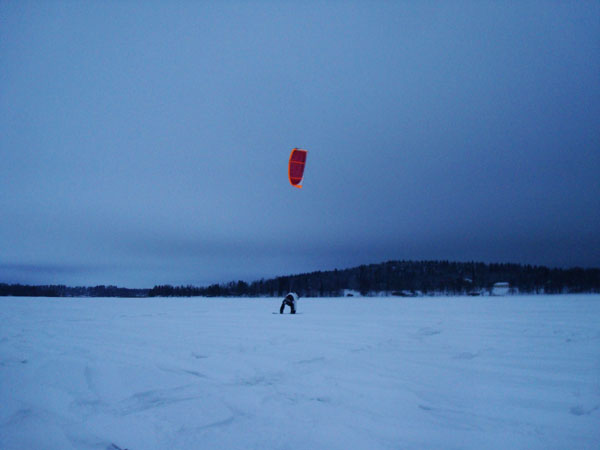 Once we've mastered the basics of kite control, JP then gets us onto skis or a snowboard. Even those without any time on skis or a board can snowkite within a few days says JP because the real skill lies in controlling the kite. We're only moving over flat-ish ground too, not heading off down a mountainside.
"Next we work on powering the kite by flying it in a sine wave," he explains. "If you let the kite do it's own thing it will just sit at the top of the window and you won't move anywhere. To get the power and the forward speed you need to dive the kite down and up again in an S shape."
But this is when people get afraid; the biggest shock is the amount of power the kite can generate. Kitesurfers experience the same kind of power but when things go wrong here, instead of falling into water, people get dragged on their backs over hard ice or snow with skis and snowboards on their feet making it difficult to stop. Thankfully, dealing with this is all part of the lessons. At least with snowkiting we can stop on the ice or snow to assess where we're heading; kitesurfers cannot suddenly stop themselves on the water to think about things. And just as in kitesurfing, core and leg strength is a key requirement not arm strength, since the legs and lower body are using in snowkiting to keep the skis or board running straight. The legs are definitely a target for aches the next day.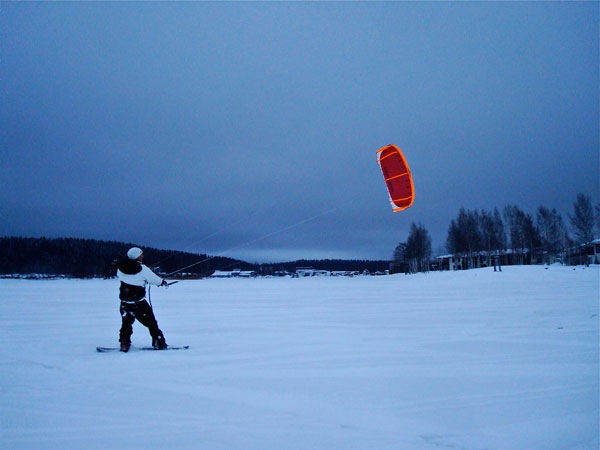 How easily we pick it up depends on our background. "It helps if you've flown kites or done kitesurfing," says JP. "Kitesurfers definitely tend to pick it upmost quickly." He adds, "I even taught some friends how to do it in a day on a golf course in Bournemouth when the snow came.
My friend Andy Ward, who was the first person to kitesurf across the Channel to Poole came to have a go and I taught him to be stable and steer a snowboard within 45 minutes. Within the next 30 minutes he was riding down the gentle slopes of Dorset, with a basic degree of control … well enough at least to keep him out of immediate harm's way once he was attached to the kite."
JP says the buzz for him is being able to get complete beginners snowkiting within the space of a day, "By the end of their stay here in Finland they're whizzing across the lake," he says with a hint of pride in his voice.
And it's the whizzing speeds that will really surprises – 20 to 40 kilometres an hour are possible. Once we get the kite in the 'sweet spot' we can stand and enjoy the sensation of sliding fast on snow with the joy of concentrating on keeping the kite flying and working for us. "It will be interesting to see what speeds are eventually achieved in the sport," says JP. "Some people are even trying snowkiting wearing ice skates."
Travelling at speed as part of a group is major attraction and snowkiters are social creatures because there are times when we'll need help with laying out lines and launching. Plus if we do get into trouble, we want people around to help us out. JP sees groups flying together from the window of his chalet on a daily basis. This chalet is where his customers stay on their holiday and is just five minutes from the frozen lake where he teaches. "On a day with good winds there's usually a minimum of 10 people out there," he says. "We're lucky in that Lahti we have some interesting wind effects from the East and this has made the place a capital for the sport. The beauty with snowkiting is that even on a days when it looks bad or the wind is light, you can go out with a larger kite and still have a great time."
Since JP announced the courses over 20 people from the UK have expressed an interest in learning to snowkite. He has just completed his first session with three people. "You don't want large groups because teaching snowkiting is very hands on. In those early lessons you need someone watching your back and ready to grab hold of you and take control if necessary."
Lahti is just an hour and a half drive from Helsinki Airport making it an easy destination to fly to. And with one-toone tuition, a great chalet to stay in and restaurant quality food, JP is offering all the things that make a snowsports holiday great.
"Next we'll be really pushing the adventures with guided snowkiting trips where we camp out and cook on an open fire," he says. "I can't wait."
Snowkiting lessons start from £45 for a one-hour taster session including equipment hire.