On has recently opened a flagship store in London, but you might not have realised how much more the brand is moving in the outdoor/hiking scene. 
Indeed, in the new store, there's an entire area dedicated to trail and hiking products, and the brand has confirmed that outdoor clothing is a big focus for them going forward.
ON HIKING COLLECTION
You may have already seen some of On's trail/hiking shoes, such as the Cloudtrax, Cloudrock, Cloudvista and Cloudwander, but did you know the brand is also making hiking clothing? We'll come on to that in a moment, but first, we wanted to speak to On and find out why they're putting a bigger focus on trail running and hiking gear. 
Annaleigh Hockaday is the Global Head of Product:Performance Outdoor for On and has been a life-long outdoor gear creator. She says it's been in the past seven to eight years when she's started to see outdoors clothing and fabric technology creeping into the mainstream. 
"It's a weird one," she says. "When you've spent your life creating outdoor gear you always feel that it's relevant and cool, but there is always the awareness that it's a bit fringe and nerdy. It's been a long time coming, it didn't happen overnight, but without a doubt the Covid lockdown was a huge catalyst for the rise of the tech product profile entering the mainstream."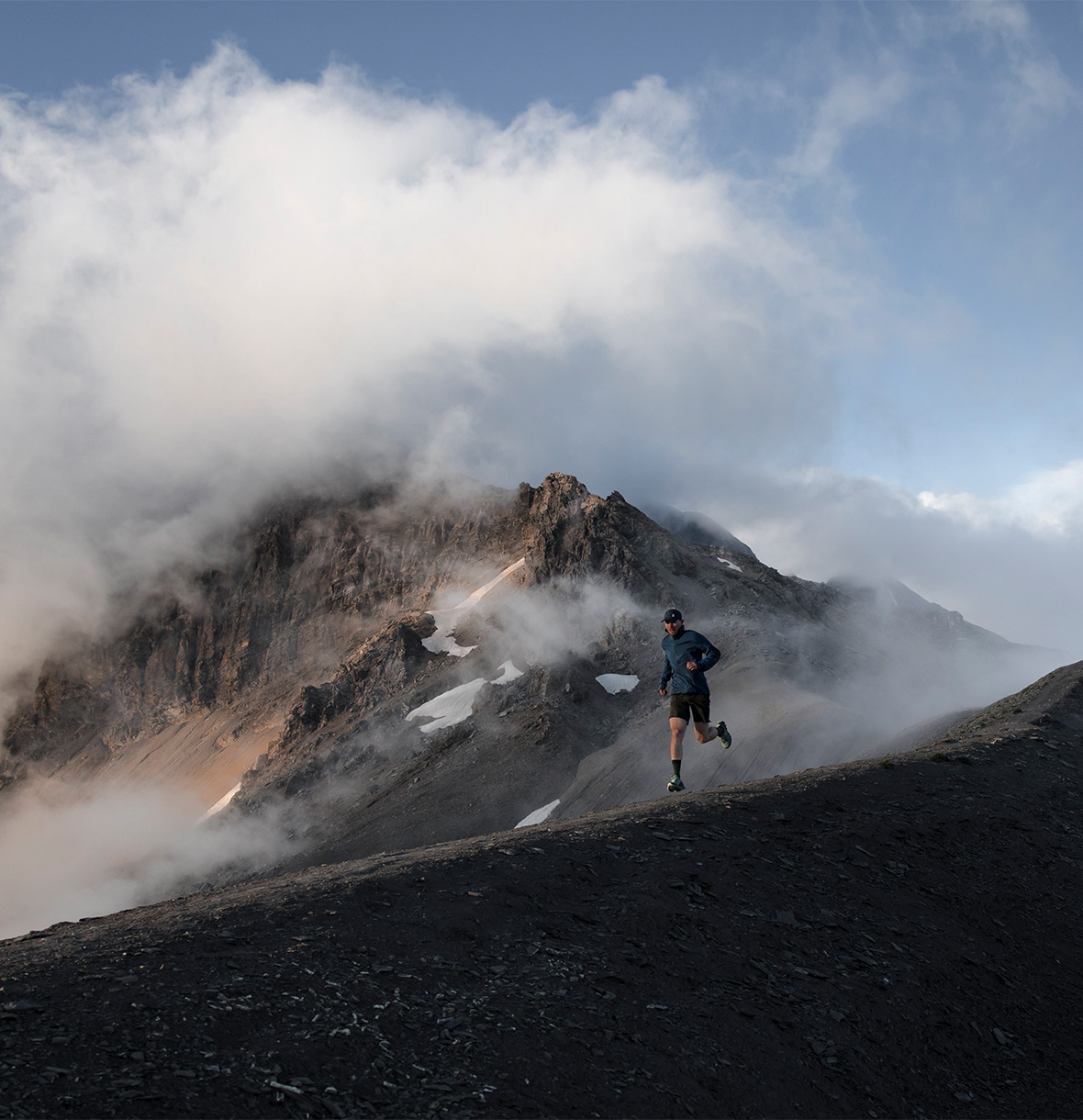 THIS AIN'T GORPCORE
We've seen many of traditional sports brands venture in to making outdoor kit to hop on to a trend. Often the clothing they make is aimed at people who like the idea and coolness of hiking/trail running, but they don't actually go and do it. In fact there's an entire trend called gorpcore, which is essentially wearing outdoor gear outside of its intended use.
Adidas is one such brand that has really pushed its Terrex adventure brand, but to mixed reviews of just how well that kit performs outdoors. So any brand that is going to use outdoorsy imagery for its marketing needs to make sure that the goods actually perform.
Annaleigh agrees and says: "Businesses that have established reputations of well-made authentic products that enable outdoor exploration and the ones who became the brands of choice. Plenty of brands and fast fashion outlets will ride the trend of 'gorpcore' and 'techware' but only those who genuinely live, breathe and build gear that's fit for purpose in the outdoors and stay true to their sports DNA will remain relevant."
On has certainly boosted its adventure-related marketing, such as bringing the Cirque Series trail running event from the USA in to Europe, as well as signing up Claudia Tremps, a Spanish ultra trail runner, to its trail team. Having personalities who actually use the gear to perform in the worst of mountain conditions gives buyers the confidence their purchase won't let them down.
Annaleigh addresses this need for the kit to perform and says: "On's apparel, footwear and accessories always utilises the brand's running DNA and Swiss engineering philosophy of high quality, precision detailing and best in class innovation. We bring this to the outdoor space through trail ready products."
Back in September of 2022, On announced landmark upgrades to its Outdoor footwear range. These included a new iteration of the Cloudrock Waterproof, a waterproof version of the Cloudvista and a brand new Cloudwander Waterproof model. On also presented a new enhanced version of its Missiongrip™ outsole technology, which is incorporated into all new Outdoor models.
"Our new Missiongrip™ is our best performance sticky rubber yet," says On footwear developer Olivier Withworth. "Its wet grip has been improved 30 per cent, and we've still maintained a highly abrasive compound. It's a genuine game changer that puts us right up there with the market leaders."
ON HIKING CLOTHING
While the shoe/boot range is increasingly impressive, for me I'm excited by On's move in to hiking clothing. Looking at the website you can see how the brand really is expanding its offering. It lists everything from trek pants to merino wool t-shirts to jackets and more.
On says on its website: "No matter where the adventure takes you, you'll arrive in style and comfort thanks to our latest range of gear made for the outdoors. From moisture-absorbing fabrics to ultra-warm insulation, it's packed full of everything you need to make sure you feel at home everywhere. Strive for more."
The Mens Storm Jacket  has caught my eye as this shows that On just isn't about making shorts and t-shirts, it wants to make rugged outdoor gear that truly performs.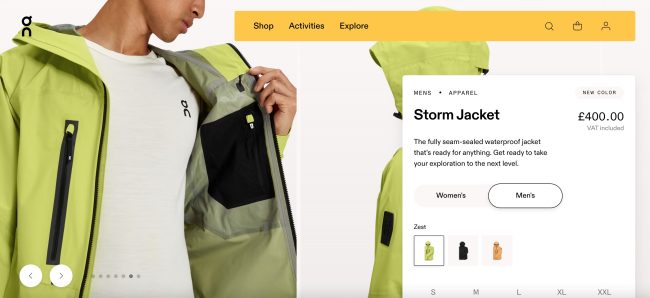 We'll let you take a look though the clothing for yourself in the link below, but Annaleigh is keen to point out the lengths that On goes to with all of its clothing.
"Every product has been validated by athletes and experts and we only release an outdoor product once it's been through rigorous design thinking, in-house prototyping and testing.
"Your On gear will go the distance season after season. Performance based functionality is timeless and that will always remain 'cool'."
See more at www.on-running.com/en-gb/collection/hiking-gear