It's three years since Suzuki refreshed the V-Strom 1050, but there's a new model out soon, called the V-Strom 1050DE.
The DE stands for Dual Explorer, implying this can do both road and off-road. Furthermore that DE badge distinguishes it from the more road-focused V-Strom 1050 that's had a refresh too.
The V-Strom 1050DE has longer travel suspension – you can see those front forks are noticeably longer. Plus they have fork guards/skirts and a 21-inch front wheel compared to the V-Strom 1050's 19-incher.


Dunlop Trailmax Mixtour tyres come as standard, giving you some decent rubber right from purchase. 
One of the key additions for the 1050DE is a 'G' gravel setting, giving a total of four traction control options. This G mode allows more wheelspin (by retarding the ignition timing) and you can also disengage the rear wheel ABS entirely.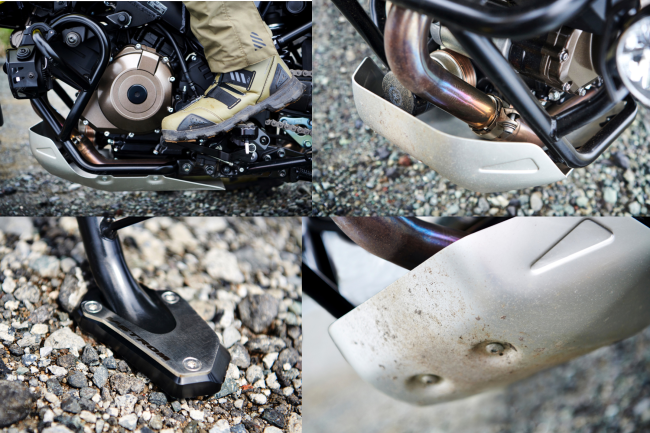 Further additions include engine bars, an alloy sump guard, 40mm wider bars and steel footrests.
The 1050DE has a launch price of £13,666 while the 1050 will be £12,999, so you're looking at paying £667 for those extra features.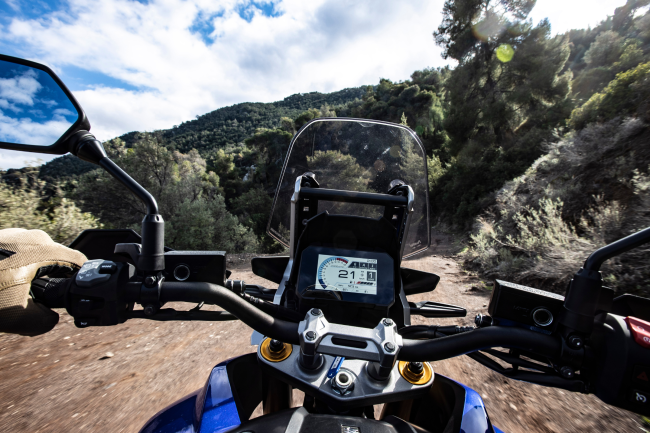 Note there is also a new V-Strom 800DE priced at £10,499. The existing V-Stroms are all currently still available too.
V-Strom 1050DE only features:
–  Revised chassis geometry with a longer rake and wheelbase to improve stability and controllability when riding on unpaved surfaces, and to increase ground clearance. NEW
–  Extended suspension stroke improves performance on unpaved roads. UPDATE
–  Wire-spoked wheels, including a 21-inch front. NEW
–  Dunlop TRAILMAX MIXTOUR adventure tyres with semi-block pattern. NEW
–  Longer aluminium swingarm with enhanced torsional rigidity to support the increased suspension travel and longer wheelbase. NEW
–  Wider, tapered handlebars use thicker tubing and a softer grade aluminium. NEW
–  Solid-mount rider seat designed to better stand up to input load when riding on unpaved surfaces. NEW
–  Steel footpegs for better support when standing while riding. NEW
–  Smaller, smoke-finish screen designed to improve visibility off road. NEW
–  New front fender with three-piece construction, for improved durability. NEW
–  Tough aluminium sump guard. NEW
–  Side and centre stands to match the new geometry's taller ground clearance. NEW
–  Standard equipment engine bars.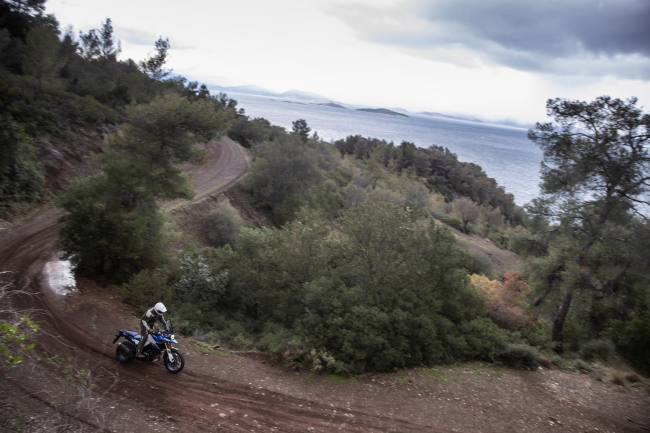 See the full V-Strom range at www.bikes.suzuki.co.uk