It's the centenary of George Mallory's first attempt at climbing Everest and Mick Conefrey has written Everest 1922 to commemorate it. 
The book (on sale as a hardback and ebook on 7th April 2022) contains some previously unknown information that will undoubtedly satisfy the very many of us around the world who love reading about Everest and its history (me included).
Mick Conefrey has already written a number of books on mountaineering and is a documentary maker. He made the BBC series The Race for Everest to mark the 60th anniversary of the first ascent and some of his previous books include Everest 1953 and The Ghosts of K2.
For Everest 1922, Mick had access to diaries, letters, as well as published and unpublished accounts. The 1922 expedition ended in tragedy when, on their third bid for the top, George Mallory's party was hit by an avalanche that left seven men dead. Of course, we know that George Mallory then went on to return to Everest in 1924 which was the expedition where he lost his life and set in to motion the uncertainty around whether he and Sandy Irvine reached the summit or not.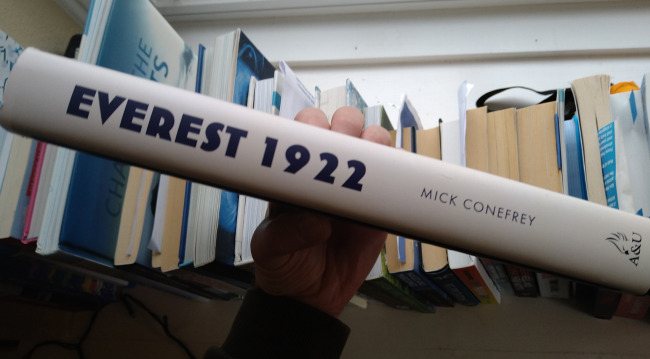 The 1922 expedition – the first official attempt – is an absolutely fascinating story and in just under 300 pages, Mick cleverly sends you to the Himalayas and draws you in to some addictive reading.
British mountaineer Stephen Venables, who was the first Brit to climb Everest, says: "The 1922 expedition was perhaps the most exciting of all Everest ventures. One hundred years ago virtually nothing was known about the effects of extreme altitude and those brave pioneers were making it up as they went along, pushing the boundaries of human possibility. With his usual forensic analysis and keen eye for the previously untold anecdote, Mick Conefrey re-illuminates one of the greatest mountain adventures of all time."
Available in hardback for £20.00 (and eBook) on 7th April from Atlantic Books.