It's getting drier and thoughts of scrambling and climbing are certainly fleeting though my mind…
So…if you're in the market for a new pair of approach shoes then the AKU Rock DFS from Italian brand AKU are worth a look.
Both mens and womens are available in various colours, low and mid versions, and with/without GORE-TEX.
AKU Rock DFS shoes in detail
The lettering DFS stands for Dual Fit System which means there's two sets of lacing; there's a lace that you tie by hand normally and then there's a second set of quick-laces that you pull tight for when you want to start climbing. Watch the video below and it'll all become clear.
Remarkably, the Rock model has been made by AKU for the past 20 years and this latest reincarnation is packed with top-end features.
The shoes come in either a low or mid version, with or without GORE-TEX and they have AKU's Elica system. In brief this is a combination of insole, outsole and tread that allows a more natural gait.
The upper is made from suede and a lattice of microfibre fabric, plus there's a large rubber rand for protection as you normally see in a approach/climbing/technical shoe such as this.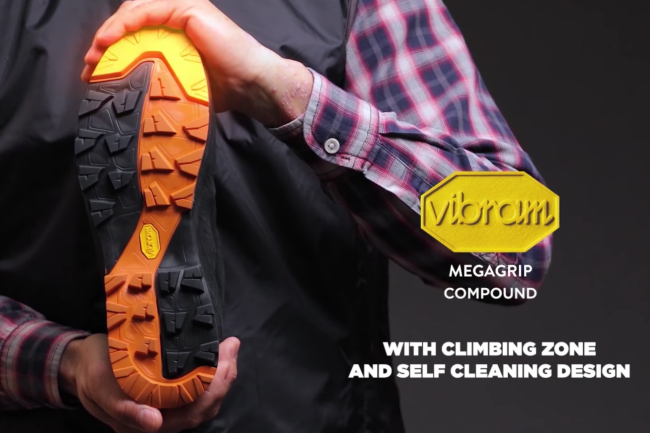 There's a Vibram Approcciosa sole with Megagrip. The lugs are also widely spaced which helps with self-cleaning as any mud should gradually fall out over time. 
Are AKU boots any good?
This is a fair question to ask. When I first heard of AKU and saw it's branding I thought it was perhaps a Chinese company. But I couldn't have been more wrong. It's a brand with a lot of history, initially starting out with the name DINSPORT. Everything is still made in Montebelluna in Italy near Venice. It's only in recent years that we've started to see AKU boots here in the UK and that's down to distributors Ardblair Sports, based in Blairgowrie in Scotland.
The idea of using the name AKU dates back to the early 90s when Galliano Bordin, the founder of the company, wanted to export his trekking shoes in to Europe, but decided to stop using the DINSPORT company name and logo, because of the already registered trademark for 'DIN' by the Deutsch Institut fur Normung.
Galliano had read the book 'The Secrets of Easter Island' by the great Norwegian adventurer Thor Heyerdahl and in that book is a spirit called 'AKU AKU'. It's a benevolent and wise spirit that protects the earth and its inhabitants, something akin to Galliano's wish to protect the earth, and so the name AKU was used.
Head here to read more about the company history.
Colours and sizes
Rock DFS GTX
Men's colours: blue/orange, black/orange, green or yellow
Sizes: 6 to 13
RRP: £164.99 (low) and £174.99 (mid)
Women's colour: Jade
Sizes: 3 to 9
RRP: £164.99 (low) and £174.99 (mid)
Rock DFS (non-GORE-TEX)
Available in green or black/orange in sizes 6 to 13
RRP:  £149.99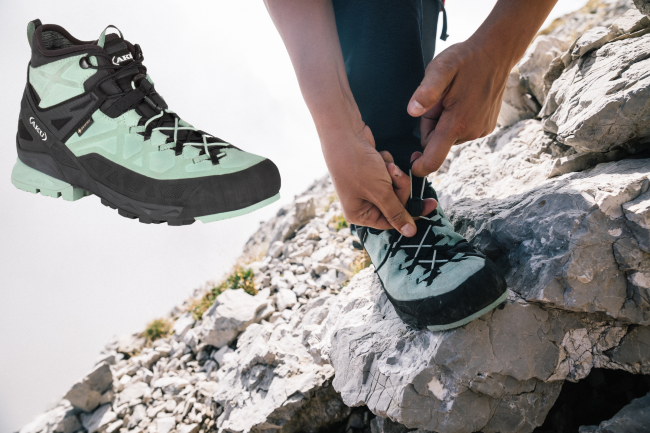 Stockists include Trekitt, Trek Hire UK, Crib Goch and Reynolds Outdoor Centre.