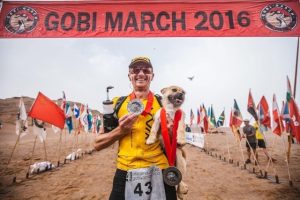 In 2016 Dion Leonard was competing in a 155 mile race across the Gobi Desert.
He unexpectedly stumbled across a little stray dog and she wouldn't leave his side for nearly 80 miles.
Following a dramatic twist of events in which, the dog, which Dion named Gobi, went missing.
This sparked a huge social media campaign for her safe return. Thankfully Dion and Gobi were reunited and now live together in Edinburgh.
Dion even went on to write a book about it, called Finding Gobi, which became a Sunday Times Bestseller, and is now available in paperback.