I LOVE the National Trust's 'Outdoor Gym' concept. If you've ever needed a programme that you can follow for free then it's this. You can download a month-long, day-by-day plan online which shows how you can make use of the natural surroundings become fitter and more active in the fresh air. Runs through the forests, chin ups on a climbing frame or situps on the grass are very simple ways of feeling like you're actually doing something instead of staring at the red LCD digits counting down on a treadmill. Exercising outdoors boosts your mood too. Go to the NT's website here, click on the 'Local To You' tab and find your local forest this week and give it a go.
Snow continues to fall in Northern parts of the UK this week but many skiers in Europe have breathed a sigh of relief now that snow has begun falling again there after a long spell without any. Those heading out on a ski holiday should find good conditions – just in time for half term. In SKI & BOARD this week we've interviewed with a chap who's in the middle of a training course to be a ski instructor. He might not go on to work as one full time but it seems many of us are joining in these courses as a career break and a fast track way to really improve our abilities.
Away from the snow in the Philippines, pilot Norman Surplus has flown out there to make sure his gyrocopter, called Roxy, is ready to re-start his round the world adventure later in the Spring. Norman writes an excellent blog and you can also befriend him on Facebook – he's up to nearly 5000 friends all over the World. He may want to check out Pentax's new adventure camera as well. Being shockproof, waterproof and coldproof it's an ideal companion and the GPS version even shows the locations of our photos on a map. It's starting off a new way to tell our stories and if you have one you want to share, then let us know. Don't forget, you can tweet us your adventures too @Adventure52mag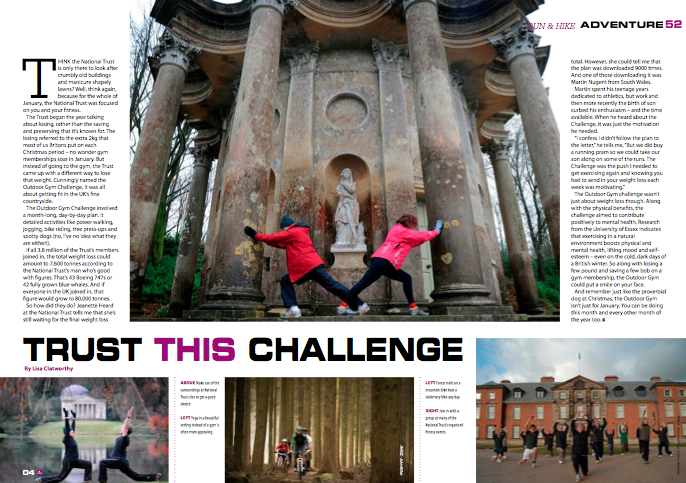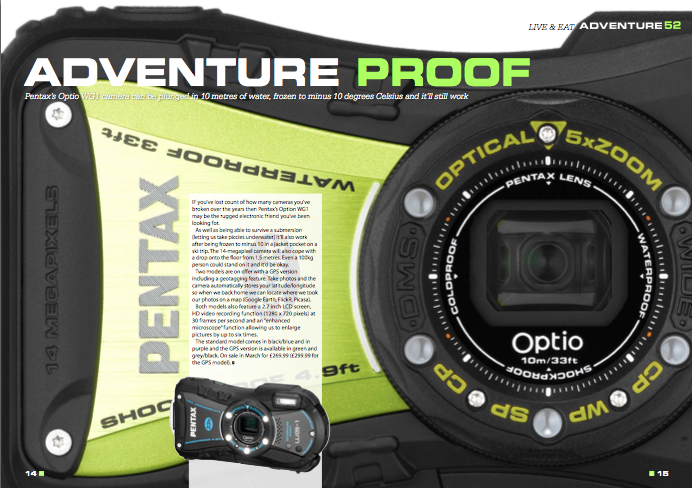 To see the latest issue, sign in on the Adventure 52 homepage with your username and password then click on the 'READ A52' tab.
Inside this week we have:
The National Trust's Outdoor Gym challenge
A 56-year-old motorcycle that has been ridden over one million kilometres
Details on Ski Generation's three-month ski instructor course
Norman Surplus' gyrocopter adventure
Pentax's new 'adventure-proof' camera