...to say there's a lot going on is an understatement
GET planning now to make your way up to the Lake District on Thursday 19th to Sunday 22nd November for what is shaping up to be yet another amazing Kendal Mountain Festival.
Films and talks are at the heart of what's on offer and based on what the organisers are telling us, this year there is even more to see and hear than ever before.
The Kendal Mountain Festival has always had an amazing line-up of speakers and presenters from the world of adventure, but this year really is looking like the best yet. There are simply far too many amazing people to mention here – so take a look over at the Kendal Mountain Festival website  to see everyone who is going.
For us, the highlight speakers are Kenton Cool, Squash Falconer, Sean Conway and Tommy Caldwell. Kenton has summited Everest eleven times and is the first person in history to have climbed Everest, Nupste and Lhotse, the so-called Triple Crown, in a one-er, a feat previously thought impossible.
Then there's Mr Conway, the bearded adventurer who is the first and only man in history to have swum the length of Britain. You may have seen his Discovery TV series called Running Britain back in June. Sean will be speaking alongside distance runner Nicky Spinks in the festival's Endurance sessions.
Next there's Squash, well what can we say, Squash is just the most amazing woman we know. She flies paragliders, rides motorcycles and generally gets stuck in to everything adventurous with her infectious love for life and positive thinking in adversity.
Be sure to buy tickets to listen to Tommy Caldwell (on the Saturday in the Kendal Leisure Centre) as he will be talking about his climbing career to date, in particular his incredible free-climb of the Dawn Wall on El Capitan in the USA.
Films-wise, a must-watch is Citadel, the world's first 4k mountain climbing film about Alastair Lee, Matt Helliker and Jon Bracey's climb up the NW ridge of the remote peak 'The Citadel' deep in the Neacola range in Alaska.
And if you like flying (like we do) get to Kendal for the Free Flight Night on the Thursday night for 8pm-10.30pm in the Town Hall. There will be all kinds of paragliding, hang gliding, speed flying and wing suit flying films.
In fact, over the course of the four days there will be over 60 film screenings and they will all culminate in a special 150th anniversary presentation of the 'Golden Age of Alpinism'. The awards ceremony for the films will take place on the Saturday evening. A word of warning – the headline talks and film premieres sell-out quickly, so book tickets now. These cost between £5 and £12.50 per sessions but there are all-day film passes letting you watch any film that day (Thursday evening, £10.50; Friday, £20,50, Saturday, £30 and Sunday £27.00).
For those of you who like to just soak up the atmosphere and watch the world go by, then you love the new 'Mountain Basecamp Village' area they have planned. This will be located inside the huge marquee at the Brewery Arts Centre and will be the social hub of the entire event. The Lowe Alpine and Marmot Tents will also be there offering talks, freebies, live music, food & drink and demonstrations. And Blacks will have the latest gear on sale in a pop up shop.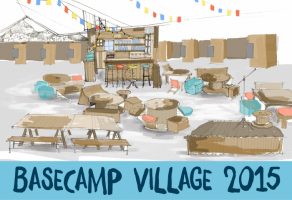 So…plenty on offer! The organisers reckon that over 13,000 people will visit the Kendal Mountain Festival to meet the world's most inspiring adventurers.
And with around 300 hours of events across seven different venues throughout the town – the hardest part is going to be deciding what to go and watch.
Tickets are on sale now from www.mountainfest.co.uk