Here are the Rab sleeping bags for Spring/Summer 2022 and there's plenty here to excite if you're looking to get something new. 
Existing models have been updated and there are new additions, namely the Solar Ultra and Solar Eco bags.
Tim Fish, Product Director at Rab says: "This new sleeping bag range is Rab's most advanced yet – combining over four decades of expertise with the latest technical and sustainable innovations. Developed for Mountain People, by Mountain People, our collection of bags is performance-driven and expedition proven to give mountaineers peace of mind out in the field. We have been working hard and done an extensive amount of research, resulting in the new range using more recycled materials than ever to support our mission to reach Net Zero emissions by 2030."
To this day, Rab still hand-fills all of their down sleeping bags at their factory in Derbyshire, UK.
Rab sleeping bags – in detail
Let's start with the existing and popular Neutrino bags. These have always been about an easily packable bag that keeps you warm enough. As such they have an outstanding warmth-to-weight ratio for fast and light adventures – making it ideal for mountaineering, bikepacking or lightweight backpacking trips. The updated range is filled with 800FP down (which has the Nikwax fluorocarbon-free hydrophobic finish) and the bags all have that silky-smooth feeling thanks to the Pertex® Quantum 100% recycled nylon fabric (with a fluorocarbon-free DWR).
The updated Alpine sleeping bags offer the optimum balance of weight and warmth. The actual text on Rab's website says: "Our Alpine range is built for altitude, whether you're high in the Alps or deep in the Himalaya. Slim fitting, lightweight and duck down filled, it balances comfort with packability for hut-to-hut missions, mountain treks or bike and backpacking." All of the Alpine bags are filled with 650FP duck down with Nikwax fluorocarbon-free hydrophobic finish and are now made with Pertex® Quantum 100% recycled fabrics with fluorocarbon-free DWR.
The new Solar Ultra bags are hard wearing and highly-efficient synthetic sleeping bags. They carry their own environmental credentials, featuring 100% recycled Stratus™ synthetic sheet insulation, recycled outer fabrics and a fluorocarbon-free DWR. The inner lining uses TILT to reduce radiative heat loss by reflecting heat back towards the body.
The new Solar Eco range is created with 100% recycled outer fabrics featuring a fluorocarbon-free DWR and 100% recycled Stratus™ synthetic fill. The fabric has a concertina style construction to trap air to boost loft and warmth. Lightweight and suitable for changeable conditions, the Solar Eco collection is ideal for a wide range of activities – including camping, backpacking and mountain trekking.
Finally we'll round this off with the space-age Andes Infinium sleeping bags. These have been extensively updated for 2022 and now feature a GORE-TEX INFINIUM™ WINDSTOPPER® outer. Each is filled with 800FP down that has a Nikwax hydrophobic finish. The exciting feature on these bags is the shiny interior fabric, called TILT, that reflects heat inwards helping you stay warm in extreme environments.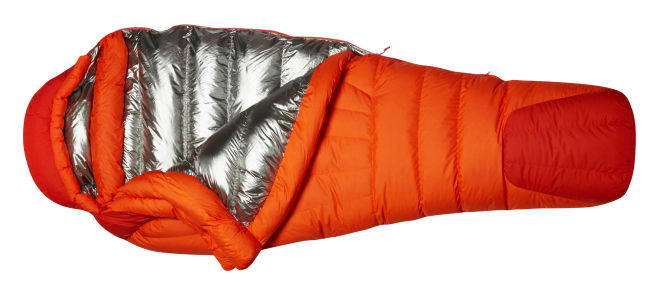 The Andes Infinium has high lofting goose down with TILT fabric insideIf you're already happy with your existing sleeping bag, then did you know that Rab offers professional sleeping bag wash and repair services through its in-house Service Centre? You can have your kit expertly washed and dried, restoring the insulation's full heat trapping potential and returning them to peak performance.
See more on the range at www.rab.equipment