I love a cup of coffee, even more so when I am outdoors, so here's a brand that we think you'll like.
Exhale Coffee has been crafted by Alex Higham, an amazing ultra-distance runner, outdoor adventurer and dad of two. It's a coffee with adventure lifestyle branding and marketing, which massively helps with its appeal.
There's so much choice when it comes to coffee these days, and some brands seems a bit gimmicky, but Exhale Coffee really does stand out from your average Joe and it has a really interesting backstory to it too, which you can read here on their 'about us' page.
The brand's strapline is 'Ridiculously Healthy Coffee' and notable scientists/nutritionists back up the claims, from nine sets of lab testing.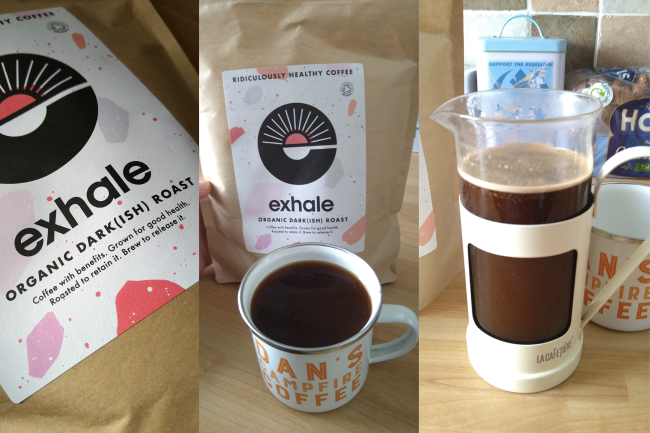 Exhale coffee review – in detail
There are three blends on offer and each comes in a compostable pouch. There's an Organic House Roast, an Organic Dark(ish) Roast and an Organic Decaf option. I've tried out the Dark(ish) roast and I could tell when it had arrived by post as the package had sat in my porch all day and filled it with the aroma of super-strong coffee.
For my first brew, I used a cafetière and it brewed up very nicely after five minutes, giving a strong flavour. Sometimes a cafetière can give a weak brew, but the Exhale Coffee had a wonderful dark colour and tasted rich. Exhale says that "more of coffee's natural plant compounds are locked in: antioxidants, polyphenols and vitamins".
Exhale Coffee promises to improve your health and aid your fitness performance, but has it done this for me? Well I certainly feel it gave me a boost. You can feel the caffeine hit, but in a good way. Drinking this really has helped me during the past few months as I recovered from ankle surgery. Recently, I've been starting hikes again, and one large cup of this in the morning fires me up nicely.
Exhale says the coffee has additional antioxidants, equal to 12 punnets of blueberries/55 oranges in each cup. It also has anti-inflammatory and heart healthy qualities, and it's free from toxins and pesticides. Now I can't do a scientific test on myself to see if it's boosting my performance, but I at least know that Exhale has gone to great lengths to make sure the coffee I'm drinking is as healthy as it can be. You can read more about the health benefits on their website.
Founder Alex has also set up Team Exhale, a collective of like-minded adventurers who prioritise being active, outdoors and living a more sustainable lifestyle. Take a look at the graphic below, which shows a bit more about how the brand is positioning itself – I like the three cornerstones of 'brew, move and thrive'.
Pouches start at £9. A subscription also available www.exhalecoffee.com
"I really like the route Exhale Coffee is taking with its branding. Alex has recognised there's a big group of like-minded adventure lovers who also happen to be coffee-lovers too. These are people that care about their health. Do I feel like I have more energy after drinking this? Yes. Do I feel healthier? Yes, and I've noticed that I don't get that lethargic feeling that I sometimes get after drinking more-than-one-cup of another brand. Give this a try, either take it on your next hike or have a regular brew before a morning run and then see how you feel."