I've tried a lot of protein powders over the years, but Battle Ready Fuel's Military Whey protein is up there with the best.
Regular readers will know the Battle Ready Fuel name from our earlier stories about the brand. It's run by former SAS operator Ollie Ollerton and his approach to fitness and nutrition is one we can recommend.
Battle Ready Fuel now offers all kinds of supplements, and the Military Whey protein powder comes in 450g tubs, giving you about 15 servings of 2 scoops, in chocolate or vanilla flavours.
I was sent a box containing two tubs and a shaker in the shape of a hand grenade which made me chuckle. It's actually a really great size, lets you see how much fluid you are adding in a clear window, plus is super easy to shake up and get a really frothy consistency.
In early February I had a small operation on my ankle to grind down some bone and remove tissue, so my body was needing a helping hand to get back to fitness. I added a morning and evening protein shake in to my daily intake. Each serving gives 23.71g of protein but only 1.8g of carbs, which was good from my perspective as I was pretty sedentary during my recovery and didn't want a ton of carbs going in unnecessarily. The human body can only really digest 25g over the period of a few hours, so the 23.71g serving is spot on.
I have to say that the Military Whey is one of the best-mixing powders I've ever used. I usually use a Breville Blend active to mix up my shakes, but that standard 'Grenade' shaker without even a filter or a metal ball gave me brilliant results.
This powder has also had a digestive enzyme complex added in to optimise gut health and maximise how it gets absorbed. I was pleased with how great Military Whey tasted and how it felt after it had been in my stomach for a while. This 'DigeZyme' complex is made of amylase, protease, cellulase, lactase and lipase.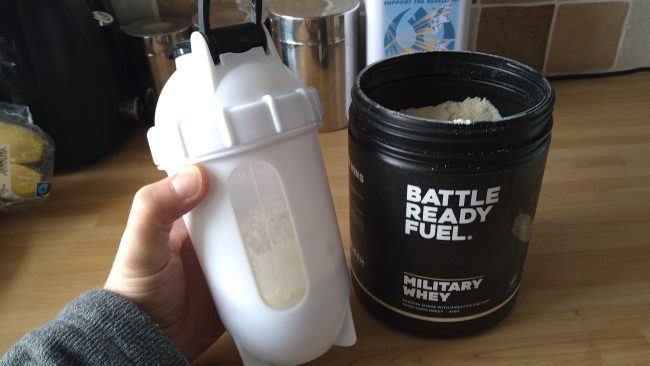 Military Whey costs £24.99 for a tub (15 servings) which works out at £1.67 per serving. It's a little more pricey than some, but totally worth it for the taste and how well it mixes, especially just using water and a hand shaker.
Buy from www.battlereadyfuel.com
"Without doubt, Battle Ready Fuel Military Whey is one of the tastiest and easiest-to-mix protein powders that I've tried. I love the branding and the attention to detail throughout this product - as you'd expect with it coming from one of the best former SAS operators. Even small things, like the long handle on the plastic protein scoop, make it easier to get the right serving size. I certainly attribute the regular intake of Military Whey to a quicker recovery following surgery on my ankle in February. Be sure to check out the brand's Weekend Warrior ambassador program."