This weekend – Saturday 03 & Sunday 04 September 2016 – more than 120 endurance athletes and volunteer event staff will be heading to the Hebridean island chain of Benbecula, North Uist and South Uist, off the west coast of Scotland, for the inaugural 'The Heb'.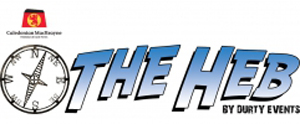 It's a two-day, 190km adventure challenge on foot, mountain bike and kayak where competitors can enter as solos or pairs.
The island journey consists of running and mountain biking, with a bit of kayaking.
Benbecula is the starting point for the 120km route round North Uist on the Saturday with a 70km route on the Sunday taking athletes to the southernmost point of South Uist. To make it easier and more relaxed for everyone the race will stop at the end of day one on Benbecula, allowing for a well earned refuel and 'battery charge'.
On Saturday the participants will begin with a coastal ride from Benbecula to North Uist, followed by running and trekking on Eaval mountain (shorter options available). Then there is a beautiful moorland bike ride to the uninhabited intertidal island of Vallay for a bit more running and trekking (short options possible), followed by the hop to Lochmaddy for a fun kayak section and a bike ride back to Benbecula for a night under the stars.
Day 1 course map here.
The Sunday involves a spectacular North to South journey from the overnight camp to Kilbride on South Uist. It includes mountain biking on the machair and firm sands of the west coast beaches, as much running and trekking as you can handle on Beinn Mhor and Hecla, and kayaking off the stunning coast between South Uist and Eriskay. This will be followed by an event party at the Polochar Inn, Lochboisdale, to celebrate.
Day 2 course map here:
The organisers of The Heb say it has been designed to be totally achievable for all. Less experienced competitors will be able to take advantage of the special 'short cut' options built into the route.
One competitor taking part is Caroline Wallace, a PE Teacher at Peebles High School who is pairing up with Catriona Morrison, a former double Duathlon World Champion, double Long Distance Duathlon World Champion and multiple Ironman and Ironman 70.3 winner.
Cat Morrison MBE said:  "I've only had the pleasure of visiting the Uists once before and it was a fleeting visit. I'm really looking forward to exploring the islands and I'm sure that The Heb will take us to stunning locations that few people have had the privilege to see.
"I can't wait to try my hand at something different. I've got no performance expectations other than having a great time. I just hope that Caroline [Wallace] feels the same… Having a team-mate is also something I'm looking forward to. Endurance racing for me is something that has always been a singular pursuit. Having someone to share the journey with and all its highs and lows will be great.
"I like the idea of racing with the added dimension of having to navigate and plan which route you are going to take. It's certainly different to the triathlons and duathlons that I'm used to competing in. I studied geography at university and I'm a lover of the great outdoors but my map reading is a bit rusty. Still, that's all part of the challenge!"
The Heb organiser, Paul McGreal (Durty Events) said: "The Heb – Race on the Edge is a stunning and achievable journey through the best of the Hebrides, the ultimate outdoor playground. With seasoned multi-sport athletes competing alongside relative newcomers to the world of adventure sport we have planned a challenging and demanding route without it being intimidating.
"In fact we're really excited by the course. It's got a bit of everything – great hill runs (long and short options available – you chose to suit your strengths), scenic and exciting (but not super-gnarly) bike sections and some great, simple, safe kayak sections (with no special skills required).  It is going to be an incredible experience packed full of life long memories. We look forward to welcoming all of our competitors on Friday evening in Mallaig before the start on Saturday morning."
Ferry company Caledonian MacBrayne is a sponsor and is assisting in the transport of people and equipment between Mallaig and Lochboisdale.
The Heb is also supported by EventScotland's National Funding Programme. Paul Bush OBE, VisitScotland's Director of Events, said: "I'm sure that each of the athletes taking part will be provided with a highly memorable experience of competing over land and sea during this unique event."
The course has been designed by Gary Tompsett who has been involved with the conceptualisation, ground planning and race directorship of almost every major adventure event to be staged in Scotland since 2001.
Gary is well known for his audacious and flamboyant adventure planning; sometimes quirky, often challenging and always entertaining.
The Heb on Facebook: https://www.facebook.com/hebchallenge