A team from Hunt Forest Group, an Isuzu dealership, is embarking on an Icelandic expedition to demonstrate the awesomeness of the flagship D-Max Arctic Trucks AT35 model.
This pick-up is the halo model in the D-Max line-up with significant enhancements to the body, frame, drivetrain, suspension, wheels and tyres, while retaining Isuzu's five-year/125,000-mile warranty. The AT35 designation refers to All Terrain and 35-inch tyres.
Gareth Thomas, Isuzu and Arctic Trucks Sales Manager at Hunt Forest Group, said: "It's going to be an epic road trip and a real chance for us to showcase the AT35 in its natural environment. The AT35 is designed to be comfortable and extremely capable both on and off-road so the journey is the ideal route to explore both. It's taken months of careful planning to get the project off the ground and it's exciting to be about start the journey. I hope it inspires customers and future owners to get out there and enjoy their own adventures."
The team will visit Iceland's iconic natural landmarks such as waterfalls, geysers, glaciers and beaches, in order to put the AT35 through vigorous outdoor testing in Arctic Trucks' ancestral homeland.
Leading the trip will be Gareth Thomas, Hunt Forest Group's Isuzu and Arctic Trucks Sales Manager, who will set off in the demonstrator vehicle on Thursday the 16th of March, arriving in Iceland on Tuesday the 21st of March.
In its entirety, the trip will cover over 5000 miles and 10 countries, with the team travelling from England to Calais, then to the top of Denmark where they will board a longship and sail to Iceland, before returning to England on Monday 3rd April.
During the expedition, Hunt Forest Group will also be promoting the trip on multiple social media channels, while also running social media competitions and sharing video content to gain exposure for the campaign and display the vehicle in the stunning landscape of Iceland. Gareth will be producing regular video diaries, reviewing the vehicle in Iceland's harsh and challenging environments.
With three Isuzu showrooms, located at the Chilbolton, Blashford and Isle of Wight depots, Hunt Forest Group specialises in new and used Isuzu pick-up sales, aftersales, servicing, and MOT work. The dealership also offers a range of fantastic offers on the latest Isuzu models with support from aftersales teams and Isuzu service technicians.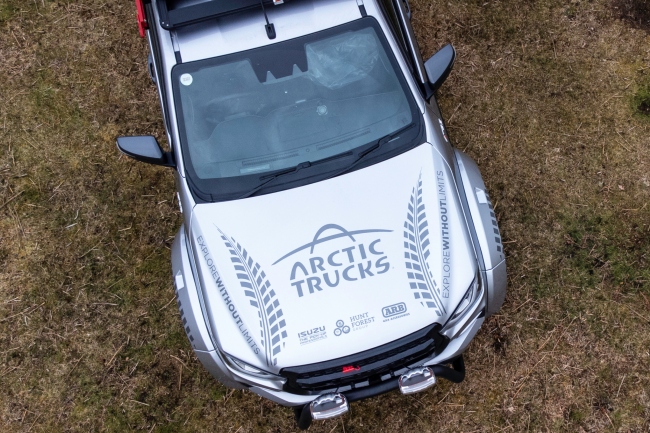 Graham Joll, Regional Sales Manager of Isuzu UK, commented: "The immense effort and preparation made by Hunt Forest Group for this expedition really proves their commitment to the brand, making them stand out amongst Isuzu Arctic Trucks dealers. Following this journey, it will be great to see the AT35 tackling the exact landscapes it was built for, and following their journey across their various social media channels."
Follow the Norse Bound project here