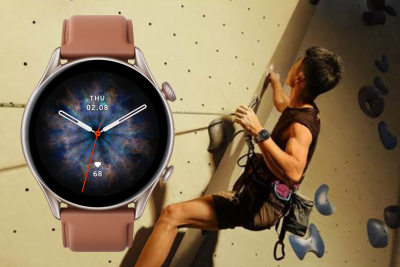 Amazfit has just announced the GT3 series of smartwatches.
There's the the GTS 3 (with a rectangular face) and the GTR 3 and the GTR 3 Pro (both have round faces).
All have smart health, fitness and lifestyle features when they're synced up to the new Zepp app on your smartphone (both iOS and Android) plus they can connect to Apple Health, Google Fit, and Strava.
Amazfit GTS 3
With a modern square 1.75-inch, ultra HD AMOLED screen with 341 ppi, the GTS 3 is one of the slimmest and lightest smartwatches around, yet still has a huge 72.4% screen-to-body ratio. Designed for anyone who wants a stylish, slim smartwatch display, its shape mirrors your smartphone in style, but its features match those of the GTR 3 (below).
Amazfit GTR3
The GTR 3 has a really striking curved glass screen to look at and it's a 1.39-inch AMOLED HD display. You can also customise the GTR 3's watch face to show all the information you need at a glance. Want to wear this for adventure sports and get sweaty? No problem as the straps are made from antibacterial silicone. It's 450 mAh battery can give you a battery life of up to 21 days with just light usage.
Amazfit GTR3 Pro
The GTR 3 Pro is the premium item in Amazfit's new series of fashion wearables. It really delivers on the visuals with a 1.45-inch, 331 ppi AMOLED ultra HD display. The large circular screen has a high refresh rate and a 70.6% screen-to-body ratio. You can cycle through the options by rotating the classic-looking crown which gives haptic feedback too. You can choose from the 150+ built-in sports modes and if you forget to activate your sport mode, there's a smart recognition feature that kicks in for up to eight popular sports to make sure you never accidentally miss out on activity tracking. The 450 mAh battery provides up to 12 days on a single charge. And if you like doing your adventures while listening to music  there's 2.3GB of onboard memory that'll store 470 songs. It means you can have music playing directly from your watch without coming from your phone. You can also make and take phone calls on the GTR 3 Pro when it's connected to your smartphone over Bluetooth.
All three are now available from the Amazfit UK store. Pricing will start at £149.00 for the Amazfit GTS 3 and GTR 3, and £179.00 for the GTR 3 Pro.