Here's a very neat new product from CamelBak – a combined water bottle and coffee cup called the MultiBev.
Designed for 'multiple beverages' you unscrew the lower section to get the cup. The bottle cap has a neat storage area in it for a silicone lid that looks just like the ones you get in a coffee shop (see photo right).
It really is a clever concept and this 2-in-1 solution has won a 2020 Red Dot Design Award and a 2021 ISPO Design Award.
Steve Nadler, vice president of marketing and product management at CamelBak says: "The MultiBev is a vessel that limits the need for both single-use disposable water bottles and coffee cups. The versatility and convenience of this product combined with a sleek and attractive design make us proud to introduce to our consumes and retail partners around the world."
The MultiBev is available in two sizes, a 22oz (650ml) bottle with a 16oz (450ml) travel cup and a 17oz (500ml) bottle with a 12oz (350ml) travel cup.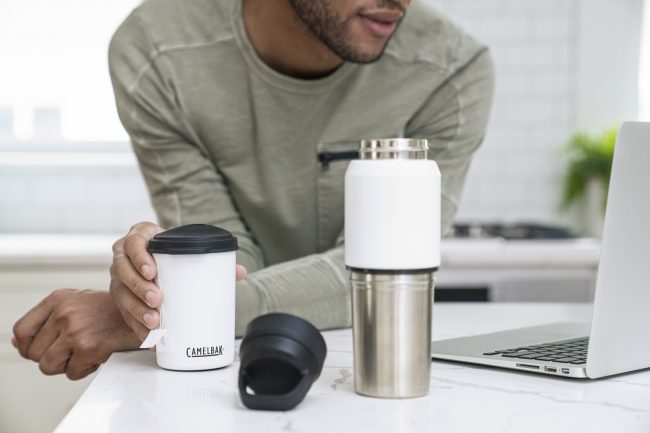 The cup simply twists off the bottom of the water bottle to become its own vessel. You then unroll the silicone lid and pop it on the top.
Both the bottle and travel cup have double-wall vacuum stainless steel construction to keep your beverage the perfect temperature for hours whether that's hot or cold.
Both the bottle and the cup are powder coated too. They're dishwasher safe and BPA, BPS, and BPF free.
The Pakô Cap for the bottle conveniently stores the 'Roll and Fold Lid' for the cup, or you can use it to hold snacks, vitamins, medication, or any other small essentials.



The MultiBev is now available online on camelbak.com and at key retailers, sporting goods, and outdoor specialty stores.